What Are WordPress Permalinks and Why Do They Matter
Permalinks are highly representative of your website's content and scope. As such, they are extremely important and their structure and format should be well thought-out and defined from the get-go. Read on to learn what permalinks are, why they are so essential, what the best permalink format is, and how to correctly set it in WordPress.
In WordPress, permalinks (or permanent links) are the URLs to your posts and pages. Each post or page has a unique permalink that the visitors use to access your website. These links are what users type or paste into their browser's search bar and they are also what search engines use to link to your website. In fact, they are used whenever your website is shared via social media, e-mail, SMS, on forums, and so on.
Many WordPress users fail to recognize the importance of properly set, clean permalinks for their websites. In many cases, when they do realize their importance and decide to change the permalinks, they end up losing traffic and referrals as the old URLs are no longer functional.
The Importance of Permalinks in WordPress
Permalinks are important from two aspects:
Usability: Permalinks help people anticipate what your posts or pages are going to be about, and that makes them more likely to visit them.
SEO: Permalinks tell search engines what your posts and pages are about and thus improve indexing and ranking.
Bear in mind that not all permalinks are able to execute this essential twofold role. In fact, certain permalink formats are known to perform better than the others and are generally considered better, cleaner and more SEO-friendly.
Choosing the Right Permalink Structure
WordPress comes with the choice of five different permalink structures.
The default URL structure is Plain, which consists of the domain name followed by what is called a "query string." The question mark serves as a separator, p stands for "post" and the number after the equal sign is actually the ID number or the number of the post in the WordPress database, more specifically, the number of the table row in which the post is located.
Clearly, the number itself doesn't tell much to the users or to the search engines. It contains no indication of what the post is actually about. Because of that, many WordPress users opt for a different, more explanatory URL structure.
Another available option is Day and Name, which displays the post's publishing date and its title. This format is somewhat clearer and more practical than the Plain type. The Month and Name format is similar.
The Numeric URL structure contains the post number just like the Plain permalink type, but it has the word archive after the root and has no special characters.
The Post Name type is considered by many to be the best URL format. Here, the post name is edited to fit the URL format, containing words describing the post and separated by hyphens.
Another format preferred by SEO specialists is the Custom Structure, which allows the admins to arrange the content under categories or any way they find fit.
While there is no definitive rule as to which permalink structure is the best, it is safe to say that you should always opt for the format that is the most descriptive. Remember, the goal is to make the content clear to both the users and the search engines, and you can't really do that with numbers and characters. Using keywords in the URLs is a common SEO practice, whether you're going to use the custom structure or an URL with post name in it.
Setting the Permalink Structure
To choose the permalink structure you want to use, log into your Dashboard and go to Settings>Permalinks.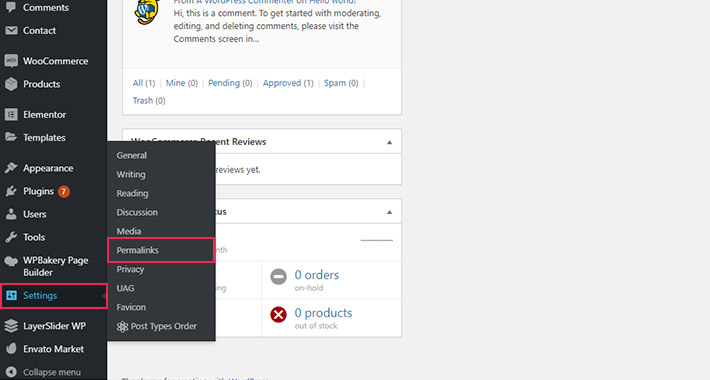 Here you will be able to pick the structure you want your URLs to have. Simply choose one of the structure types we discussed earlier and click on Save Changes.
Note that if you set the default structure to Post Name, whatever name you have given to your post or page will appear in your URL. In some cases this is perfectly fine, but more often than not this means that your URL will simply be too long.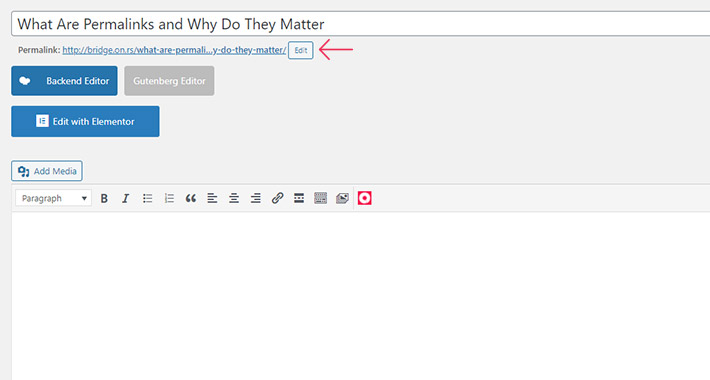 The good news is that you can easily edit the permalink structure right there below the title in the post or page editor.
By clicking on the Edit button, you can change the URL slug (the last part of the URL, after the domain extension) into something shorter but still indicative of the post content.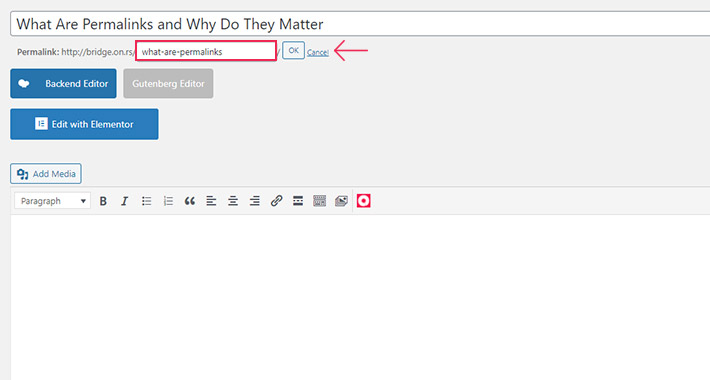 When you're done, click on OK and publish or update your post.
How to Change Permalink in WordPress
When it comes to permalinks, the best practice is to choose the structure you want to use for all your posts and pages, and then stick to it. This is because changing the permalinks later on, when you have hundreds or thousands of posts and pages, can be quite a problem.
You can, of course, apply the new permalink structure just to the newly published posts, but if you want to change it for the older posts and pages as well, you will have to change their URLs. This will result in search engine ranking issues, broken internal links and outdated inbound links.
Whatever reason you might have for changing your permalinks, the good news is that there is a safe way to do it – using 301 redirects. A 301 redirect is something like mail forwarding for when you move to a new home. It redirects the traffic from old, obsolete URLs to the new ones. It is also a way to let the search engines know that this address change is permanent, which is very important for domain authority and for good ranking. The good news is that you can set 301 redirects quite easily in WordPress. You will also want to customize your 404 error page so that it can catch any broken links that you might have missed.
Since permalinks can, to a certain extent, determine the way search engines and users alike will see your site and its content, it's clear you have to set them carefully. Ideally, you should pick the URL structure from the get-go and then stick to it, but even if you do change your mind later on, you can still set up 301 redirects to avoid losing ranking and traffic.