9 Outstanding Sites for Downloading Free Stock Photos
Whether you're designing a new website or want to freshen up your existing one, there are at least three things you're going to need: the perfect WordPress theme, some captivating content, and a lot of high-quality images.
In order to enrich their content, many bloggers and designers use stock photography sites to find visually appealing and relevant photos. But with websites that offer free stock photos sprouting up left and right nowadays, finding the best ones has become a challenge. Not to mention that the license rights to different photos on these sites may vary, which means that you could waste a lot of time reading long, boring license texts and trying to decide which photos can actually be used for free and which can't.
To save you the hassle of having to figure all this out by yourself, we've gathered a list of 7 websites with free stock photos that we thought would be of value. We've also tried our best to provide you with information about different license types that you can find on each one of these websites. Nonetheless, we suggest that you always double-check the license information on your own before using any of the photos.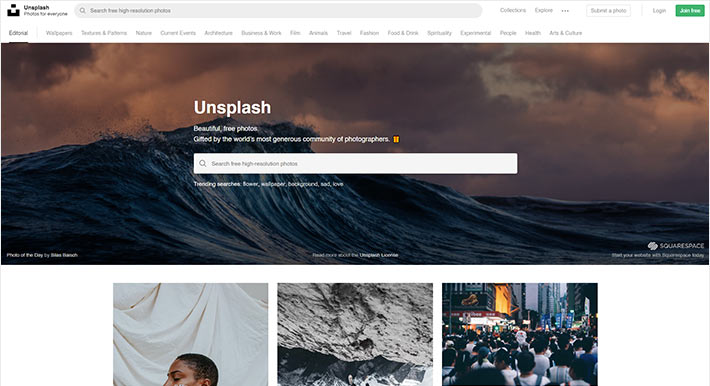 Thanks to the contributions of countless talented photographers, Unsplash has an astonishing database of over 850.000 stunning, high-resolution pictures you can use for free. It's safe to say that it's currently one of the best-supplied free stock photo sites on the web.
Apart from its robust search system, Unsplash also allows you to browse through an entire section packed with carefully chosen photo collections. Most of these collections have a common theme, such as Dark and Moody, Summer Tones, or Minimalism, to name a few. This can be extremely useful and can save you tons of time if you're looking for multiple pictures of a certain type.
Any usage of photos from Unsplash, be it commercial or non-commercial, is completely free. In other words, you can use, copy, distribute, or alter photos with no permission or attribution necessary. That being said, photographers from Unsplash still won't mind if you credit them by adding their name and a link to their profile next to the photo that you're using.
Pixabay offers one of the largest collections of over one million royalty-free stock images. This impressive list comprises of photos, vector graphics, illustrations, and videos.
You can search for the media type you're interested in by category, size, color, or positioning. They also have an entire page explaining how you can conduct advanced searches. And if you're not looking for anything in particular, you can browse through the Editor's Choice section, which is filled with carefully selected pictures by Pixabay's team. At the very least, some of these can serve as inspiration in terms of what to go for.
As for the license, Pixabay allows you to use and modify its images and videos in any way you want for free, but you don't have permission to redistribute them on any other stock photo platforms. There are also some rules regarding identifiable people, logos and brands. To be more specific, none of the identifiable people on the pictures should be showcased in any offensive or bad light.
It's also important to note that some of the logos may contain trademarks or copyright of their own. In that case, you may need a third-party license in order to use them freely. Moreover, selling unaltered image or video copies is forbidden.
Pexels is a stock photo website that provides free photos to millions of creators worldwide.
There are many ways in which you can explore the platform. For example, aside from standard search options, you can also search images by a specific color. Another great way of discovering new images is through the most popular search terms or by browsing through the images that had the most views in the past 30 days.
All photos fall under the Creative Commons Zero (CC0) license, which means they can be used freely for both personal and commercial purposes. Giving credit is not obligatory, though it is more than welcome.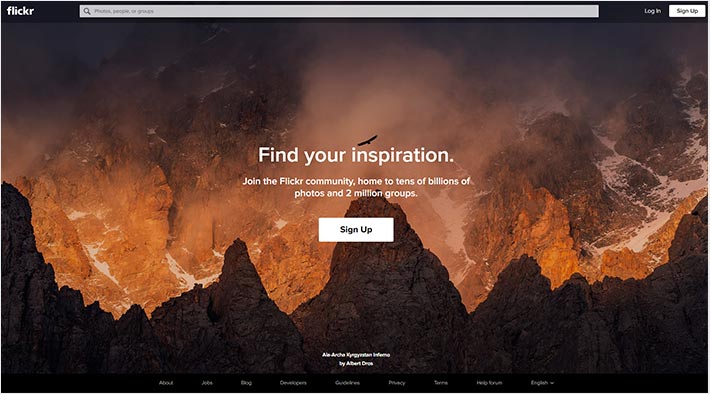 This is one of the oldest online stock photo platforms on the web. As such, it contains millions of high-quality photos. However, you should know that not all photos on Flickr have the same license – in fact, there are eight different license types.
What's also specific for Flickr is that it offers a few interesting ways of exploring the photos. Aside from the standard search options such as most recent, trending, or galleries, there is also an option that lets you explore photos by browsing through a world map with more than a million geotagged photos.
Just type whatever term you're interested in and the city or country you wish the search to display the results for. In this way, all the existing photos related to your search will be displayed. Once you click on a picture, the map will highlight a location of where that particular picture was taken.
Another interesting search method on Flickr is the Camera Finder. This option lets you explore photos specifically made by different camera or phone types. You can also see which brands are the most popular within the Flickr community, as well as the specific cameras and camera phones that are used the most.
You can find many images that fall under the Creative Commons Zero license on Flickr, and these can be used for free, with no attribution required. But this doesn't apply to everything on the platform. So make sure to check the license type of the photo you're interested in. You can find a link to the license type in the description of each photo and see if it suits your specific needs.
There is also an option of upgrading to the pro version. With flickrpro, you get to use Flickr's unlimited storage, you can enjoy browsing without any ads, and more.
Wunderstock is a relative newcomer that provides a new take to the free photo scene. Its strengths lay not in the size of its database (100,000+ images) or the high quality of its photos, but it's ability to extend your search to Flickr Creative Commons for even more results. The site will show public domain images from its community first. If it can't find a good match, it will automatically show Creative Commons works. We find this very handy when searching for very specific topics.
The site also has a very fast and minimal image editor built-in. You can easily crop and add filters before downloading, for example. Wunderstock also lets you download web-ready files optimized to reduce file size. This is great for anyone looking to improve page speed.
Most images on Wunderstock are public domain and completely free to use with no attribution. There are some Creative Commons images that require credit or have other restrctions. These are easy to filter out when searching.
Picjumbo is among the best free stock photo sites out there. The website's owner is a young and successful photographer and web designer who creates and publishes his own high-resolution photos which you can download and use for free. All photos have a neat tagging system and can be accessed by the most popular categories, such as animals, architecture, business, fashion, technology, and so on.
As is the case with most free stock photo sites, you don't have to give photo attribution, but the owner would appreciate it nonetheless. Just make sure not to resell any of the photos and be mindful of any registered trademarks and brands that appear in the pics.
If you find that the collection of free photos isn't enough, there is also an option of getting a subscription-based premium membership on Picjumbo. By going premium, you get more than 30 extra photos sent to your inbox each month, and immediate access to all previous collections. As of now, there are over 90 premium collections available with more than 3000 photos. There are various other perks that come with premium membership, depending on the subscription package you choose.
The photos on Freerangestock originate from a budding community of photo enthusiasts. They get uploaded regularly both by outside contributors and the site's own photographers. In order to use any image out of thousands from this platform, you need to register to the site (registration is free).
As far as terms of use go, you are free to use the photos for any commercial and non-commercial purpose (i.e. for websites, videos, books, and so on). No credit to the photographers is needed. What you mustn't do, however, is redistribute or claim the images as your own.
But if that's not good enough, there is a certain amount of photos on Freerangestock that fall under the Creative Commons Zero license, meaning you can use them as you please.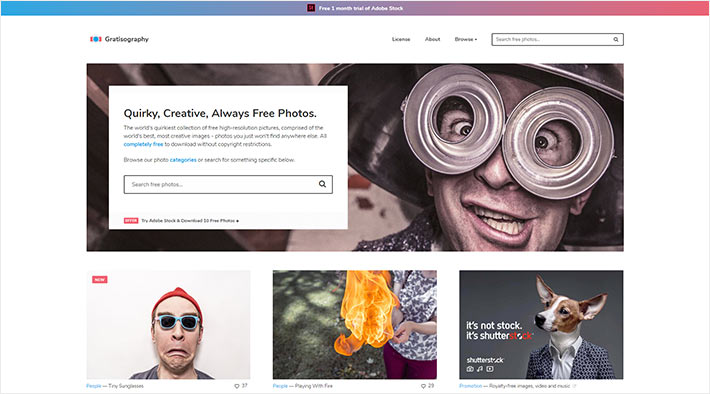 Owned by web and graphic designer Ryan mc McGuire, Gratisography is a place that takes pride in being somewhat eccentric and nonconforming when it comes to its selection of images. While its database isn't as large as others, it's full of quirky and fun photos of people, objects, animals, and more. At Gratisography, the motto seems to be "the weirder, the better", so check it out if you're looking for images with a distinct personality.
You should keep in mind that you can't redistribute or claim ownership of these photos, but you can use them for free.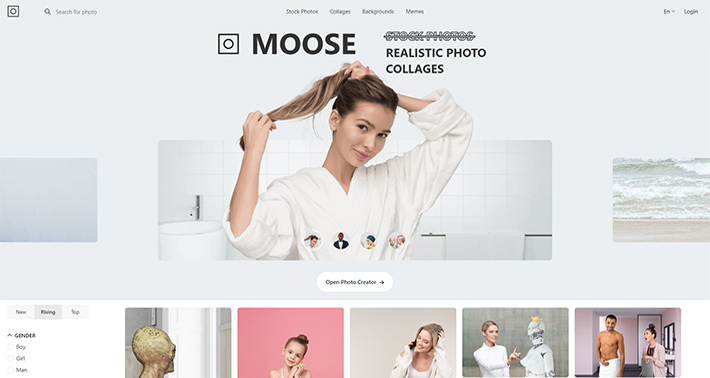 Moose photos by Icons8 are images designed to work together. Unlike other stocks photos, they are produced in-house by a movie-scale crew of directors, photographers, stylists, makeup artists, prop designers, an architect, a 3D-modeler, a post-production team, and two collage artists.
Here's the idea: combining 1,000 images made in the studio with 1,000 backgrounds and objects gives a total of 1 million unique stock photos. In fact, the number strives to infinity if we add in various people, photographed and 3D-rendered props, and 3D-rendered interiors.
The photos can be filtered by categories, models and their appearance, activities, and moods. Besides, there's an integrated app, Photo Creator, that allows users to combine the images and compose realistic collages.
The images are free for a link, for both personal and commercial use. All you have to do is include a link to icons8.com on the page you're using the image on. If you use their content on most of your pages, a link in the footer of your website is fine. Alternatively, they can be used without backlinking if you purchase an Icons8 license.
We hope this selection of sites helps you find the perfect free stock photos for your particular needs. If not, there are countless similar platforms online, each with its own rules in terms of licensing. It's easy to get caught up in the beauty of all these seemingly free photos and end up using them in a way that may not be allowed. So, as we already mentioned at the beginning, we have to advise you to be cautious and always check the license conditions of each particular photo you're interested in.