What is IndexNow and How to Use It to Improve SEO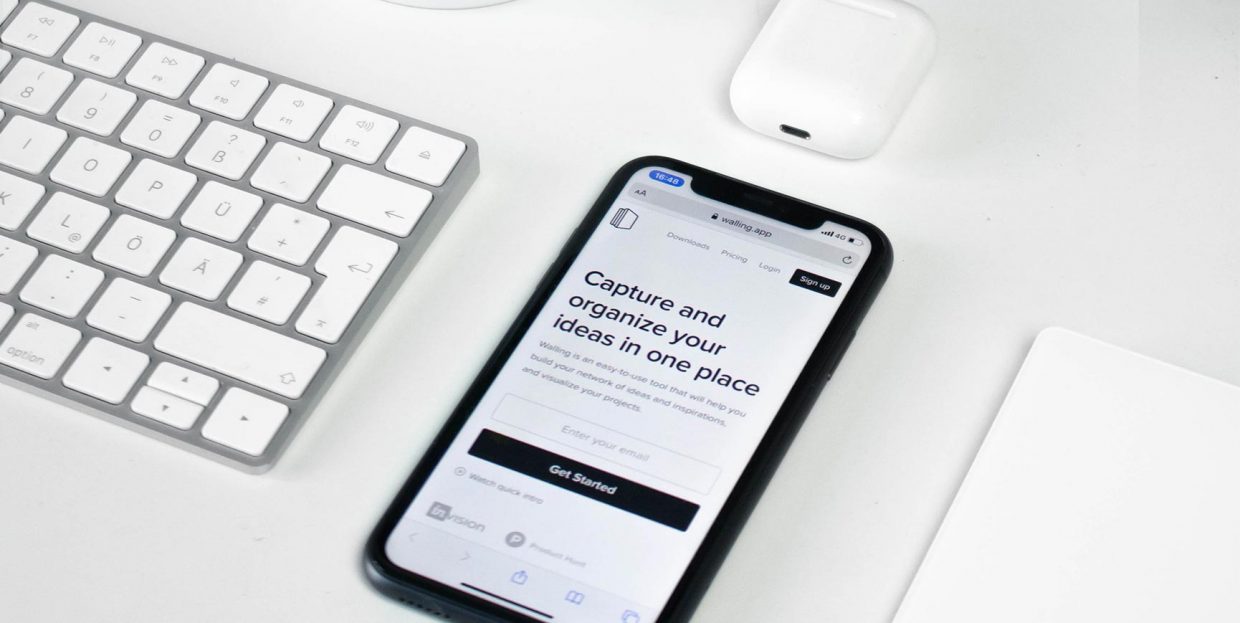 So, you've set up a website and started creating loads of interesting content. You've started posting that content on your website. What's next? Well, how about getting people to notice you and actually access your content? Most people nowadays find the content they want using search engines rather than typing in an URL into a browser's field. So what you need to do is optimize your website for search engines. And while there is a lot we could say about the basics of SEO in general, in this article, we will be talking about one tool specifically: IndexNow.
IndexNow allows you to get your website's pages indexed quickly and improve your pages' likelihood of being found by search engine users. But let's take a step back: what does "indexing" even mean, and how does it help you? How did IndexNow get started and what does it do, exactly? We will answer these questions, and possibly others in the first part of the article. If you are sure you know you need to use IndexNow, by all means click on the how-to section link in the table of contents below.
Here's what we'd like to talk about: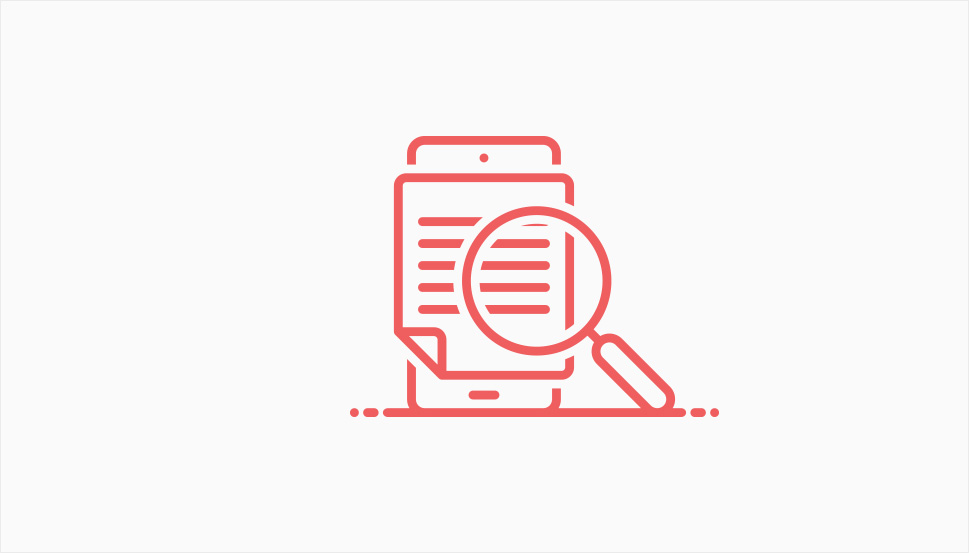 As you may have guessed, indexing has to do with how search engines work. The short version is that search engines do not search the internet – that would take a lot of time. Instead, they use programs called bots or crawlers to categorize – or index – web pages and search the index instead. What exactly is indexed is a proprietary secret of each search engine developer, but the goal is to respond to the search engine user's keyword-based request.
Another way of looking at this is that, if your website isn't indexed, it is invisible. To search engine users, at least. A search engine, such as Google, can remove your website from its index for a variety of reasons. You may yourself decide not to index a page from your website. Also, if your content is fairly new, it may be that a search engine's bots have not yet crawled it.
And, as you may suspect, IndexNow is used for quick indexing of website pages.
IndexNow is a Microsoft-developed protocol for instant or near instant indexing of website pages. It is currently supported by Microsoft Bing and Yandex, with Google confirming that they will also be testing it.
As it stands today, search engine bots use XML sitemaps to find any new content that may have been added to a website. This means that they attempt to visit every single link it can find through your website, including each link found on its pages. A bot does this more or less at random and in random intervals, and it may be days before your website is recrawled and new content included into the index. Furthermore, this is resource-intensive and environmentally unfriendly.
To counter this, Microsoft has developed IndexNow: an instant ping notifying a search engine that new content exists on the website. This enables the search engine to instantly index new content and ensure its SERP rankings. All you have to do is submit URLs for your new pages, and the search engine does the rest.
In this part of the tutorial, we will be showing you how to use an SEO plugin to submit your URLs automatically. We will be using Rank Math, a free SEO plugin for WordPress. Rank Math is also our preferred SEO solution.
You will be taken to the Modules section of the plugin's dashboard. Find the Instant Indexing box and make sure that it is enabled. If enabled, the button will look blue, as in the picture below, and the Settings button will be visible. To configure IndexNow further, click on the Settings button.
On the Instant Indexing screen, you will find three tabs: Submit URLs, Settings, and History.
To submit your website's URLs, open the Submit URLs tab and paste the URLs you wish to submit into the central box, one per line. You can enter up to ten thousand URLs at a time. Once you have done that, click the Submit URLs button.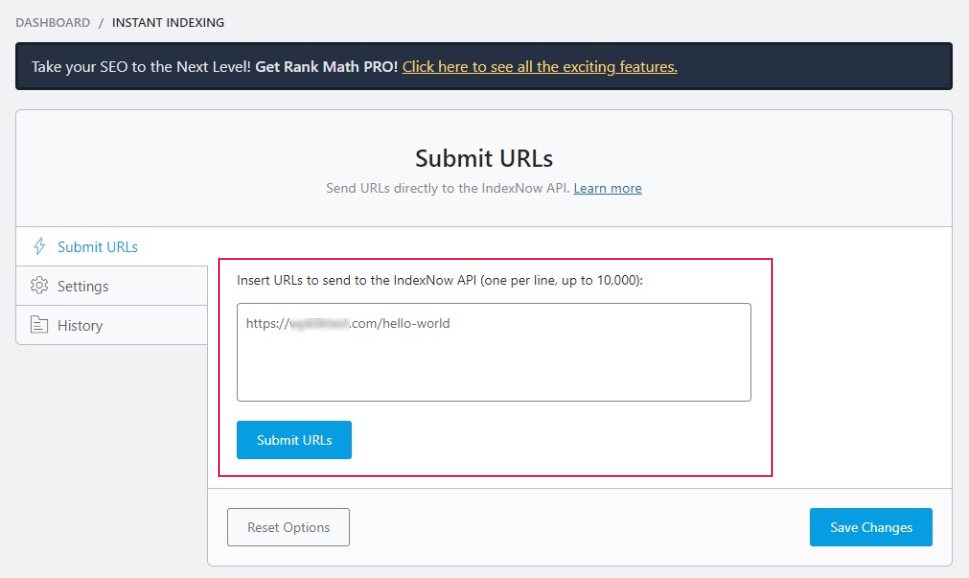 In the Settings tab, you can find three sections. In the Auto-Submit Post Types section, you can check which of all the available post types will be submitted upon publication.
In the API Key and API Key Location sections, you can check whether your API key is functioning correctly and change it if it is compromised. The API key is used to prove the ownership of your website, identifying you as the person in charge of a website to search engines. If your API key is compromised, you should waste no time before changing it. Don't forget to click the Save Changes button once you are done.
Finally, in the History tab, you can check the list of the last one hundred indexed page URLs. Since we didn't submit any URLs, the History tab is empty. However, once you start creating new pages and posts that fit the Settings criteria, they will be submitted automatically.
Other than submitting your URLs using the box in the plugin's Submit URLs tab, you can do it from the Posts or Pages page, for instance, provided that you have enabled IndexNow as demonstrated in the section above. We will show you how it's done for posts, but the same works for pages and custom post types available to you.
First, navigate to your website's Posts screen. Hover your mouse over any item, and you will be able to see the Instant Indexing: Submit Page link. Click it, and the URL will be submitted.
You could also select multiple pages you wish to submit at once, and open the Bulk actions menu above the list. Select Instant Indexing: Submit Pages to submit your page URLs. You can do this easily for all your posts by bulk selecting them as you would for any other reason.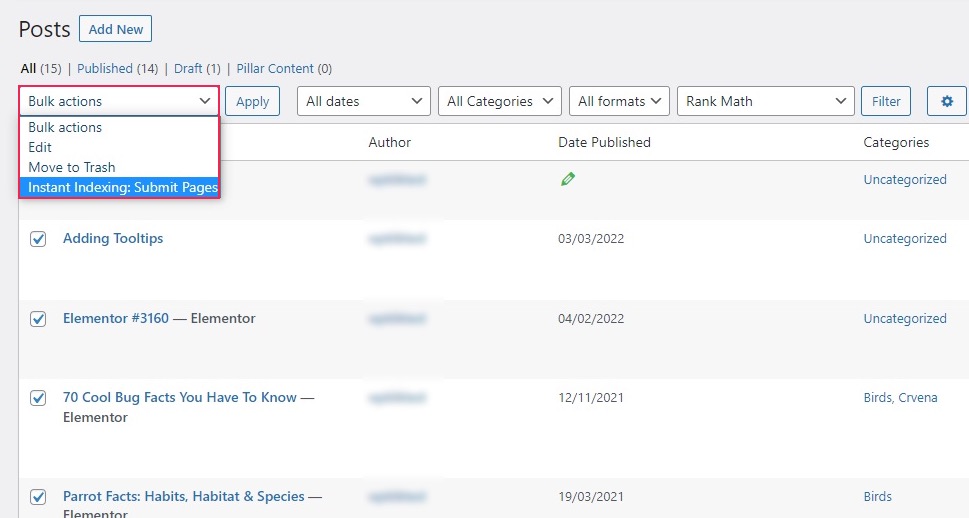 And there you have it, your website doesn't need to wait for Bing's or Yandex's crawlers: your posts will rank in search results pages immediately.
As you can see, submitting your pages to Bing, Yandex, and possibly other search engines in the future is easy and quick. All you need is one free plugin and a few clicks of the mouse. For that, you get immediate ranking in SERPs and the satisfaction of having done a little bit to make search engines more environmentally friendly.