Understanding the Difference Between .net and .com Domain Extensions
A strong domain name reflects your brand. Whether you make it similar to or the same as the brand's name doesn't matter that much as long as it authentically represents your business.
A good domain name gives you visibility, adds credibility, and reinforces your brand. However, coming up with a short, concise, memorable name is not always an easy endeavor. Even when you find it, your job is still not done, as another important decision awaits. Next comes deciding which domain extension to use.
Domain extensions are important because they reflect the purpose of a website. While there are numerous extensions on the web, .net and .com are the most popular. But how do you decide which one to go with? Is one better than the other? In this article, we'll talk about the difference between .net and .com so you know exactly which one to choose for your business. The topics we'll discuss include:
A full domain name consists of two parts – a top-level domain (TLD) and a second-level domain (SLD). A domain extension or a TLD is all that comes after the period (.) and before slashes, such as .net or .com. An SLD is what precedes the period. For example, in qodeinteractive.com, "qodeinteractive" is the SLD, while ".com" is the TLD.
HTTP (Hypertext Transfer Protocol) and HTTPS (Hypertext Transfer Protocol Secure) are request-response protocols used for transferring data on the web and are generally not considered a part of the domain name.
The reason why TLDs are important is that without them you would have to use IP addresses i.e. numbers to access websites. Luckily, nowadays you can choose between several types of domain extensions and categorize your website depending on your business type, location, and content.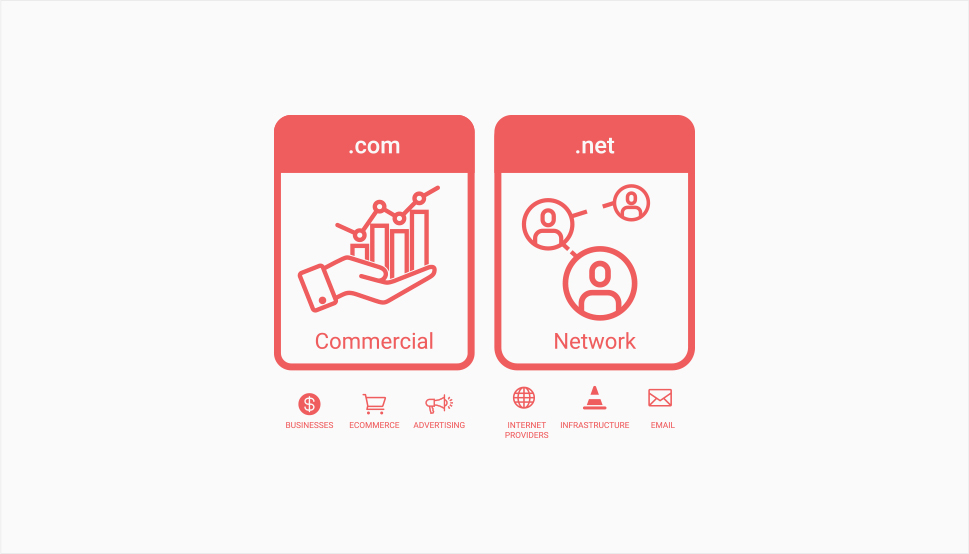 The ubiquitous .com and .net are generic top-level domains or gTLDs. The difference between them lies in what they stand for.
As a rule of thumb, the .com extension best suits commercial entities and all types of profitable businesses.
The .net extension is used for networking and therefore popular among internet, email, and database service providers.
Nowadays though, a lot of businesses register domain names with both extensions to ensure no one else can take their SLD and register it using a different extension.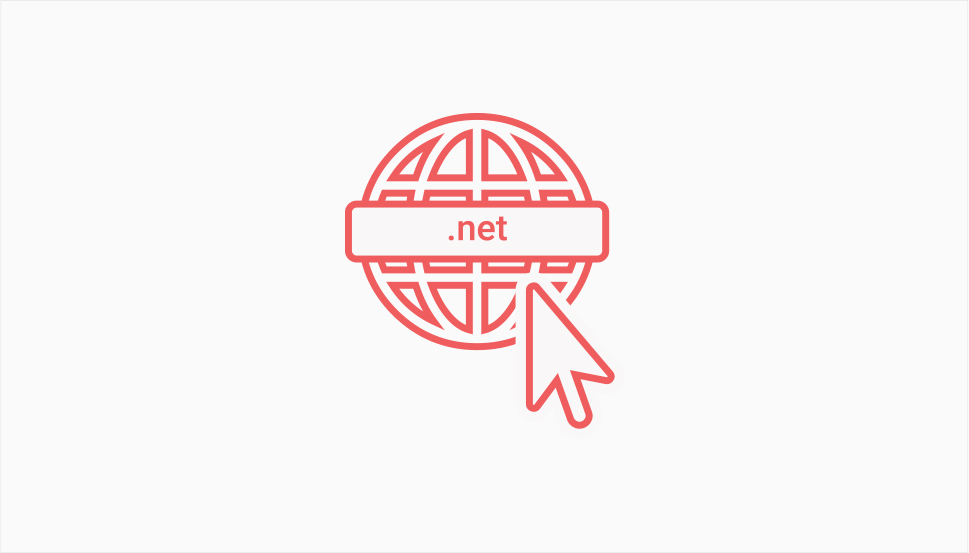 The .net extension stands for "network". It is the second most used top-level domain, but it's not nearly as popular as the .com counterpart. And because of that, the .net domain you had in mind is likely to be available.
.net was created for service companies and network-related websites, making it the perfect choice for internet and cable providers, as well as web and email hosting websites. This extension also suits any technology and app-based businesses.
When you register a .net domain extension, if possible, get the .com as well, and not just because that would ensure no one takes your customers away from you. Humans are creatures of habit and we're more used to the .com extension. When you register both the .com and .net version, you can redirect users from .com to the main .net website and maximize your traffic.
The .com extension is short for "commercial". This TLD is by far the most popular and recognizable of them all, and the one people expect to hear when discussing websites.
.com works great for almost all individuals and businesses around. It's great for online stores, portfolio websites, law firms, news portals, blogs, marketing agencies, and any type of profitable business.
The problem with the .com extension lies in its popularity and the fact that everybody wants to use it. Because of that, chances are high that someone else has already snagged the domain name you had in mind. Ideally, you would start thinking about the domain name while choosing a business name. You'd check the availability in early stages, which would save you some trouble and a lot of nerves later on.
From the SEO point of view, there are no built-in advantages of the .com extension over .net. No matter which one you use, search engines treat them all the same.
However, the .com TLD instills trust, which is why the websites with this suffix may be getting more traffic. People know all big brands are using it while spam sites usually don't, so a .com site may get more visits via Google search results than the pages with different TLDs.
The only time when the extension impacts how your site ranks relates to national SEO. The choice of the official country code top-level domain (ccTLD) for a particular country may help your rankings in local searches. For example, if your business is based in the UK and you go with the .uk extension, your site will probably rank well in the UK and get more clicks.
To obtain a domain name, you can purchase it via:
and through website builder plans.
Registrars are businesses that register domain names with appropriate authorities, such as ICANN (The Internet Corporation for Assigned Names and Numbers) and regional entities in charge of ccTLDs. The most popular domain name registrars are GoDaddy and Namecheap. Both sites often have special offers so the prices can go as low as $6 for a .com domain, but they usually stay within the $12 – $18 price range. Even before you assign a domain name to a website or an email service, you can still register it and save it for later use. This is called "domain parking" or "cash parking" since many people buy domains only to resell them to someone else and make money off of it.
Many web hosting services, such as DreamHost, Bluehost, and HostGator, offer a free domain name once you purchase their web hosting plans. However, after one or two years, registrars will probably start to bill you. So while purchasing the hosting plan, pay attention to how many billings from the registrar your hosting provider will cover. If you're running a WordPress website, think about this option as you need a hosting service either way, so might as well get the domain name on the same go.
If WordPress is not your preferred platform of choice and you'd rather use another website builder (e.g. Squarespace, Weebly, or Wix), it's good to know that most of them include a free domain name when you buy their premium plans. Again, keep in mind the fact they usually cover just one billing from the registrar, and after that, you have to take care of the costs on your own.
The difference between .net and .com lies in the type of the business they stand for. Once you come up with the brand name and decide what kind of a website you wish to run, register the desired domain name and choose the extension that matches your business. .net suits network-related, tech, and app websites best, but the .com TLD, as the more credible of the two, should be used by all other industries.
Both domain extensions perform well, but .com is somewhat of a default suffix. People are accustomed to it, they trust it, therefore they'll be more likely to visit a site if it ends with .com.