7 Best PDF Viewer Plugins for WordPress
PDFs have long been the preferred way of formatting documents, especially those containing multiple images combined with text. Especially, but not exclusively, PDFs are common in the corporate world, and for good reason: PDF readers have a clean interface, the documents themselves are digital-friendly, and they are not easy to edit. PDFs also see much use by the media, education professionals, e-book publishers, and many other businesses and service providers.
You can host any kind of file, PDF included, on your WordPress website, but you can't show them to your visitors by default, the way you could with an image or a video. To do that, you'd need a plugin, and we have a whole list of those to choose from.
But would your website really benefit from a WordPress PDF viewer? Before we get into the list, let us discuss some of the instances that warrant the use of a PDF viewing plugin.
Why Use a WordPress PDF Viewer?
First of all, you may have an already formatted document, possibly a very large document. Why would you go through the trouble of reformatting it for your website, if you can just display it on a page so your visitors can view it there? An overlong document may also look bad as a blog post, but work just fine if embedded.
Also, PDF is a secure format. It is much more difficult to edit, and it can be made even more secure using passwords and other protections. So, if you don't want your visitors to be able to edit a document you'd like to share with them, PDF is the way to go, and a plugin is how you deliver it to them for easy viewing.
PDF is not just difficult to tamper with – its contents are typically invisible to search engines. So, if you are running a WordPress website and if you want more control over how you distribute your content and prevent it from being crawled and indexed, while still making it accessible to normal website users, you can scarcely do better than use a WordPress PDF viewer plugin.
With that in mind, here are the plugins we will be discussing: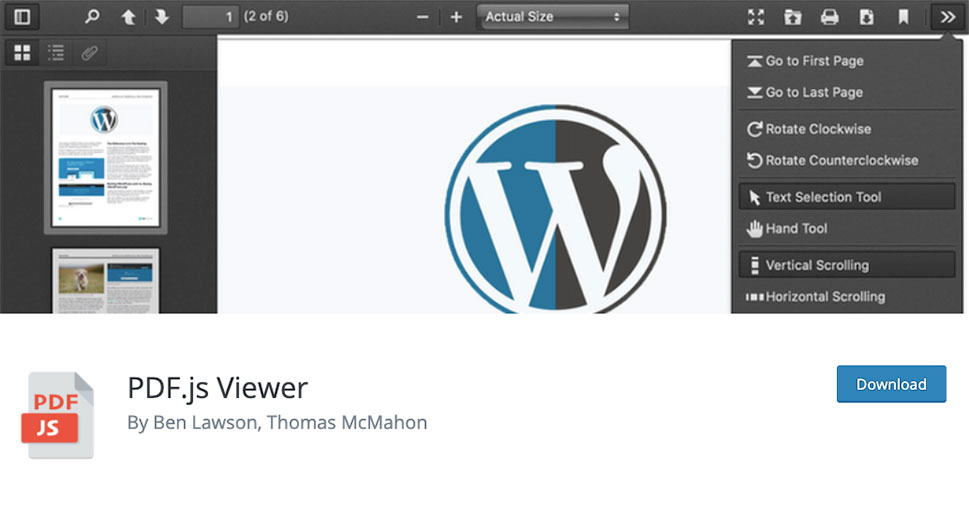 A free plugin which you can use to integrate Mozilla's open source PDF.js viewer, the PDF.js Viewer plugin is a great solution for Gutenberg users. It gives you a very easy to use Gutenberg block which you can use to embed your PDF to wherever you like. If you are not a Gutenberg user, though, that still doesn't mean you should give this plugin a pass: it supplies you with some really simple shortcodes which fulfill the same function. You get a fully functional PDF viewer within your own layout, complete with easy page navigation, search, zoom, and even a password protection for your PDFs.
PDF Embedder is a free plugin which does exactly what its name promises: it embeds PDFs into your pages. Instead of an iframe or a third-party service it uses Javascript, so you get a lot of flexibility in sizing your PDF "window". It is easy to set up and intuitive to use. However, while it does what it sets out to do, it does nothing else. You do get some appearance options, but your website visitors will only have the zoom controls and the previous/next page controls, and hyperlinks in your PDFs won't work. Hyperlinks are fully functional with the premium version of the plugin, as is the download button, jump to page, download and view tracking, and other useful options.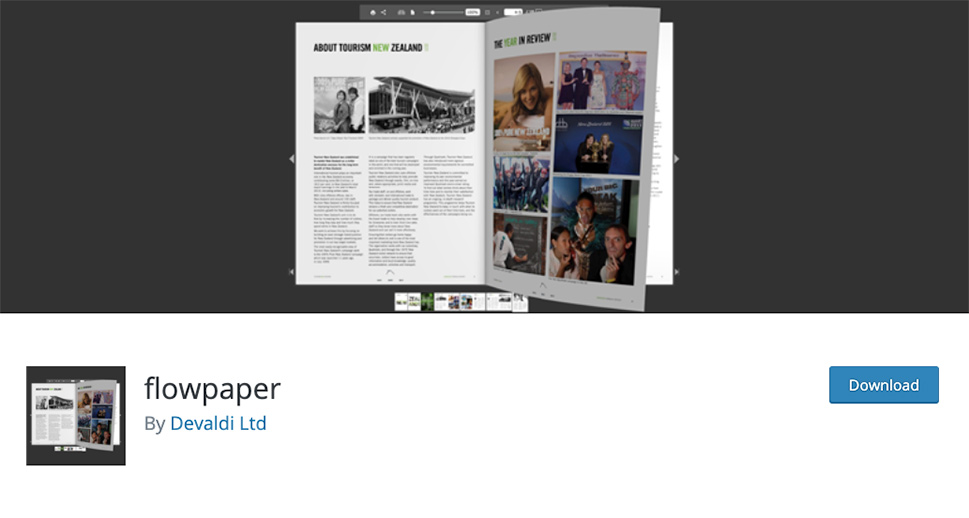 Flowpaper is a free plugin which allows you to embed your PDFs as flipbooks. It is easy to install and simple to use, and comes with a few customization options which require a little work on the document shortcodes. You can modify the loading header, toggle between light and dark themes, open your PDFs in a lightbox overlay, show only a single page of a document, change the way your documents' title is displayed and some other options. The plugin comes with one serious drawback, though: it only supports PDFs of up to 15 megabytes in size.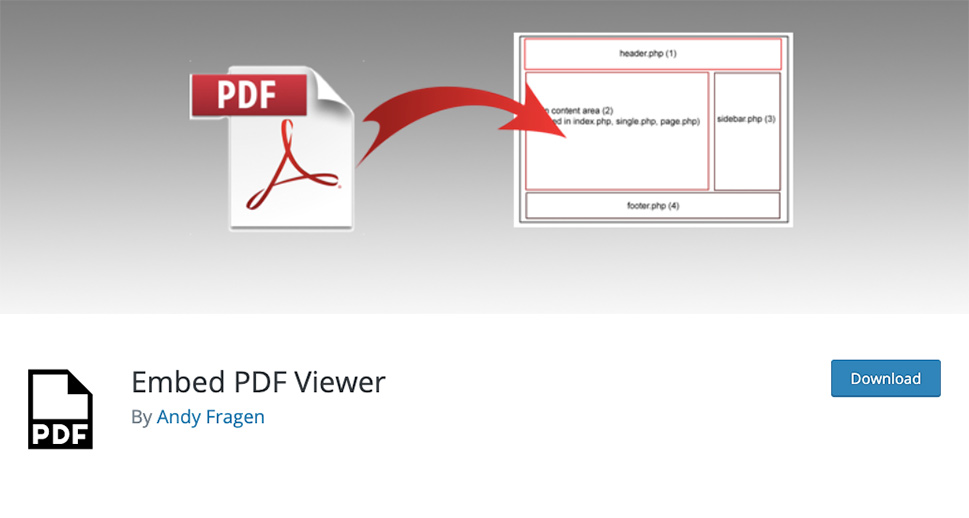 If you are looking for a bare-bones plugin which will allow you to embed PDFs, consider Embed PDF Viewer, especially if you are using the Gutenberg block editor. Simply install this free plugin, add a PDF block to your website, and feed it a valid URL to a PDF, wherever online it is. It includes a download and a print button, and requires no settings on the part of the admin at all.
Real3D FlipBook is a premium plugin which allows you to embed and display your PDFs as an animated flipbook. It comes with a whole lot of customization options, from theme (light or dark) and background options, through UI colours, all the way down to animation speed and sound options. The plugin sports a responsive design optimized for mobile devices, making it a great choice for you if most of your visitors are mobile users. The plugin supports page navigation, zoom, searching, working links, and all the other functions you might expect from a premium PDF viewer.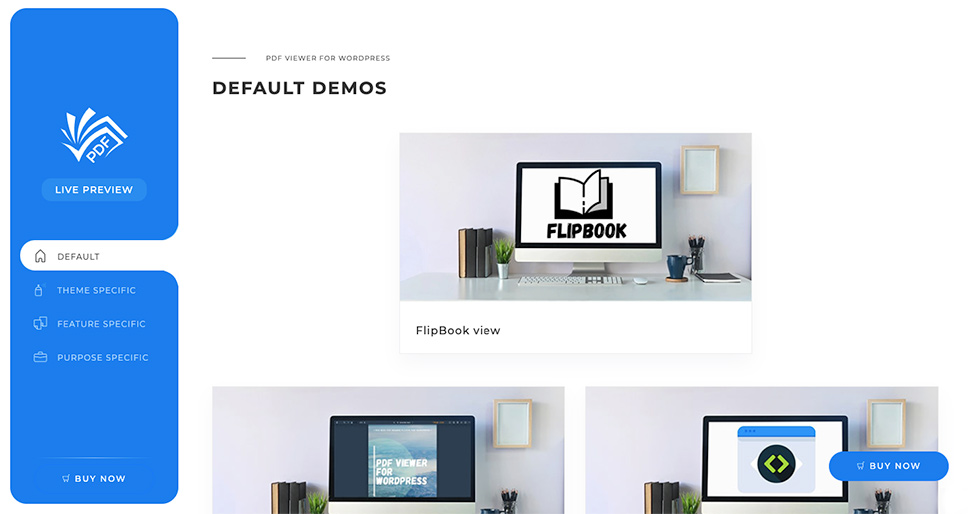 A premium plugin, PDF Viewer for WordPress supplies you with a comprehensive solution for all your PDF embedding needs. You can set it up for scrolling or as a flipbook, and it sports a broad gamut of controls which you may want to enable for your visitors depending on the context: zoom, navigate to page, find, rotate, share on social media, download, print… The plugin works on its own, not needing any third party software or service to run. It is completely responsive and has tested compatible with the latest versions of the most popular internet browsers, ensuring a good user experience for your visitors.
WordPress PDF Viewer and Embed Plugin is a premium plugin which comes with all the bells and whistles you would expect from an embed plugin. It is tested to be compatible with all the most popular browsers, comes with size controls, it is fully responsive, and allows a lot of control over your visitors' behaviour with regards to your PDFs. You can select the start page, display the PDF on a full screen, allow your visitors to share your PDFs on social media, download or print them at will.
Now, all the plugins on this list are tested to work with the latest versions of WordPress, and all do embed PDFs, but which one is the right one for you? Here's what we think: if you are working on a tight budget and embedding PDFs is not your main concern, try a free plugin on for size. You could go as no-frills as possible with Embed PDF Viewer, or Flowpaper, if you like the animations and aren't using documents over 15 megabytes in size. If you don't mind using Mozilla's technology to present your visitors with documents they want, and there's no immediate reason that you should be, we found PDF.js Viewer replete with useful functionalities. If you are more concerned with the number and kind of features you get, and can splurge for a premium plugin (which we only suggest you do if PDFs are an important part of your content), we suggest you try Real3D FlipBook if you like the animated features, or PDF Viewer for WordPress for the broadest range of features.