6 Best WordPress Chatbot Plugins for Your Website in 2023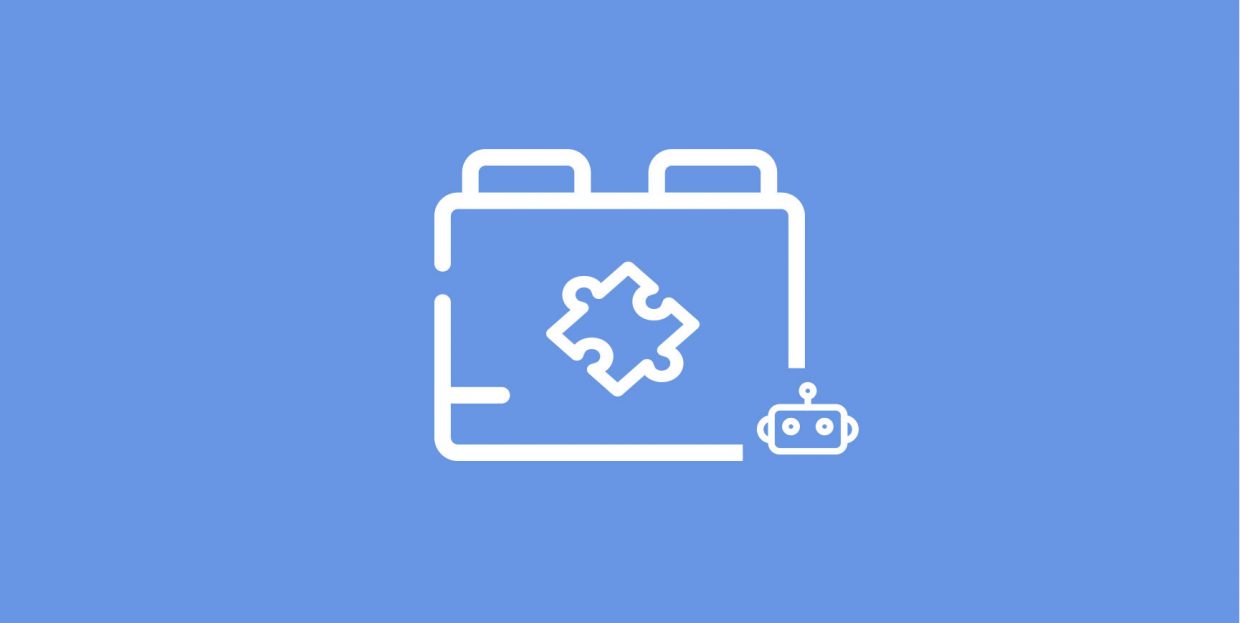 The ability to establish a trustful relationship with consumers today seems to be more important than ever. As the traditional marketing approach is being replaced with contemporary, advanced methodologies that offer a more personalized customer experience, every tool that can help you communicate smoothly with your consumers is precious.
In the fast-paced and highly competitive online market, customer service is often the only thing that makes a true difference between the brands. And since bringing consumers to your website is not at all an easy task, it only makes sense to do what is in your power to keep them on your pages as long as it is needed for them to decide to take action/make a purchase.
That's exactly why chatbots are so popular – they allow you to provide timely answers to all the standard and typical inquiries your customers may have without having to address each inquiry by yourself. But, that's not the only thing that makes them great – chatbots combined with some of the powerful analytic tools also allow you to collect valuable information about your users which you can use to craft more effective marketing campaigns or to improve your website design, etc.
The good news is that adding chatbots to your WordPress website can easily be done with a chatbot WordPress plugin. There is a wide variety of both free and paid chatbot WordPress plugins, so we made a selection of top most user-friendly, and efficient chatbot WordPress plugins that can surely get the job done for you: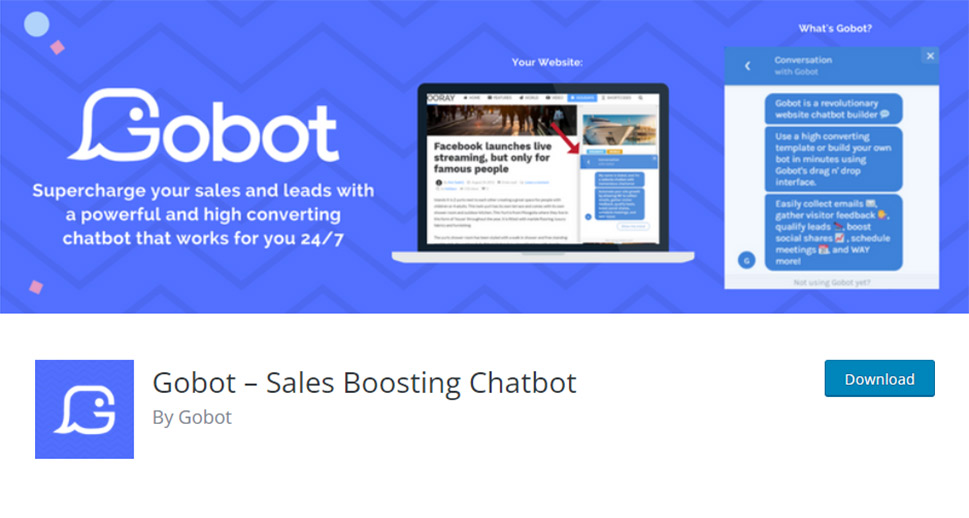 A true freemium, the Gobot chatbot WordPress plugin includes a wide array of features that cover the needs of almost any type of website, from an online store to an e-learning platform. Plus, it helps you collect plenty of information about your customers through polls, forms surveys, etc. You can set it to automatically archive visitors' email addresses that you can use to build your email list.
Besides acting as automated customer service, this tool can also be used as a meeting scheduler as it includes calendar functionality. Thanks to the built-in custom analytics you can see which bot performs the best and customize the content accordingly.
More than 100 bot templates are included so you can start using the chatbot quickly without any special configuration. In case you want to customize the templates, that's also easily done thanks to the friendly drag-and-drop interface. Color and style are customizable too, so you can make sure the chatbots match your website design.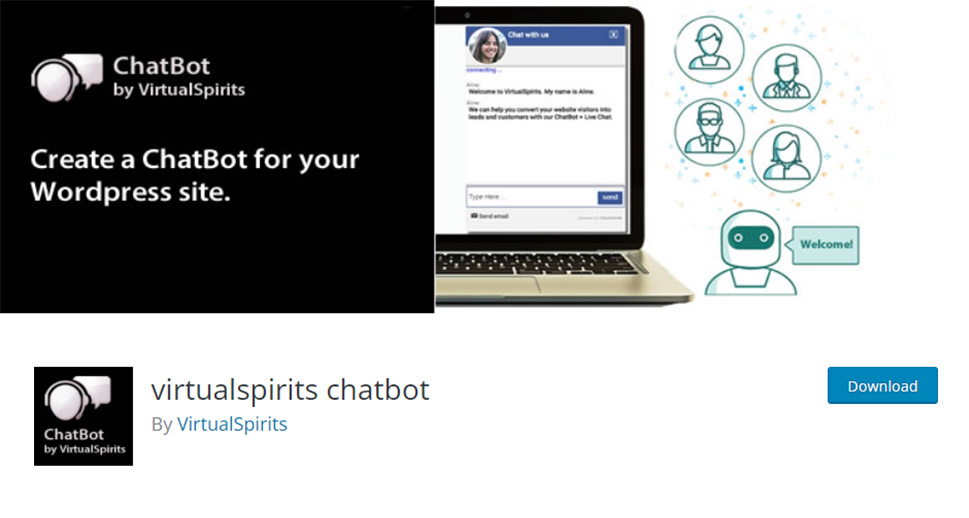 The Virtual Spirits Chatbot is highly adaptable and easy to use. Its intuitive dashboard allows you to set the chatbot and customize the settings effortlessly. It is possible to customize the design of the chatbot in terms of color and style and you can also upload images. What's probably the most unique feature of this tool is the fact that it lets you provide support in multiple languages including Arabic, Italian, Spanish, German, Russian, Hebrew, Dutch, Portuguese, etc, and not just in English as the majority of chatbot plugins do. If you communicate with a worldwide audience, this feature can be a gamechanger.
Configuring the chatbot to answer all the typical questions related to pricing, company details, shipping and similar is simple and quick, and you also have the option to use some of the templates that come included if you find them more suitable to your needs.
The option to turn off the automatic chatbot and handle the users in the live chat is very practical as it lets you get involved directly in live communication whenever you want to or find it necessary.
As for the pricing, you can use it for free during the 30-day trial period and later decide between four pricing plans ranging from $9 to $239 per month.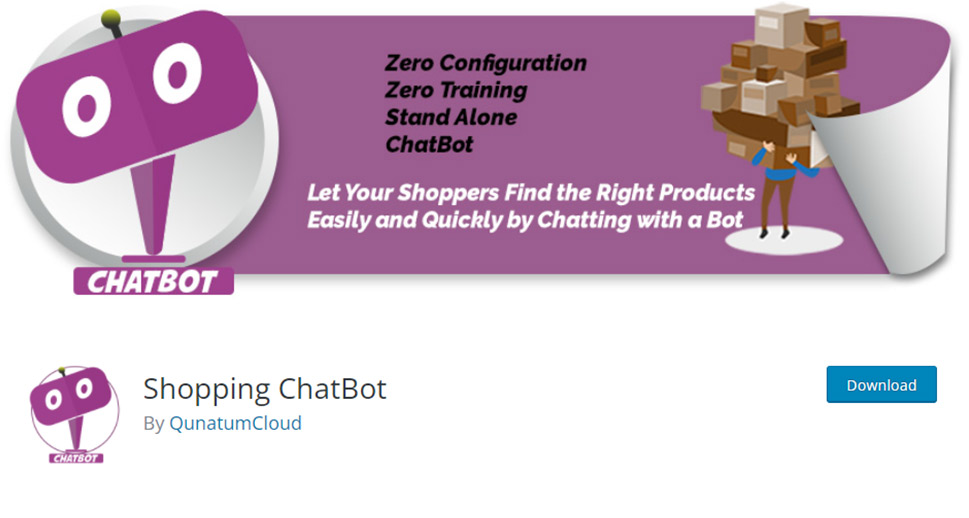 A well-configured chatbot can be of huge help for any type of WooCommerce store. Besides providing answers to FAQ, the Shopping ChatBot, a chatbot for WooCommerce, also enables customers to easily find the product they are looking for. Many people simply feel more confident when they get information through a conversation than through browsing the site, so this feature can be of great help in boosting your conversion rates.
This tool literally behaves like a shopping assistant, making your customers feel welcome and appreciated. It automatically detects existing users and displays targeted offers to them. You can easily configure custom questions and answers and add them to the bot's repertoire. Thanks to its real-time statistics feature, it allows you to track all the users who abandon the cart in real-time.
The Shopping Bot works right out of the box, requiring zero configuration from your side. It comes in a free and premium version, where the premium version includes integration with Google Artificial Intelligence and machine learning API Dialogflow and allows you to create custom Intents, Responses, and Facebook Messenger Rich messages. Its prices vary from $33 to $239 per year depending on the features and number of websites it is going to be used on.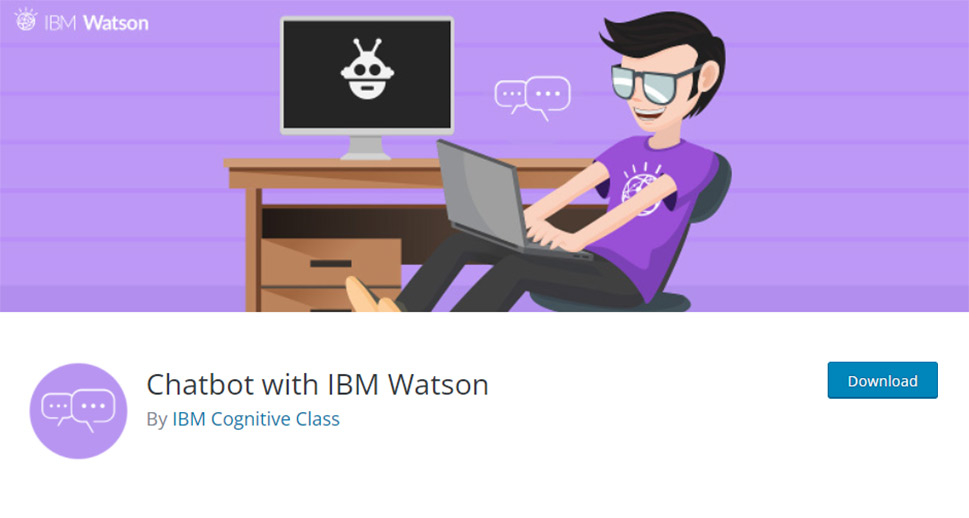 This powerful chatbot WordPress plugin comes from IBM and is built in such a way that it can answer the needs of a wide variety of websites with ease. Chatbot with IBM Watson lets you add a chatbox to your website and provide customized responses with images and clickable content. In case you also offer live customer service via phone, you can offer your customers the option to talk in real-time with your customer service agent thanks to the easy VOIP calling functionality that is included.
Apart from customizing its appearance, you also have the chance to choose the pages and posts where you want the chatbot to be displayed to website visitors. The chatbot also allows you to use the user's data such as name in the chatbot dialog highlighting this way the personal tone of the conversation, which can help the user feel more welcome and respected.
This easy-to-use plugin is entirely free so you can experiment and try out all the features it includes without any limits.
Tidio is a powerful, user-friendly solution for any type of website that needs live chat and chatbots. It also includes a messenger and email integration so you can cover a variety of communication channels with just one tool.
You can use it across multiple devices, it is fully responsive and very lightweight and surely won't jeopardize your website performance on any device. Managing chats is simple as it takes place in a single, intuitive admin panel which gives you a neat overview of all the chat activities.
Thanks to the incoming visitor's notification you can engage the visitors as soon as they come to your pages, offer them assistance or customized suggestions based on the pages they are viewing, and combine this with other features to create a highly personalized user experience.
Tidio also comes with the option to set multi-language chats which are very important if you are communicating with an international audience – 20 different language versions of the widget are included.
The great thing about this plugin is that most of the features are included with the free version. There are three premium plans to choose from with prices ranging from $15 to $39 per month. A seven-day free trial is also offered so that you can check out if the advanced features included in the premium plans are something that you need or the free version covers all your needs.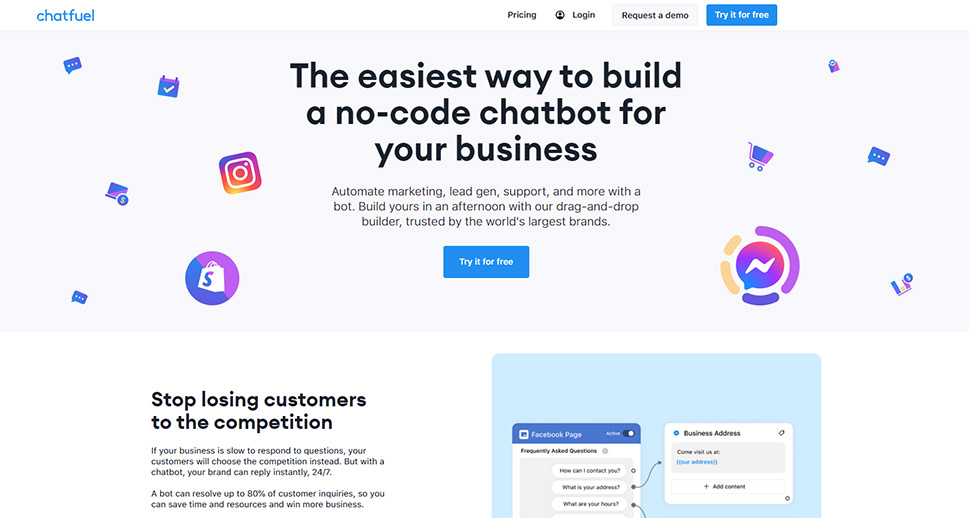 Chatfuel is a chatbot WordPress plugin with a focus on media agencies and the hospitality industry. Apart from all the standard features that the majority of chatbot plugins include, such as chat templates, customized answers, and similar, this tool also allows for making reservations and setting up FAQs.
It is very beginner-friendly and requires zero coding knowledge while allowing you to have a full-featured chatbot on your website in a matter of minutes. It comes with a built-in drag-and-drop builder which allows you to customize all the aspects of the design of the chat easily.
The simple and user-friendly interface makes it very easy to use and manage the chat flow.
A variety of integrations are also supported – you can integrate with tools like Google Sheets, Calendly, and Zapier, and an API is offered for custom integrations.
The basic version of the plugin is free, and three customized plans are offered. Agencies and similar types of businesses have the option to negotiate the price depending on the features they need.
Choosing the right chatbot WordPress plugin can save you a lot of time and money. It rescues you and your employees from having to answer the same questions over and over again while offering valuable insights about your consumers at the same time. However unnatural this form of communication may seem to you, its advantages heavily outweigh its possible shortcomings – a chatbot will never get annoyed with a customer and will always provide you with the chance to manage the conversation flow and direct it to your ultimate goal.
The type of chatbot that will suit you depends on the type of website you are running. In case you are running a WooCommerce store, the Shopping Chatbot will be the most straightforward solution. If your main concern is to reach a worldwide audience, Tidio and Virtual Spirits Chatbot have the features that can support you. Chatfuel is an excellent choice for beginners.
Since most of the plugins come with a free version, you also have the option to experiment and try out several plugins until you find the one that answers your needs best.