The Best WordPress CDN Services
Everyone who's ever done some SEO work, and even those just getting into it, have probably heard of CDNs. CDNs play a major role in a website's performance and speed, and as a result, they can help with ranking in the SERPs (Search Engine Results Pages). Because they keep your content cached, CDNs allow your site to produce the content more quickly when it gets a request. This contributes to a low page load speed and an increased likelihood of keeping visitors on your site longer. When you take all of that into account, CDNs become a very useful tool for SEO optimization work and creating a smoother user experience.
Fortunately, there are numerous CDN services available right now. And the popularity of WordPress as a content management system has ensured that a large part of those CDN services would be adapted to WordPress. In this roundup, we will cover what CDN services are, how they work, and what other benefits they provide. And, most importantly, which WordPress CDN services are the best to use.
The CDN services we'll cover are:
Understanding what CDN services are
A Content Delivery Network, or CDN, is a network of so-called edge servers, which are distributed around the world. They are designed for storing and delivering cached copies of your website's static resources to users based on their location. Those static resources include images, videos, HTML, CSS, and JS files.
The part of the world that contains an edge server is referred to as the CDN's PoP (point of presence). Thus, when users who are geographically very distant from your original web server visit your website, instead of getting the resources from the web server, they will get the website content coming from the closest PoP in the CDN network. As a result, the data's travel time is shortened, which improves your website's load speed.
However, there are many more potential benefits to using a CDN. The most obvious is that, because of faster website loading, the user experience will be better and the bounce rates decreased. All of this can lead to more conversions. And, by improving the website speed, your website's search rankings will improve, since speed plays a key role in ranking high in the search results.
Furthermore, as less data will be sent from your origin server, the amount of bandwidth needed there will be reduced. And, as your content will be served from multiple servers, instead of just one origin server, your website will be more resistant to crashes that could be caused by sudden spikes of traffic, either coming from specific circumstances or DDoS (Distributed Denial of Service) attacks. Moreover, most CDN providers will include additional security measures and SSL certificates to increase the overall security of your website.
Having a CDN is very beneficial for most WordPress websites, but there are exceptions. This is why you need to know when not to use a CDN. Those cases include when you are running a very localized website and have no need for a global presence or if your visitor count is quite low.
Once you decide to add a CDN to your website, you need to know the key points that distinguish the best CDN services. For starters, you should look for a CDN that has a large network of edge servers, which are distributed so that it overlaps with the areas that most of your visitors are coming from.
Pricing may also play a big role in deciding your CDN provider, as there are several pricing models available currently. Apart from that, you'll want to look for someone with good quality and responsive customer support. This is a must as you might run into various issues, or even need help to configure the CDN as some of them can have a more technical configuration process.
Furthermore, looking for an added layer of security against DDoS attacks, as well as an SSL certificate is always a good idea. Finally, if your website relies heavily on high-definition images, you should look for CDNs that offer image optimization features as well.
The best WordPress CDN services
With the information on what to look for in a good CDN, let's take a look at our top picks for the best WordPress CDN services.
Cloudflare is one of the best-known CDN services, with globally distributed servers in over 200 locations all around the world. Its features include fast static and dynamic content delivery, DDoS protection and WAF, image and mobile optimization. There's also fast and responsive customer service, custom cache rules, SSL certificates, support for HTTP/3 protocol, a programmable API, and an "Under Attack" feature.
Furthermore, setting up the Cloudflare CDN is easier than for most CDNs as it has an easy-to-use control panel and it integrates seamlessly with WordPress with its plugin.
But, what Cloudflare may be most renowned for is the free plan they offer. It has limited features and is intended for smaller websites, but it is a great way to try out a CDN service. As for the premium pricing plans, they have a Pro plan priced $20 monthly, a Business plan for $200/month, and an Enterprise plan with a custom annual fee that you agree upon. Of course, each plan comes with an increasing amount of features, which allows for high scalability.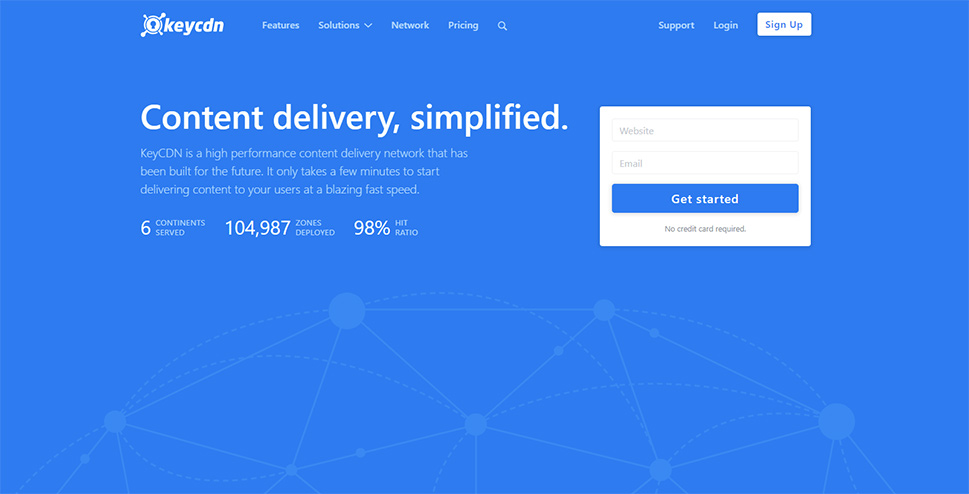 KeyCDN is another great WordPress CDN option that has 40 globally distributed data centers and boasts a 98% cache hit ratio. The setup process is quite easy and you can integrate the service with WordPress using their CDN Enabler plugin.
The key features of this CDN service include DDoS protection, WAF and 2FA, GZip and Brotli compression, image processing, Cache-Control, SSL certificates, origin shield, instant purge, and traffic monitoring and logging.
As for the pricing, they use a pay-as-you-go model, with regional monthly fees divided into several tiers based on the amount of traffic. They have a minimum monthly charge of $4, with a 14-day trial period.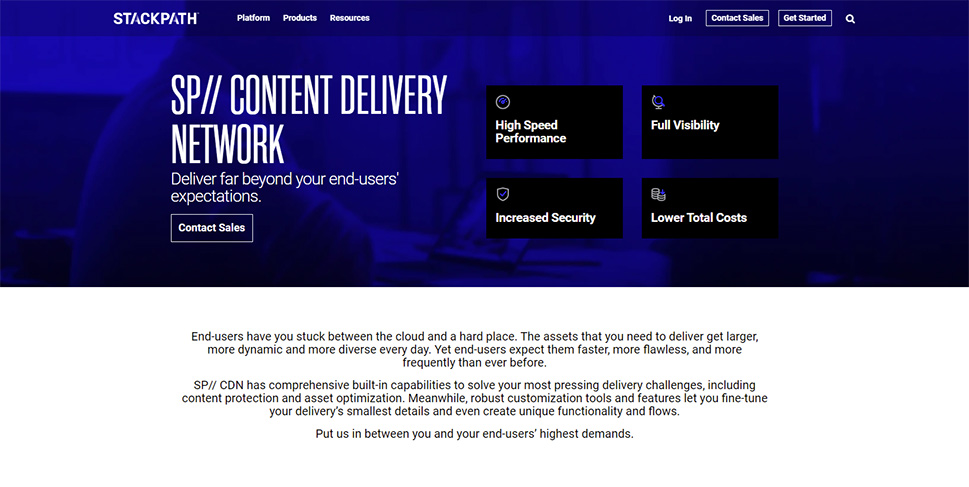 StackPath, formerly MaxCDN, is a well-known CDN service with over 50 locations around the world, excluding Africa.
Its features include an instant purge mechanism, custom cache rules, DDoS and hotlink protection, WAF, SSL certificates, as well as IP and geo whitelisting/blacklisting. It also offers worldwide traffic monitoring and logging, GZip compression, origin shield, and premium support.
The StackPath CDN service is relatively simple to set up. However, the tools that are provided and the management process are geared more towards developers and experienced WordPress users.
As for the pricing, StackPath hasn't disclosed any of its pricing plans. Instead, interested parties are urged to get in touch with their sales team to set up a tailored plan and fee.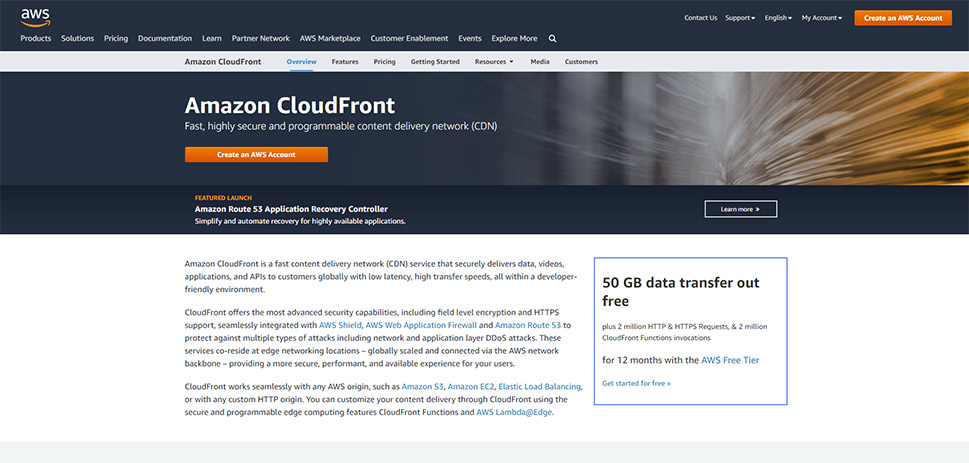 Amazon CloudFront is one of the most used CDN services with over 225 geographically distributed PoPs. This service is integrated with AWS so its users can take full advantage of the CDN as well as all the premium services AWS provides, like Amazon S3, Amazon Route 53, and Elastic Load Balancing.
Amazon CloudFront is a perfect solution for users who installed their WordPress site on AWS. Those users should already be technically skilled enough to perform the setup process, which is a bit more complex than average, and make the most of the AWS tools provided using programmable APIs and the AWS console.
The features of this CDN service include DDoS protection using AWS Shield, static asset caching, support for live streaming, GZip compression, and worldwide analytics and logging using Amazon S3. In terms of safety, it also offers SSL certificates, AWS WAF, and CloudFront's geo-restriction feature.
As for the pricing, Amazon CloudFront offers 50 GB of data transfer out, 2 000 000 HTTP or HTTPS requests, and 2 000 000 function invocations free each month for a full year. If you exceed this limit, you will be charged by the on-demand pricing policy for the regions your visitors come from. The fees are classified into several tiers based on data usage, in TBs or PBs, given the volume of your traffic.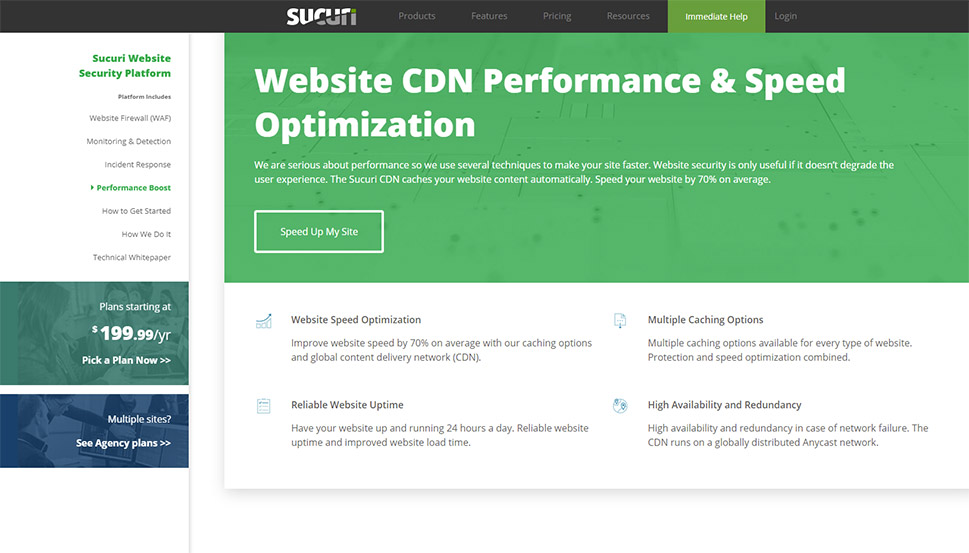 Sucuri is a well-known company that specializes in website security and protection from hackers and malware. Besides security, Sucuri offers a CDN solution within its several premium plans that runs on the Anycast network with only 11 PoPs in the USA, Europe, and Asia, and 2 in Australia and Brazil. As such, it provides a considerably smaller global reach than other CDN services covered on this list.
However, Sucuri's list of features is considerable, including a full web-application firewall with DDoS mitigation, malware protection and removal, constant monitoring and analytics, SSL certificates, smart caching options, and responsive premium support. Furthermore, its setup process is very beginner-friendly and the service is perfectly integrated for WordPress using the plugin they created.
As for the pricing, their premium plans start from $199.99/year for the full-service package, or $9.99/month for the firewall and CDN services only, with a 30-day money-back guarantee. Sucuri can also be combined with other CDNs if you only want to take advantage of its security aspects, making it highly flexible.
Rackspace is well-known for its cloud computing and hosting service. The CDN it offers is based on its well-developed cloud infrastructure with over 200 globally distributed edge servers, in partnership with Akamai. This means the service is highly scalable and able to handle all kinds of traffic loads.
Rackspace works well with popular WordPress plugins and integrates with the W3 Total Cache plugin. However, the setup process isn't particularly streamlined and is more developer-friendly overall.
This CDN service's features include SSL certificates, access logs, GZip compression, a detailed control panel, and responsive, premium support. But, DDoS protection is a feature that is notably missing from their offer.
As for the pricing, Rackspace uses pay-as-you-go plans. Their fees are divided into tiers that differ based on bandwidth, region, and whether you are already using Rackspace Cloud or not.
Google Cloud CDN is one of the fastest CDN services available, with over 130 locations all around the world. This is a perfect fit for users who are already on Google's Cloud Platform as the CDN would integrate seamlessly into their existing service(s).
Otherwise, if you want to use the Google Cloud CDN, you would first need to install WordPress on Google Cloud. The process is involved and it can prove challenging for most WordPress users.
With that being said, this CDN service is worth considering as it includes features like supporting protocols like HTTP/2 and QUIC, SSL/TLS certificates, Cloud monitoring and logging, high scalability, and load balancing.
As for the pricing, Google Cloud CDN uses a pay-as-you-go model that charges based on cache egress, cache fill, and amount of HTTP/HTTPS lookup requests. But for anyone curious to try it out, the Google Cloud Platform offers a $300 credit with no obligations, which you can spend on testing Google Cloud services, including the Google Cloud CDN.
CDN77 is a premium CDN service with a global network in 42 data centers around the world that promises a 97% cache hit ratio.
Its features include SSL/TLS certificates, real-time dashboard reporting, DDoS protection and SmartWAF, IP and Geo whitelisting and blacklisting, as well as responsive customer support. In terms of service, it offers solid performance with a minimalist control panel, perfect for novice CDN users.
As for the pricing, you will have a 14 days risk-free trial period, which includes access to all the features, 1TB of traffic, 50GB of storage, and access to the support service. After the trial period, you will be able to opt for a pre-set monthly plan based on your traffic volume or ask for a custom or high volume plan, if your traffic exceeds 150TB or 50PB.
Fastly is one of the best rising CDN services that prides itself on its configurability and scalability. Its features include DDoS and bot protection, SSL/TLS encryption, next-gen WAF firewall, top-notch customer support, and 150ms global purge time. It also has highly configurable video caching support, optional image optimizer, and supports the latest protocols and standards, including QUIC and HTTP/3.
However, with all the flexibility and configurability in place, Fastly requires a considerable amount of skill to set it up properly. If you opt to try it out, you can rely on their outstanding customer support and extensive resources in the form of both documentation and a lively community.
As for the pricing, Fastly uses a pay-as-you-go model once you exceed the $50 that is the monthly minimum. You will be charged for bandwidth and the total amount of requests using variable regional rates. With that being said, you will have one month free (up to $50) to test your traffic and decide if this is the right CDN service for you.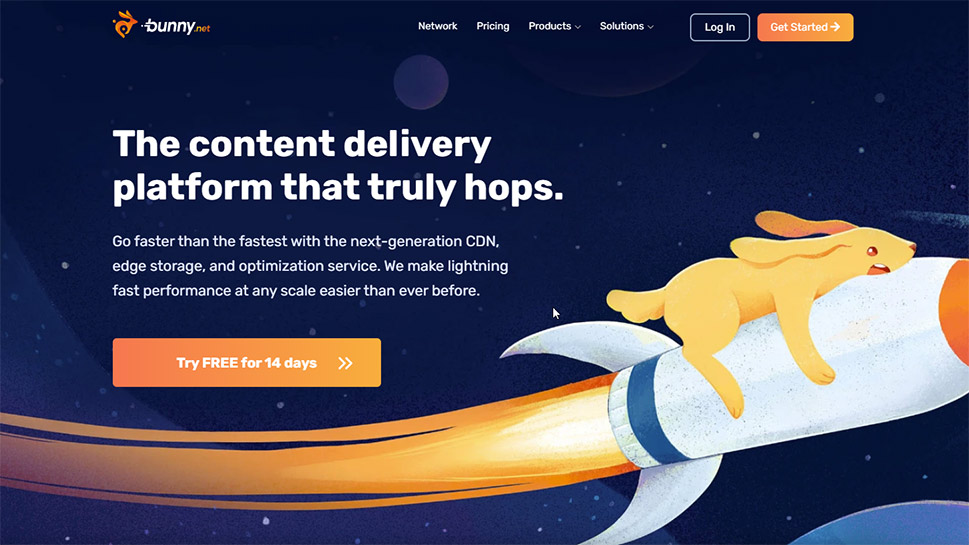 Bunny is one of the best WordPress CDN services, with 55 data centers spread across the world and with a very affordable pricing model. Unlike most CDN services, it is quite easy to set up and offers an extremely beginner-friendly control panel. It also offers a way to integrate the service using WordPress plugins such as the one that they developed.
Its list of features includes a real-time CDN usage monitoring dashboard, GZip and Brotli compression, HTTP/2 connections, SSL certificates, as well as hotlink and bandwidth overdraft protection. There's also IP or country blacklisting, image optimization, and fast and responsive support service.
As for the pricing, they offer a 14-day free trial, after which you can decide from one of two pricing plans, depending on your bandwidth. There is a monthly minimum fee of only $1. And your total charges will be calculated based on affordable regional bandwidth monthly fees, which are discounted even further if you require high bandwidth.
A CDN service can make a considerable improvement in the load time of your website as it decreases the distance data has to travel before reaching your visitors. This, in turn, improves the visitors' experience on your website. It can also bring numerous additional benefits to the website, and we touched on some of those in this article.
Since there are a lot of CDN services available, it might be difficult to find the right one for your WordPress website. To help you narrow down your selection, we put together this list of what we believe are the best WordPress CDN services you can find. We cited all the key features for each service provider, so you can pick the one that would be best for your site. We invite you to carefully compare all the services we covered and even try out the ones that come with a free trial so you can make a well-informed choice that will serve you well both now and in the future.