6 Best Website Brokers to Sell Your WordPress Site
These days, online and digital assets are just as valuable as physical ones, sometimes even more. A well-established website, with a good ranking, solid organic traffic, quality content and a strongly developed hierarchy and structure can actually be worth quite a lot. Some niches, such as eCommerce, news and aggregate websites, affiliate websites, membership, podcast and dropshipping websites are particularly hot. However, portfolio websites and blogs can be sold quite well, too.
Either way, if the time has come for you to move on and sell your website, you should consider using an intermediary, which is why this time around we want to talk about the best website brokers. But first, let's answer one common question:
Do I Need a Website Broker?
In order to answer this question, let's first see what it is that website brokers do.
A website broker serves as an intermediary between a website seller and a website buyer. Both sides can contact a broker and ask for assistance in finding a good match – a buyer that will offer a good price for the website you've built, or a solid and well-established website for you to purchase, if you're a buyer. Brokers usually work with listings, much like real estate agents. The listings can be private, membership-only, or public.
The best website brokers can help you close a deal very quickly. They help you establish the value of a website and they know where to look for interested parties. With many brokers, the valuation, at least the initial one, is free. They often have huge databases of clients so the search is usually quite quick, and they also employ a number of strategies, including marketing, to assure you get the best match. In many cases, they cover all due diligence processes, and a lot of brokers insist on working only with vetted buyers. So, unless you already have a buyer you can trust, it's best to leave the search to professionals.
Furthermore, website brokers usually help with the legal aspects of buying or selling a website, which can be quite intricate, especially if it involves two different jurisdictions. Unless you're specialized in this particular branch of law, this is, again, something you might want to delegate to a professional.
Now, since the process of selling a website also means establishing its worth, you definitely want to be sure you're working with the best website brokers, who won't undersell your website. Experience, client recommendations and the size of the database are some of the criteria you can use in your selection. The sort of commission or premium the broker is charging is also of essence.
Also, bear in mind that not all brokers are suitable for all websites. There are a lot of big website selling portals you can turn to if you have a small or medium-sized website. Very large websites belonging to major companies, with high traffic and high revenue, usually opt for smaller boutique brokers who approach each client with dedicated attention.
Now, if you're new in this, you may need some guidance as to which website brokers meet the criteria of experience, reliability, professionalism, performance and price. That's why we created this list of the best website brokers working on the market right now:
If you're looking to sell a small website, you may want to check out Flippa. It's a marketplace that offers a clear and detailed overview of the websites on sale with details that include website age, profit, page views and other essential info. It also offers free valuation for potential sellers, and after you sign up with them, they take an in-depth look into your finances and your operational details. Being a marketplace, they don't work with you directly but rather connect you with their partner broker who then takes care of everything. Flippa assures best times, best price and lowest fees and has 12k+ deals completed annually. Flippa boasts the largest buyer and investor community and completion times that are five times faster than classic advisors. The platform is particularly suitable for small and medium online shops, FBA stores, review websites, SaaS businesses, and various small and medium businesses.
As for the pricing, the platform fees start at $39, and success fees at 4%.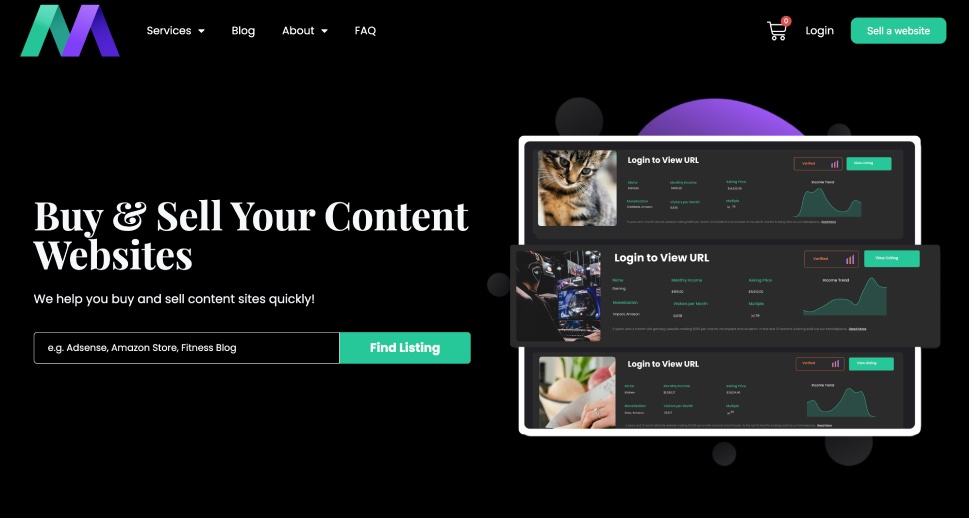 Motion Invest is a Dutch auction broker specializing in content websites of various size and traffic volume. The Dutch auction model means the asset price is lowered every two days until a bid is made, and the first bid wins. It assists clients in both buying and selling a website and provides free site valuation before signup. Of course, for more detailed estimates and for actual services, you will need to sign up. Their average time is 12 days and the average result is 36x increase. The website doesn't have a listing fee, which means you don't have to pay anything until you sell, at which point you will, of course, have to pay a success fee. Motion Invest has a considerable buyers pool and offers full transfer support throughout all the steps of the process. The fee varies depending on the sale price and starts at 20% for sales under $20,000 and down to 5% for $500,000 or more. There is also a one-month exclusivity period which means that during that time you're not allowed to list your website on another marketplace.
Again, Motion Invest is specializing in content websites, meaning blogs, review websites etc. It doesn't work with eCommerce. It also only sells websites that actually do make some sort of profit and have organic traffic of 80% or above.
Another broker specializing in content websites, The Website Flip is a boutique highly-vetted brokerage, which means all their listings are examined and verified. The listings are not public and in order to buy or sell through them you need to join their newsletter where all the businessflow is taking place. However, there's also a possibility of a direct purchase by the broker itself, if your website fits their criteria. It's a good choice for websites with a modest value and not a lot of verified revenue. In fact, unlike many other brokers, it works with websites with zero revenue, too. This is because it's primarily a website-flipping business, which is also why they may decide to purchase your site themselves instead of listing it. The fee is 3%. The Website Flip currently does not work with eCommerce or SaaS websites.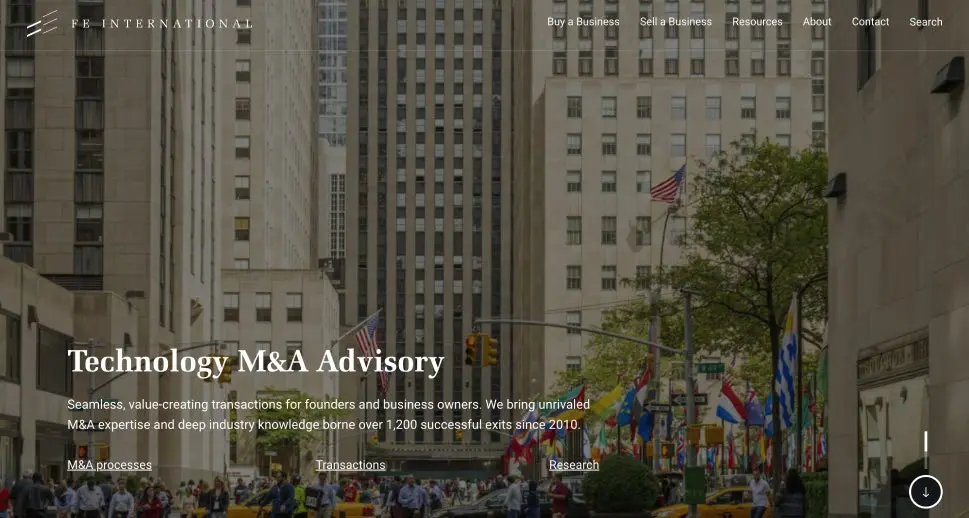 While not exactly a website broker, FE International can help website owners get valuation, expertise and mediation in selling their website to the right client. FE International is an M&A consultancy that offers accounting and valuation, mergers and acquisitions services, onboarding and technical transfer for SaaS and eCommerce businesses, as well as content websites. They have a 94.1% success rate and boast over $1 billion in acquisitions. If you sign up with FE International, you get detailed traffic analytics, as well as analytics of your technical aspects, finances and legal issues. They also take care of marketing your business for sale, negotiations, due diligence and, in short, everything from start to closing the deal. There is a three-month exclusivity agreement. The fees vary depending on the value and are not specified openly, but they are definitely higher for smaller deals, and vice versa.
If your website already makes considerable profit and you're looking to sell it at a good price, check out Latona's, a boutique M&A brokerage for flow-positive digital businesses. They work with content websites but also with eCommerce, FBAs and SaaS businesses, membership and lead generation websites and domain name portfolios. If you decide to work with Latona's, you first get a completely free valuation and then access to the brokerage's large pool of buyers and sellers. When a match is found for you, Latona's provides full transition assistance by expert brokers, from sale to transition. The brokerage strictly adheres to the Safe Escrow and confidentiality policies, and works only with carefully vetted buyers.
Note that Latona's prefers working with well-established businesses, i.e. those with annual profits from $20,000 to $100,000,000; and at least one year of positive trading. Latona's doesn't cite a fee range for their services. To find it out, you will need to reach out to them directly.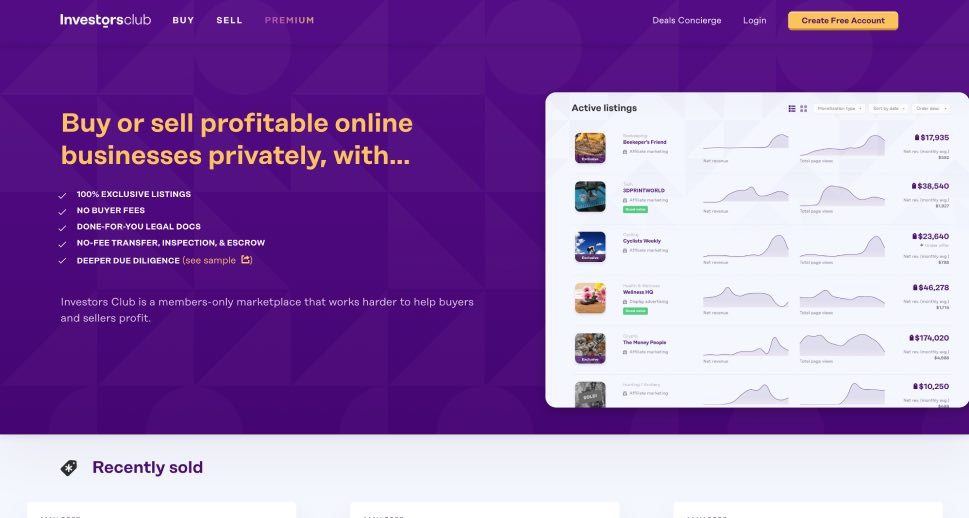 Investors Club is a major broker famous for producing very in-depth and detailed due diligence reports. It's a members-only marketplace with 100% exclusive listings, meaning you won't find them anywhere else. Being members-only, it comes with a membership fee, but their success fee of 7% is among the lowest in the industry. Listings go live in seven days or less, and once a deal is reached, the sale is verified and closed within seven days, too. Investors Club works with vetted buyers, making sure you don't get scammed or waste your time, and offers no-fee transfers, escrow and mediation. This broker works with content websites and eCommerce websites alike. For content websites, the condition is that the content is in English, that it has at least $500/mo revenue and a minimum of six months of verifiable traffic and revenue. For eCommerce, the website should be predominantly in English, make at least $1,000/mo and have at least 12 months of sales history.
Website brokerage is a business that, like any other business, comes with its share of scammers or incompetent market players. If you're new to buying and selling websites, it may be hard to distinguish real and reliable ones from those you better avoid. Thankfully, each and every broker and marketplace on our list has a proven track record and can be trusted to sell your website at profitable price. If you know of a broker or a marketplace we didn't list but you feel should be mentioned, don't hesitate to reach out and share your experience with us!