10 Best Tab Plugins for WordPress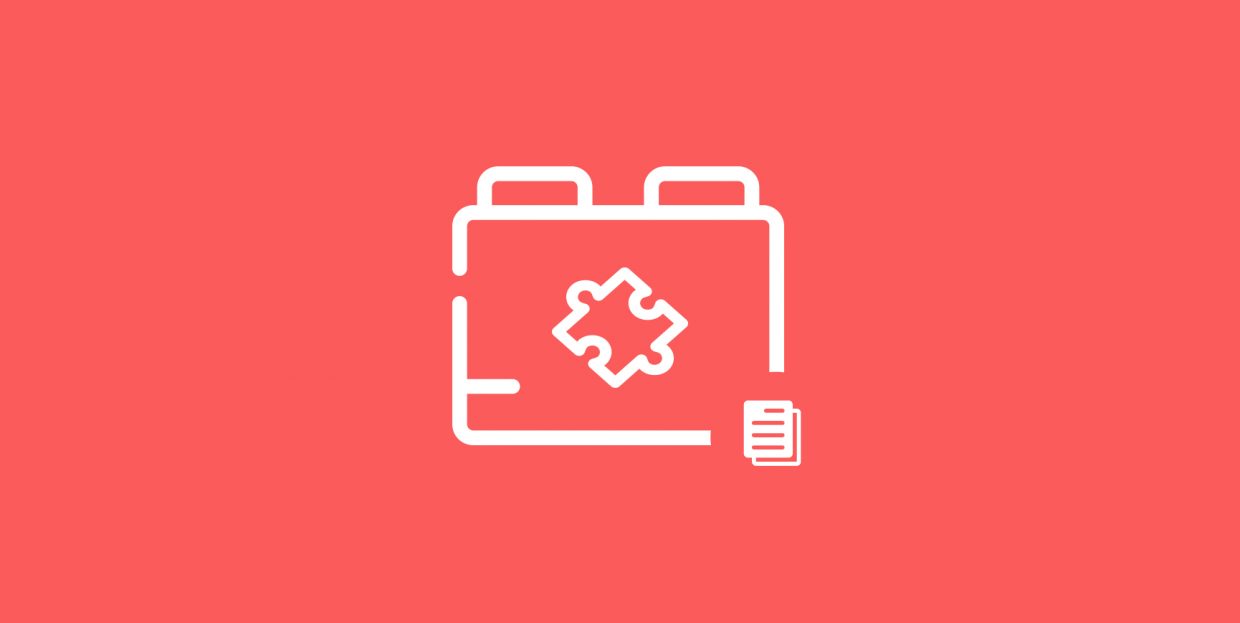 A smart content strategy is essential for the success of any website. But, offering an abundance of quality content will not bring you the results you aim for unless you manage to structure the content well so that the user can easily find exactly what he or she came for. There are many elements you can employ to organize your website, and WordPress tabs are definitely very useful in that regard.
Tabs are effective in helping you sort your content and map your website. They allow you to place a large amount of content on a page without making it look cluttered and chaotic. Users are more likely to spend time on a page that is well structured and easy to navigate, so tabs are also a very practical way to level up the user experience.
Adding tabs to your website is not complicated, even in case you have zero coding knowledge. There is a wide choice of great tab plugins for WordPress that allow you to add this practical element with just a few clicks. To help you find the perfect one for you, we compiled a list of top free and premium tab plugins for WordPress:
Our very own Qi Addons for Elementor plugin is an intuitive, easy-to-use tool that's available entirely free and offers tons of customization options. Even complete beginners with no coding knowledge whatsoever will quickly feel comfortable with this plugin. It comes with 60 free and advanced Elementor widgets, making it the largest Elementor Addon pack available at the moment. What makes it more than just a tool are its powerful customization options that will allow you to modify every aspect of every element and enrich your site not just with functionality, but also with style.
Qi Addons for Elementor provides you with two tab elements – horizontal tabs and vertical tabs. You can choose how you want the content in your tabs to be displayed, play around with plenty of typography options, customize background colors, set and stylize borders, and even add pictures to your tabs as well. Since it uses Elementor's live editing functionality, Qi Addons ensures you have an instant preview of all the adjustments that you make, so you have a lot of room to experiment until you find what looks great on the page. Fast loading time is secured thanks to the finest coding practices, so you can be sure this plugin will not have any negative impact on your website's performance, despite the variety of options it offers.
With Qi Addons for Elementor, tabs are a lot more than just a way to organize your content – this plugin allows you to create unique, beautifully designed elements that keep the user's eye on your page.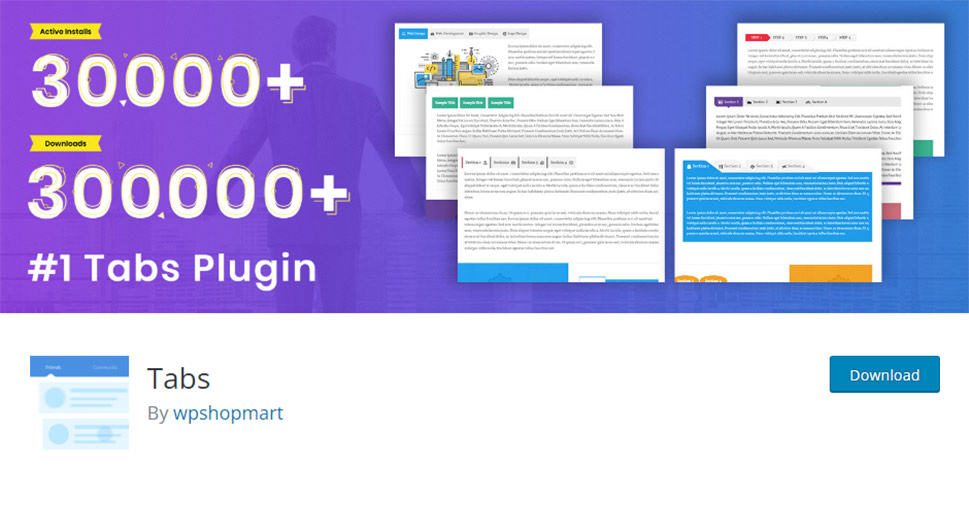 The Tabs plugin is based on the bootstrap framework and is very easy to use. It allows you to add both horizontal and vertical tabs. Basically, the plugin works by using shortcodes for adding tabs and allows you to add as many tabs as you need anywhere on your website. Thanks to the drag-and-drop functionality you can easily sort tab items. The plugin also includes the option to add images, video, and audio, or even a shortcode in the tab description field.
It is compatible with the majority of themes, tools, and plugins, mostly due to the fact that it is built on bootstrap. This means the possibility of CSS conflicts is minimized. As for customization, Font Awesome icons are supported, and in case you need more advanced options like animations or on hover tabs (tabs that open on hover without the need to click on them), you can opt for the premium version of the plugin. The premium version also includes 20+ design templates for tabs, which can significantly speed up the whole process in case you need to add tabs to your site quickly.
It comes with a two-tiered pricing plan, with prices ranging from 9$ to 27$.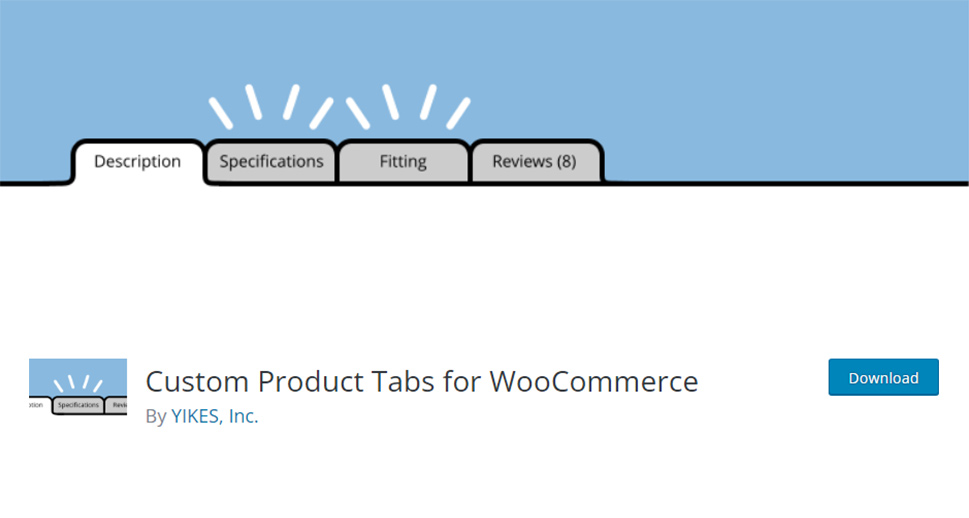 If you are running an online WooCommerce store, adding tabs will allow you to make your pages even more attractive and your customers will appreciate not having to browse your whole website to find all the info about the products they are interested in.
The Custom Product Tabs for WooCommerce plugin allows you to add custom tabs that work on a per-product basis so that you can display more details about each of your products. You have the option to create custom tabs individually for every product or to save a template and apply it to multiple products. You can also add images, shortcodes, or even HTML to your tabs.
The Pro version of this plugin provides you with the option to include tab content in search results, add saved custom tabs to multiple WooCommerce products at the same time, and plenty more advanced features. You can choose between three pricing plans, with prices ranging from 29$ to 119$ depending on the number of sites you want to use the plugin on.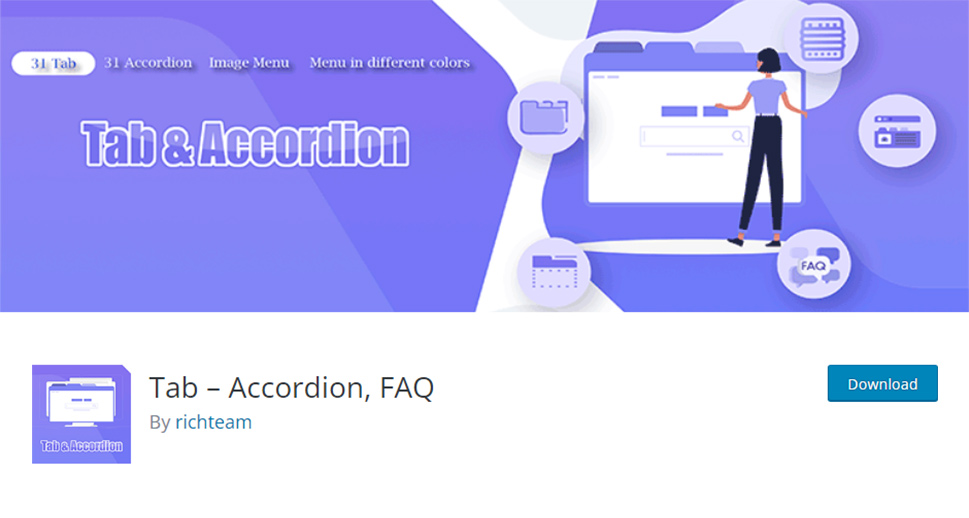 The versatile Tab & Accordion Plugin comes with plenty of options for adding tabs for all kinds of websites. It comes with 31 types of tabs and accordions. The tabs you can create with this plugin include horizontal and vertical tabs, simple tabs, responsive tabs, animation tabs, circle tabs, and many more.
The process of creating tabs is very intuitive and simple so very little knowledge is necessary to use this plugin to its full extent. All the tabs you create will be fully responsive so you can be sure they will not compromise your website's layout regardless of the device it's being viewed from. The plugin supports all major browsers like Chrome, Safari, Firefox, Edge, and Opera and is compatible with all themes based on Elementor. What's special about this plugin is that it comes with beautiful slideshow effects that you can use to make your descriptions, titles, or images more appealing.
The pro version of the plugin includes 23 tab and accordion design templates and more than 30 content animations, as well as the possibility to add images to your tabs. You can choose between two pricing plans, with prices ranging from $10 to $25.
If your main concern revolves around increasing conversions, this free, lightweight plugin may prove to be particularly useful. Simple Side Tab adds a global call to action in the form of a sticky, vertical tab to the right or left side of your website and you can link it to any page. In case you don't need the tab to be displayed on all pages, you can turn it off on specific pages with a filter shortcode that comes included with the plugin. Another useful option that is included is to conditionally change the text on the tab, also by using a filter shortcode.
The tab you create will be fully responsive, which means it will look and work perfectly well on mobile devices too. As for the tab design, the plugin includes seven standard screen fonts, unlimited colors for tab elements, and many more useful options. This is a simple, fast and very effective solution if you are sure you are not going to need more than one tab element on your website.
WP Tabs Pro is a premium lightweight and fast plugin that works smoothly out of the box. It is handy for beginners, while advanced users will appreciate the variety of features it includes. Its intuitive interface, paired with drag-and-drop functionality, makes it extremely user-friendly. It allows you to create and customize a large variety of tab types – horizontal and vertical tabs, flat tabs, tabs with subtitle icons, and many more. With this plugin, you can display all kinds of content from HTML markup, shortcodes, and images, to audio, video, maps, galleries, and everything in between in well-organized tabbed navigation.
To make your tabs more attractive you can choose between 16 animation effects, more than ten tabs positions, and100+ styling, and layout customization options. In case you need to highlight a specific event or action on your site, you can take advantage of the AutoPlay option that automatically starts switching through tabs when visitors arrive on-page.
As for pricing, you get to choose between a one-year and a lifetime license, and each option offers a three-tiered pricing plan with prices ranging from $29 to $399.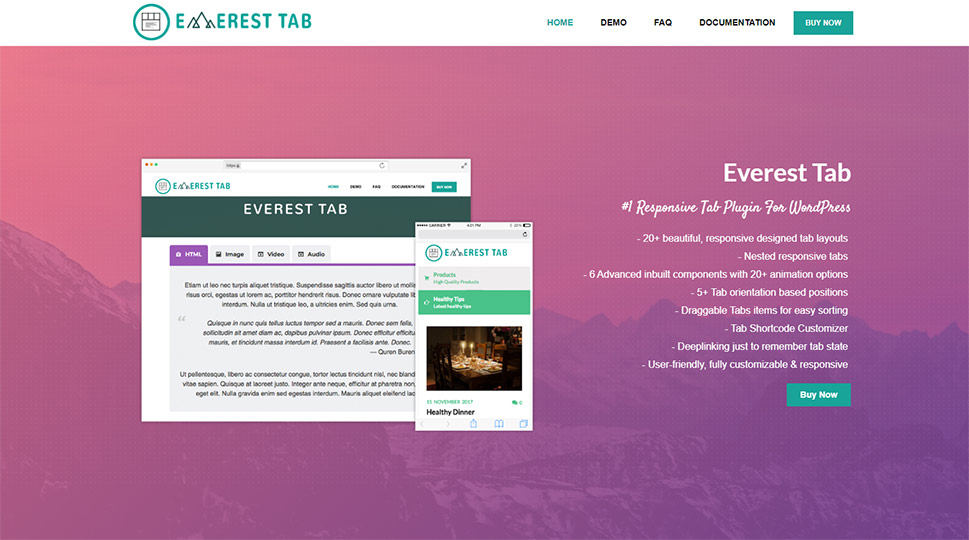 Everest Tab is highly customizable and allows you to create an unlimited number of tabs. This easy-to-use plugin comes with advanced inbuilt tab elements that include custom links, recent posts, a social feed, etc. It is tested in all modern browsers like Chrome, Firefox, Edge, Safari, etc., and has proven to work well with all of them.
Its free version offers three pre-made tab templates while the pro version comes with more than 20 pre-made appealing and responsive tab layouts to choose from. The free version includes only the horizontal tab types, so if you plan on having vertical tabs too, you should consider the plugin's premium version, which comes at a single price of $19 and includes a shortcode generator that makes it easy to add tab content to any page or post. Both the free and the premium versions are fully responsive, as well as touch and retina-ready, which means your tabs will look and perform great on all devices.
WP Tab Widget is a responsive tab plugin that allows you to add tab widgets to the sidebar of your WordPress website. It is easy to use and does not require any particular knowledge to get the most out of it. What makes this plugin especially attractive is the fact that it uses an AJAX loader which significantly improves its loading speed.
Thanks to the built-in pagination system, this tool allows pages to load only when necessary. Another interesting feature is the smooth animation that displays when a user shifts tabs. With this plugin, you have total control over your tab content including the title length, thumbnails, and excerpts. All the tabs you create will be fully responsive and can be displayed in any widget area.
The free version of the plugin can be used on an unlimited number of sites. The pro version comes with 21 predesigned tab templates and many more customization options. It comes in three pricing plans with prices ranging from $19 to $49 depending on the number of sites you want to use it on. Plus, it is WooCommerce compatible.
Tabby Responsive plugin is a lightweight, free plugin that earned great ratings thanks to its simplicity of use and efficacy. It lets you create responsive tabs by adding shortcodes inside your pages, posts, and custom post types. Horizontal tabs are created using jQuery and automatically switch to an accordion interface on smaller screens.
The default look of the tabs is discrete, elegant, and minimalistic, so it can fit many different styles. As for customization, in terms of design Tabby can't offer you plenty of options unless you are familiar with CSS coding.
Its free version has no admin panel and you can only customize how the tabs are displayed on your website by replacing the built-in CSS rules with a customized version. Generally speaking, more experienced users and those familiar with CSS should be pretty satisfied with this tool.
It comes in a two-tiered pricing plan, with prices ranging from £19 for usage on a single site and £79 for usage on an unlimited number of sites.
Responsive tabs by WP Darko is a beginner-friendly, lightweight plugin that is best for creating tabs that are simple and content-focused. One of the reasons why this plugin is so easy to use and recommendable for complete beginners is that it does not require any configuration upon installation. Its visual styling options are a bit limited, but the default style of the tabs is elegant enough to compensate for the lack of customization settings. It does include a tab editor though, that lets you arrange and customize tabs on your site with accent colors of your choice. Those familiar with coding can style the look further with some additional CSS.
The premium version of the plugin comes with more advanced features like the option to add icons for tabs and to create tabs that link directly to external pages. It also provides more room to customize the tab appearance by offering more border types and background presets to choose from. It comes with a three-tiered pricing plan with prices ranging from $19.99 to $99.99.
Many of the plugins in this list are entirely free or come with a free version, so creating beautiful and attractive tabs on your WordPress website definitely does not have to take a toll on your budget. Free tools like Qi Addons for Elementor or Tabby will probably inspire you to experiment more as they can answer very diverse needs. Considering the fact that, as your website grows, you are surely going to need many more elements to keep it fresh and attractive, Qi Addons for Elementor is particularly handy as it includes 59 beautiful widgets besides tabs, and offers premium-level customization options entirely free. On the other hand, if you have a specific goal in mind like increasing conversions or running a WooCommerce store, Simple Side Tab or Custom Product Tabs for WooCommerce will be the most straightforward answer to your needs. Whichever plugin you go for, your users will surely appreciate being able to quickly and easily find exactly what they need on your website.