6 Best Plugins for Converting a WordPress Site Into a Mobile App
We live in an age of instant culture. From the news and banking transactions to notifications and entertainment, we have to have everything immediately and fast. We crave instant gratification, and because of that, using smartphones in any given context has become our second nature. And that proclivity is what brands play into.
Aside from keeping their websites fully responsive, nowadays many businesses cater to the needs of their customers through mobile apps. Staying just one click away from their audience largely benefits brands and increases their productivity. So if you're thinking of converting your WordPress site into an application, this roundup is just what you need. We've hand-picked the best plugins that will help you turn WordPress into an app:
Why Should You Consider Converting Your Site to an App
Before we delve into the plugin talk, let's discuss the biggest benefits of creating an app for your site.
Launching a mobile app ensures your website looks pixel-perfect on smartphones. Responsiveness can sometimes be challenging to perfect, and a well-designed app ensures users experience your website in all its visual glory.
We've already established that people crave all things instant. An app puts your brand on the customer's phone and allows them to access your content in a single tap, 24/7. They don't have to "go through the trouble" of browsing your website. Instead, the app allows them to reach out to you, purchase your products, or play your songs in a single click.
Increased User Engagement
Most plugins that help you turn your site into an app include the option of sending push notifications to users. You can inform your customers about promotions, new releases, special offers, etc. Push notifications help you enhance user experience and possibly get higher click-through rates. Moreover, your customers will feel that you care about maintaining a great relationship with them and they'll be more loyal to you.
More Personalized Experience
Mobile apps usually allow users to personalize their experience and set up their preferences. Most apps track and remember users' interactions to provide them with the results that interest them the most. Just think of Instagram that shows you search results based on your previous searches and accounts you explored before.
Mobile apps usually allow users to access their main functionalities and download basic content even when they go offline. That helps make the UX even better and keeps the audience interested in a brand at all times.
Now that you know the main pros of having an app, let's discover the best plugins that will help you transform WordPress into an app.
AppPresser is one of the most popular plugins on the market that can help you turn your WordPress website into an Android or iOS mobile app. To unlock its full potential, it's best to purchase one of the three available premium plans. Using AppPresser's app builder, you can add the entire content of your site into the app (or select just specific pages and posts) and customize its appearance to your liking. You have the option to change text colors, button text, menu icon colors, to name a few. Moreover, the plugin integrates with WooCommerce, BuddyPress, and LearnDash. It also lets you upload images to WordPress using a camera on your phone, send push notifications, enable offline downloads, and lots more. Any changes you make on your site will immediately show in the app because the app is in sync with your site. While doing all the work, you can enable a live preview to keep track of how the app looks. When you're content with the result, you can deploy the app to the app stores.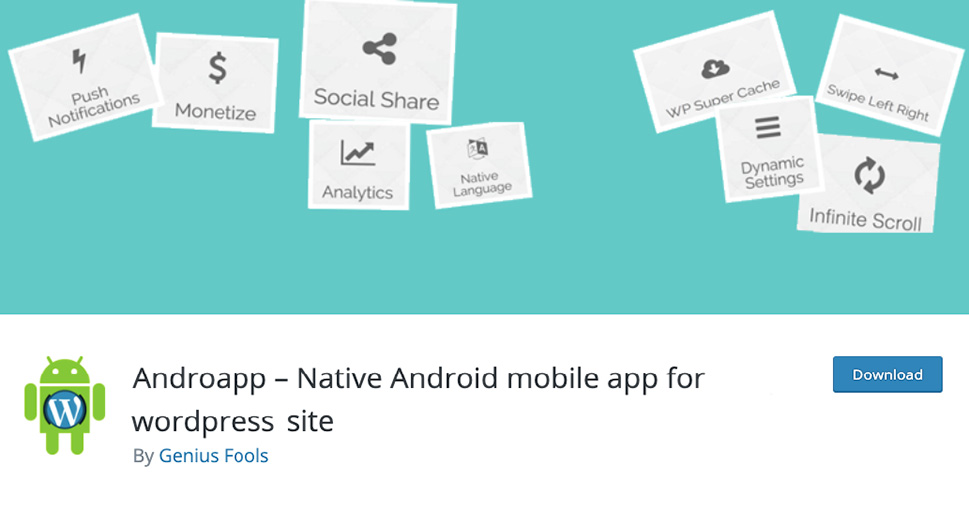 AndroApp is stacked-full with practical features that help you build a native app for your WordPress blog. The plugin is free during the first month, but after that, you are required to pay $66 per year. The amount of AndroApp's in-built customization options is impressive. You can change theme colors, choose Google Fonts that match the aesthetic of your site, and set a custom application name and its icon to tweak the app to suit your taste. This plugin packs an assortment of handy functionalities such as sending unlimited push notifications to your users, tracking statistics on your site (e.g. pageviews, comments count, etc.), infinite scroll, the possibility to save content offline and monetize your app using Google's AdMob (an app for monetization). It also integrates social share buttons for WhatsApp and Facebook and includes the image zoom effect.
Web2App is an affordable solution that requires no coding knowledge to turn a WordPress site to an app. The regular license costs $19 while the extended one amounts to $89 on CodeCanyon. Once you start building your app, you can add a name, launcher icon, and make a splash screen on startup. Web2App also lets you play ads in your app and use them to earn money. Furthermore, you can monitor statistics, customize the appearance of the app, share content on social media, include a loading bar to indicate the progress of a loading page, and much more.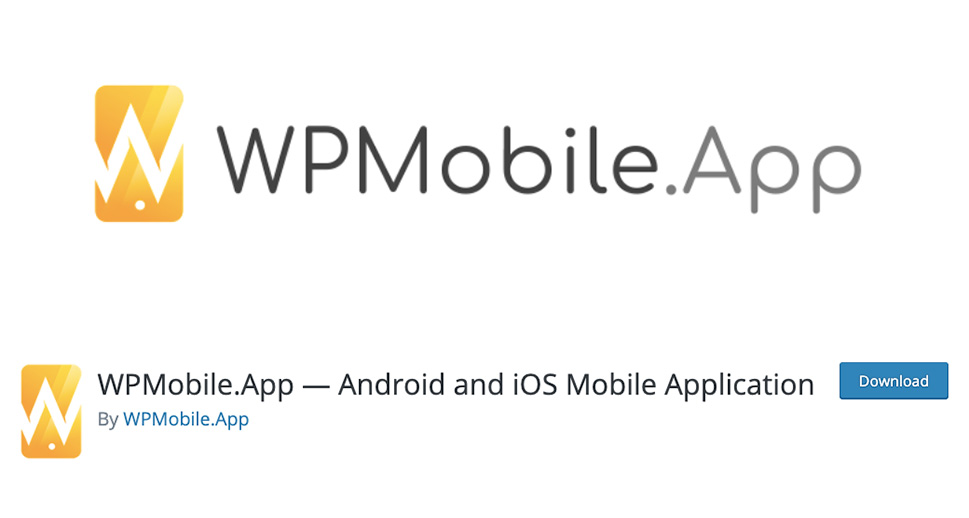 WPMobile.App allows you to create an app that matches the aesthetic of your site. You can use one of the several themes available, alter the colors of the app, and name it however you like. This plugin ensures real-time updates, meaning as soon as you change something on your site, the app will be immediately updated, too. Like most plugins in this roundup, WPMobile.App enables you to communicate with your users by sending them push notifications. If they see or read something they like on your app, they can share it on Facebook, Twitter, LinkedIn, etc. You can also enable comments on pages and posts and activate the search option to help users browse your content with greater ease. This plugin is easy to use, and considering the collection of features it packs, the price of €79 for Android and iOS each (or €149 for both systems) seems affordable.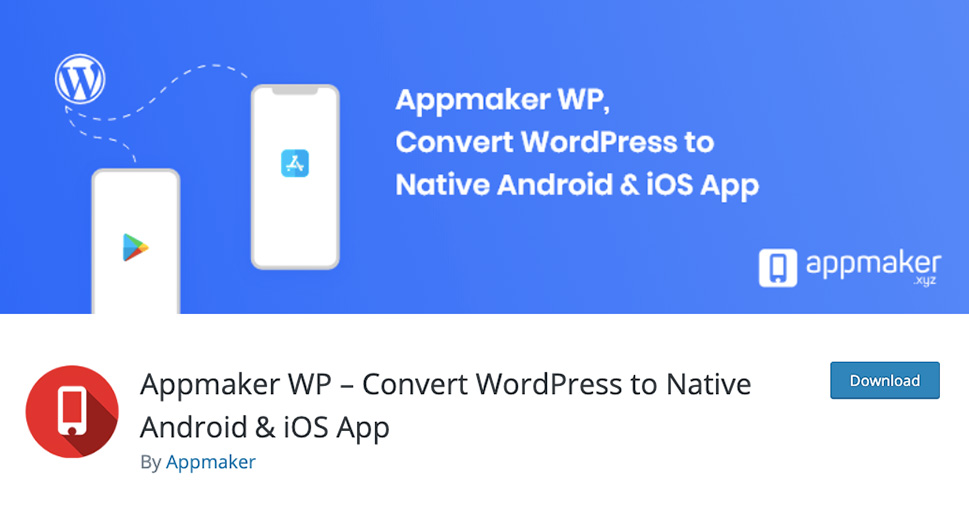 Appmaker WP helps you turn your WordPress website into a native app with ease. This plugin is specifically crafted for news and magazine sites. It enables you to add all of your news and articles to the app and organize them into categories (you can set a featured image for every single category). Appmaker WP includes features that let you customize the splash screen, create a clear navigation menu, update your app in real-time, embed visual content, and earn money by displaying ads in your app thanks to the integration with AdMob. Another great thing about creating the app with this plugin is that your users can log in to your site using their Facebook and Google profiles. You also have access to analytics regarding customers' activities in your app and push notifications.
Creating an app for your brand can undoubtedly help your business grow. It is the perfect response to the customers' need for accessing information and resolving various types of tasks fast.
Every plugin we reviewed in this article allows you to respond to the expectations people have from modern-day businesses and convert your WordPress site into an app. Pay attention to their features and pricing plans, and opt for the plugin that best matches your needs and the budget.