10 Best Password Manager Tools
If you are of a certain age, you will remember such a time when you only had to remember a single password, if any, in order to use your computer. Computer safety experts would urge you to commit your password to memory and never put it down on paper, lest you lose it or have someone steal it. Nowadays, the number of passwords an average person uses has multiplied, and we bet even tech-savvy users don't know how many different password-protected accounts they have, let alone recall each and every single password. Fortunately, there is a technological solution to keeping track of all the passwords – password managers.
But how do password managers work? How safe are they? And which one is the best password manager for you? We will try to answer all of these questions, and more.
What Are Password Managers?
Simply put, password managers are there to save you the trouble of remembering your passwords and periodically having to reset them if you can't.
With internet security a growing concern, it has long been a best practice to avoid meaningful (dictionary) words and numbers, and to make one's usernames and passwords as random as possible, loaded with less frequently used characters and combining both lowercase and uppercase letters. Otherwise, you make your passwords easy to crack by ill-intentioned people who already have access to some of your personal information. Worse still, many users tend to use the same password for all of their accounts, making all their accounts equally unprotected at once.
But randomly generating passwords using all possible characters and case variations makes passwords difficult to memorize, as they don't actually relate to anything. A password manager can be used to remedy that by safely storing your passwords, but other sensitive data can also be securely stored in the same manner. Many password managers also follow a Zero-Knowledge policy. This means that your data is yours alone, and not even the password manager developer knows it.
Most password managers are compliant with the Advanced Encryption Standard (AES), which stipulates the use of random strings 256 characters long. This makes them incredibly hard to crack even using very powerful software and computers. With a password manager, all you need to remember (or even write down in a secure place, as users are generally not very likely ever to be burgled for their passwords). Then you need to link all your accounts to the manager, and you're home free.
Now, if you feel you could use a password manager, you'll be happy to learn there's a whole slew to choose from. Which brings us to our list of 10 best password manager tools. Let's get cracking. Our pick, in no particular order, are the following:
RoboForm is a simple and comprehensive solution for your password management needs. Its standout features include a password generator which can also test your own passwords or passwords generated otherwise for strength and modify them when necessary. You can also easily share login data with other RoboForm users through email, and all your passwords are protected to AES-256 with two-factor authentication for extra safety, all in a single app.
Roboform has a free version which will do little more than store and audit your passwords and fill online forms automatically, but it can store an unlimited number of your passwords safely in one place. Premium features such as round the clock support, account data backup, and multi-user accounts come at a price.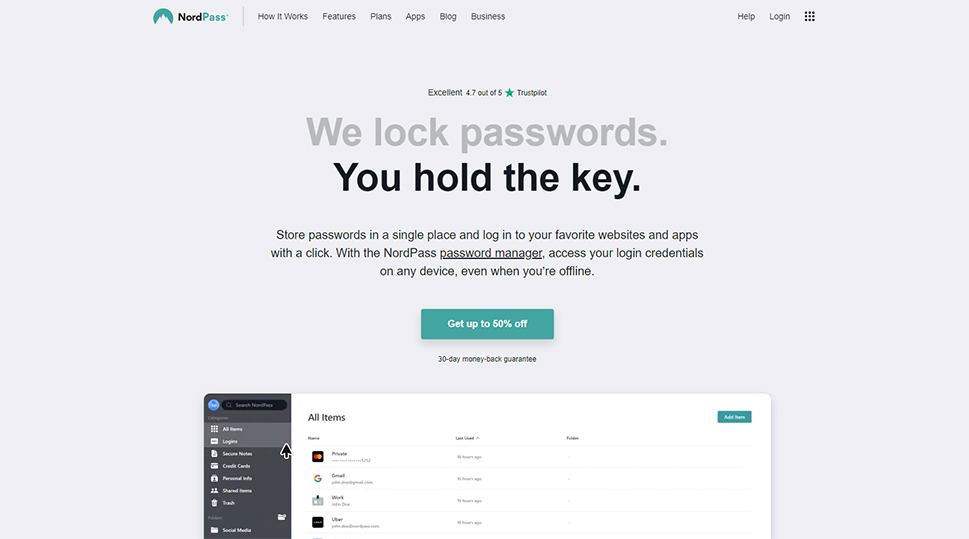 Nord is a big name in VPN services, with a long tradition of commitment to internet security, so it's no surprise that they also offer a password manager – NordPass. Not only does it store all your passwords conveniently in one place, as you'd expect, but also your secure notes, personal info, and credit card info. It will also automatically prompt you to save your credentials after each login. If you decide to install the NordPass browser extension, it will allow you to place biometric locks instead of a master password: use your fingerprint or your face instead of memorizing anything, and that's only the free version of the app.
The premium version adds up to six active devices in simultaneous use, item sharing between users, data breach scanning, and more.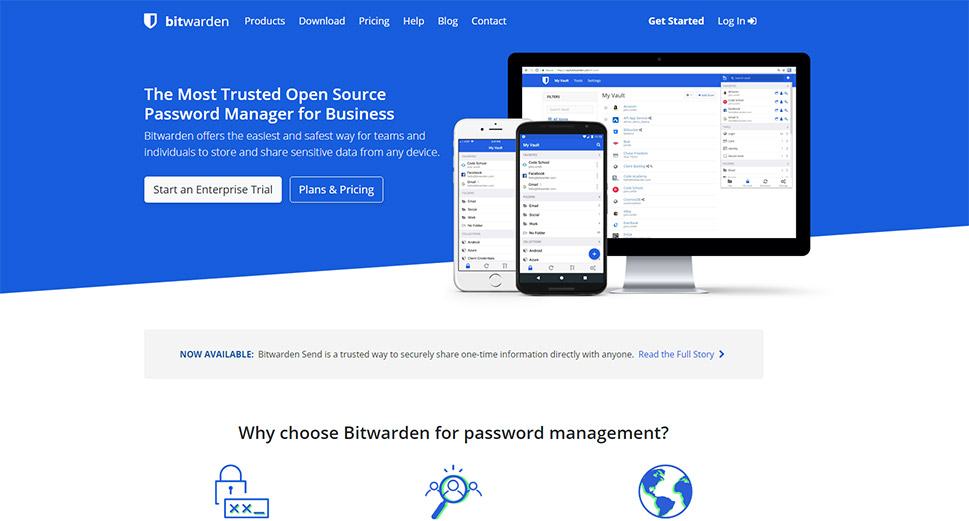 If you subscribe to the open source ethos, Bitwarden might be the choice for you. It comes as a self-contained app with versions for Windows, Linux, Android, iOS and Mac, while the browser extensions cover the usual suspects as well as a broad gamut of less well known browsers. Bitwarden also boasts compliance with the most stringent user privacy standards, including GDPR, SOC3, and HIPAA.
With the free version, you get storing and limited sharing options, while Bitwarden's paid version offers broader sharing options, two-step authentication, encrypted file storage, premium support, and more.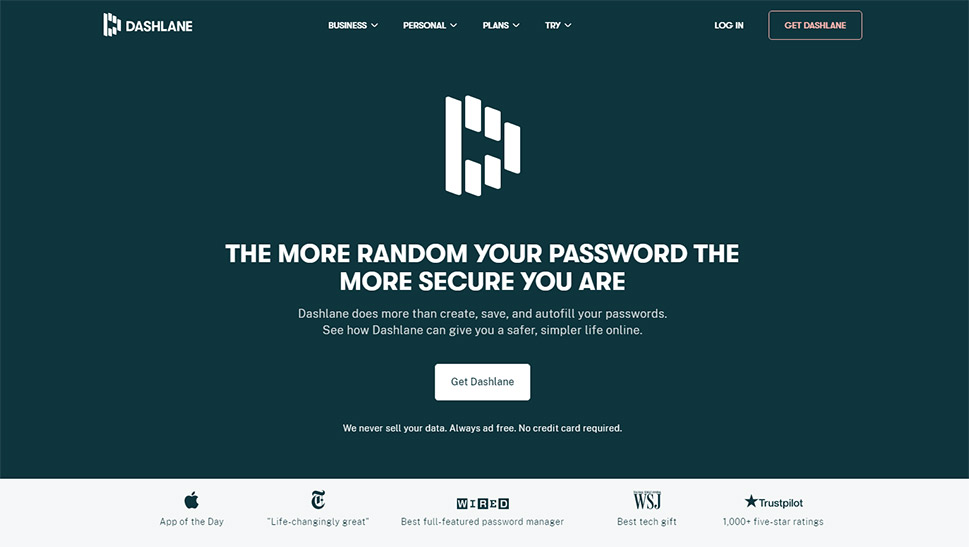 Dashlane is primarily sold as a VPN service, but it also offers password management functionalities. You can download it easily as a browser extension, and you'll be all set. Its free version protects up to 50 of your passwords with two-factor authentication, and automatically fills out your forms. You can only use it on one device, though, and only share secure information on a limited amount of accounts. Unlimited password storage across unlimited devices, VPN protection services, multi-member accounts and more will set you back some.
Keeper is a premium password management app with all the expected bells and whistles even in the cheapest versions. It stores an unlimited number of your passwords safely and securely, under two-factor authentication, using both biometric locks and temporary one-time passwords, while also allowing you to generate industry-standard strength passwords of your own, across an unlimited number of devices. Features such as a private messaging service, secure file storage, and Dark Web monitoring come at a price.
What sets Keeper apart is its Linux capability, though. While there are many reasons to prefer Linux over Windows or Mac, Linux users often suffer from a shortage of high-end software. Not so with Keeper.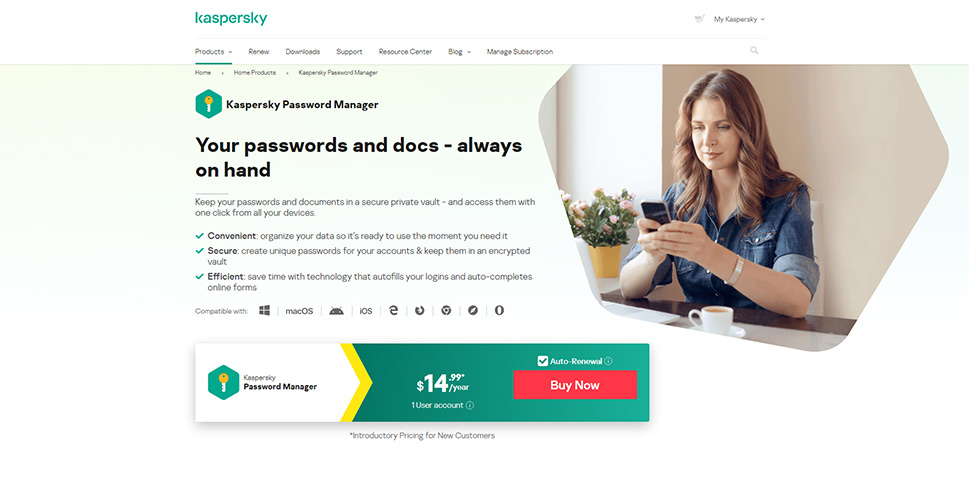 Another big name with a long tradition in computer security, it is no surprise that Kaspersky also offers a password manager as part of their suite or individually. It will help you generate and store hard to crack passwords, fill out all your forms, and synchronize all your account information across multiple devices, saving you the time and trouble of committing multiple passwords to memory. And passwords are only part of your valuable, sensitive data: you can also store your personal documents and photos as well as credit card details and addresses, though these last two features are limited to Windows and Mac users. Kaspersky is a premium app, but has a free version which has all the same functionalities, only with limited storage: you will only be allowed 15 entries – passwords, credit cards, personal ID – whichever you choose.
Avira is a password manager with just the basic functionalities in its free version: as expected, it'll let you generate strong and unique passwords, store them securely behind biometric locks and/or two-factor authentication, and automatically log you into your accounts. It comes as an app for Android and iOS mobile devices and as an extension for the most popular browsers.
Avira's pro version will notify you if your online account has been hacked, and even check whether some of your passwords are weak or duplicated from other accounts.
Another open source password management solution is KeePass 2.34. It uses the SHA-512 function (developed originally by the NSA, now used for cryptocurrency) for encryption, making it even better than the industry standard. It stores your encrypted login data and… nothing else, really.
But by installing verified third-party plugins, you can enjoy many functionalities found in the features list of premium solutions, including automatic typing, one-time passwords, Dropbox backup, eWallet encryption and many, many more.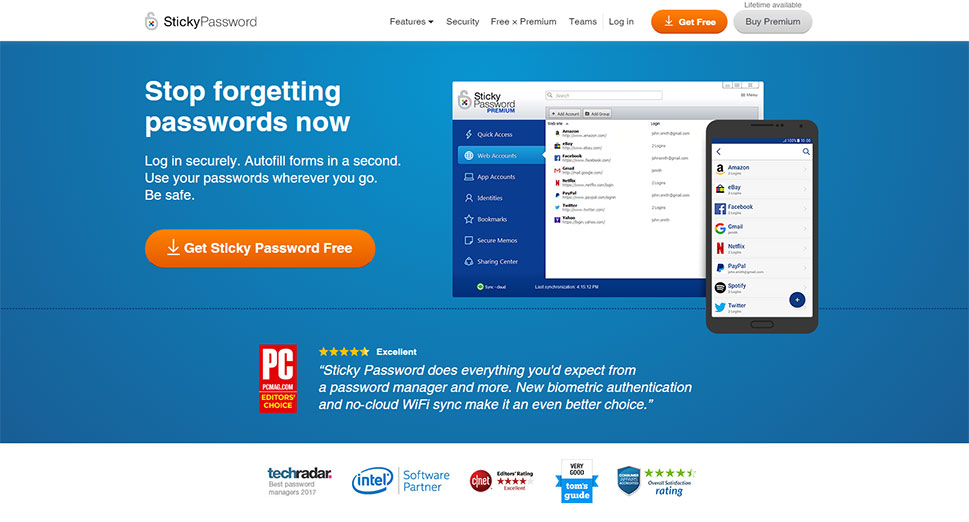 The developers of Sticky Password claim a beginner-friendly interface combined with industry-standard protection. The app's free version will hold unlimited encrypted passwords and other sensitive data, log you in automatically and fill out your forms, and work across all your devices. Furthermore, the app is compatible with 18 browsers. Alongside a powerful encryption function, your Sticky Password data will be protected by two-factor authentication or biometric data.
The premium versions add to this by providing the users with secure cloud backup, password sharing between users, and more.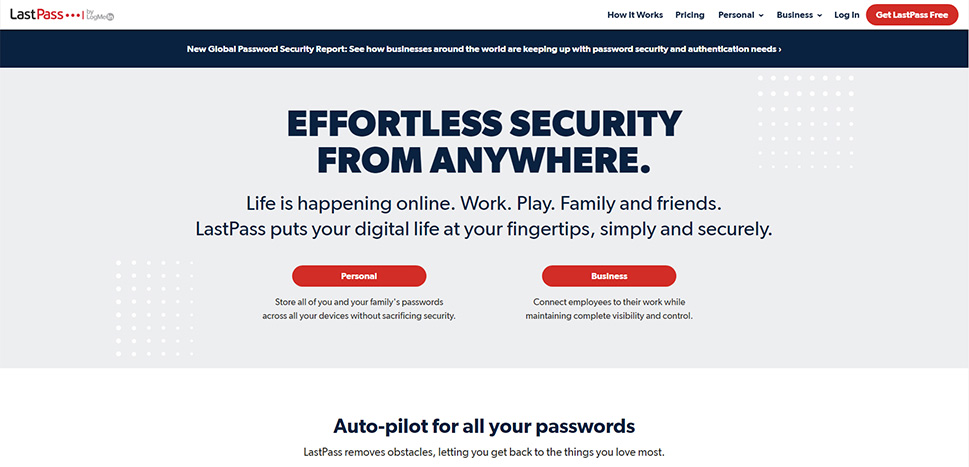 LastPass concludes our selection of password managers. It comes in the form of apps for Windows and Mac, which install their own browser extensions as needed. The free version will generate, store and automatically fill out forms, while also allowing you to share passwords with other individual users. You will also be able to save various other types of sensitive data, such as notes, addresses, and credit cards. It comes with two-factor authentication.
The paid versions of the service add encrypted file storage, priority support, advanced multi-factor authentication options, multi-member accounts and more.
A list is all well and good, but which password manager is best for you? That largely depends on the features you need and on your budget, but there are other things to keep in mind, too. Most password managers fulfill the same functions and encrypt to a similar standard, but not all will work well with Linux, for instance, while Keeper will. If you are, for whatever reason, using a niche browser to access the internet, perhaps Bitwarden or Sticky Password is right for you. Or KeePass 2.34, if you want to feel extra safe behind its 512-bit encryption. If you need to store more sensitive data than just passwords, try NordPass, LastPass or Kaspersky. For storing secure files, try Keeper's or Bitwarden's encrypted storage. The good thing about password managers is that most of them have a free version you can try out, and/or a money back trial for one or more of the paid versions. If you can spare the time, we suggest you try them out yourself for design, feel, UX, and, crucially, the features you want.