8 Best Lightbox Plugins for WordPress
Lightbox is a simple yet highly effective way of presenting media on your website. You've probably seen it used many times, and you maybe didn't even know it. But whenever you clicked on a media file, and it opened almost like a pop-up or pop over, becoming larger and more in focus while everything around it darkened and was relegated to the background – you saw what a lightbox does.
Some WordPress themes, like our Qi Theme, come with the effect built-in. If yours doesn't, don't worry – thanks to the fact that WordPress websites are so easily customizable with plugins, you can set up the lightbox effect on your website in a couple of steps. If you're not sure which plugin to use for it, don't worry – we'll show you some of the best WordPress lightbox plugins you can find.
The plugins we'll mention include: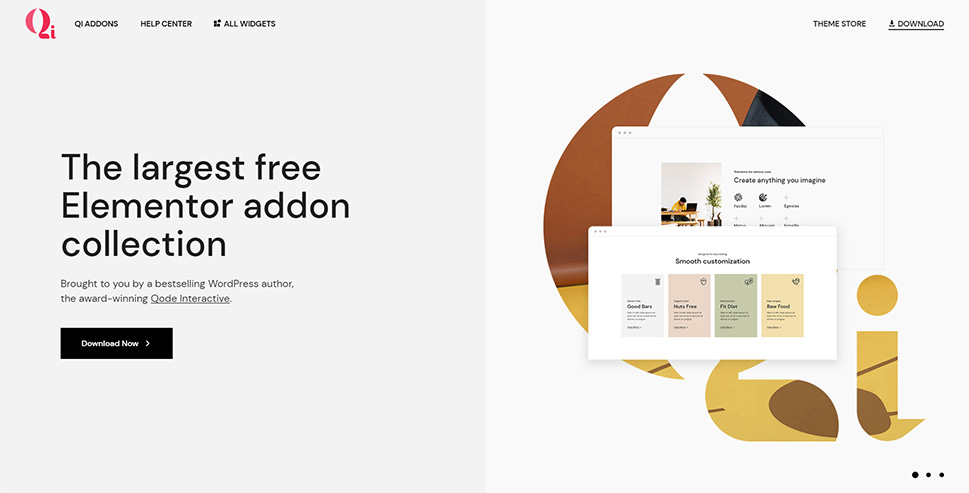 A product of our design and development team, Qi Addons for Elementor is a plugin created to be the largest free bundle of Elementor widgets you can find online. Counting no less than sixty addons, Qi Addons for Elementor brings a lot of new things to Elementor users. Qi Addons for Elementor fits naturally on this list because some of the plugin's addons use the lightbox effect.
If you want to create an image gallery with a lightbox effect when opening images, the Image Gallery widget is a good choice. You can adjust the item spacing and set the number of columns for different types of devices. With the Image Slider widget, you can create an image slider that will loop images, let people navigate using arrows, and choose whether you want one image or multiple to appear at a time. All the while, people wishing to view the images will enjoy the lightbox effect when they click on them.
The Masonry Image Gallery and Pinterest Image Gallery widgets allow you to add the two styles of image galleries to your website. Whichever you choose, the images will display in a lightbox when clicked, and viewers will be able to navigate the gallery, while in lightbox mode, using the left and right arrows.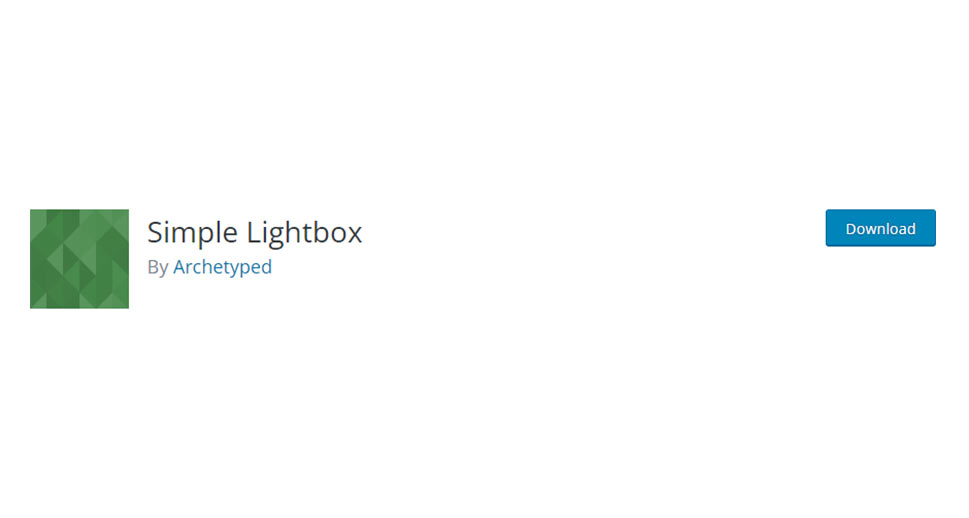 When you need a simple way to implement the lightbox effect to images on your WordPress website, choosing a plugin named Simple Lightbox is a no-brainer choice. This lightweight plugin delivers on its two basic promises – it lets you add a lightbox to your website, and it's incredibly simple.
The plugin lets you set up everything without having to write a single line of code, or even use shortcode. You can customize the lightbox with themes, display image metadata in the lightbox, group image links to play them like a slideshow, and do many more awesome things. The best part of it is that, once you set it up, all you need to do to use it is add image links to your posts or pages, and the plugin will do the rest.
Simple Lightbox is a free plugin.
If simple and lightweight isn't your style, and you want a lightbox plugin that will do plenty of other things – things like adding gallery blocks to the Gutenberg editor – then Gallery Block with Lightbox is just the plugin for you.
This plugin enables you to do several things. For starters, it adds justified, masonry, and grid gallery blocks you can use with the Gutenberg editor. You can also combine multiple galleries to create albums. And yes, the images can open in a lightbox when your viewers click on them.
These are the core plugin features and they are free. With the premium versions of the plugin, which start at close to $22, you get additional blocks that include the accordion block, the portfolio block, and the split carousel block. You can also get the modern lightbox, a different kind of lightbox from the one you get with the free version.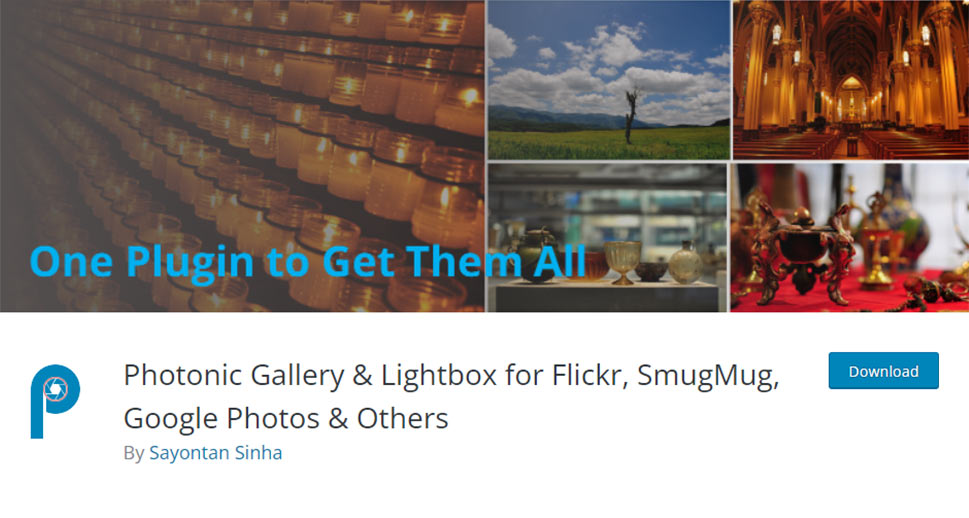 Need a plugin that will help you display images from your social networks on your website and do it with lightbox? Look no further than the Photonic Gallery and Lightbox plugin. This plugin will let you add multiple sources of images and allow you to create beautiful galleries with the lightbox effect.
Photonic Gallery and Lightbox is a plugin that's advertised as a super-charger for your regular WordPress gallery. The plugin has support for several new photo sources, including Flickr, Google Photos, SmugMug, Zenfolio, and Instagram. As for the lightbox, this plugin comes with no less than thirteen different lightbox scripts. It can add third-party scripts and apply any script to non-Photonic images, so you don't have to install a separate plugin for them.
Photonic Gallery and Lightbox is a free plugin.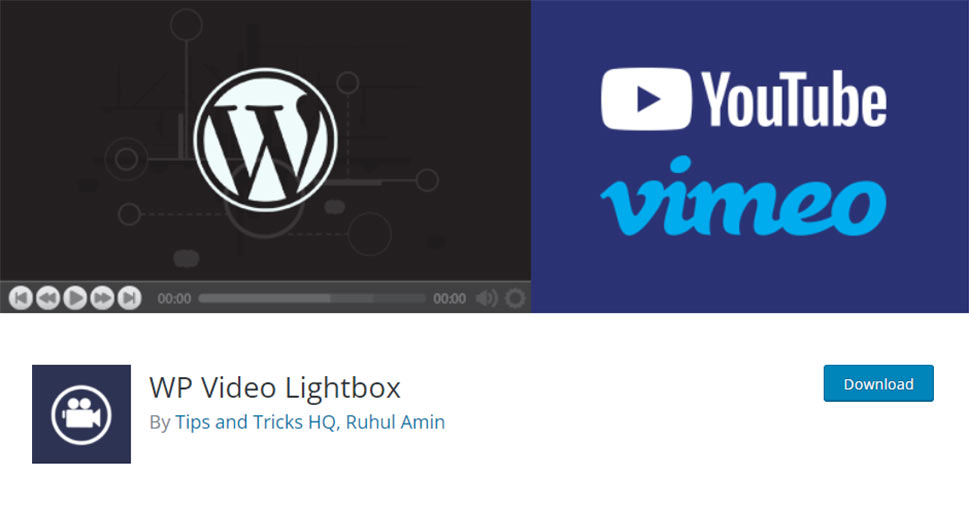 Video is an incredibly popular form of content, and no one would fault you if you decided to include more of it on your website. So, if you're looking for a way to embed videos while also giving them that lightbox effect when played, consider giving the WP Video Lightbox plugin a try.
WP Video Lightbox, as its name says, is a plugin that lets you embed videos on your website and display them in a lightbox. The plugin does more than that, of course, as it's equally useful for displaying images, Flash animation, or iFrames. As for the video sources, the plugin supports Vimeo and YouTube, so it's bound to be useful.
WP Video Lightbox is a free plugin.
Looking for a popular plugin that lets you create galleries in WordPress easily, while also giving them the ability to display images in a lightbox and be responsive? There's one plugin that has three of the four requirements in its name – Responsive Lightbox and Gallery – and the reputation to match the fourth.
This plugin gives you the ability to create image galleries in WordPress using drag & drop style gallery builder. There's nothing easier than dragging and dropping images to create a gallery, and there's no better way to accentuate the images in that gallery than with one of the eight types of lightboxes the plugin supports.
The plugin doesn't stop there. While it is free, you can extend its functionalities with the premium extensions that will add different types of galleries as well as lightboxes.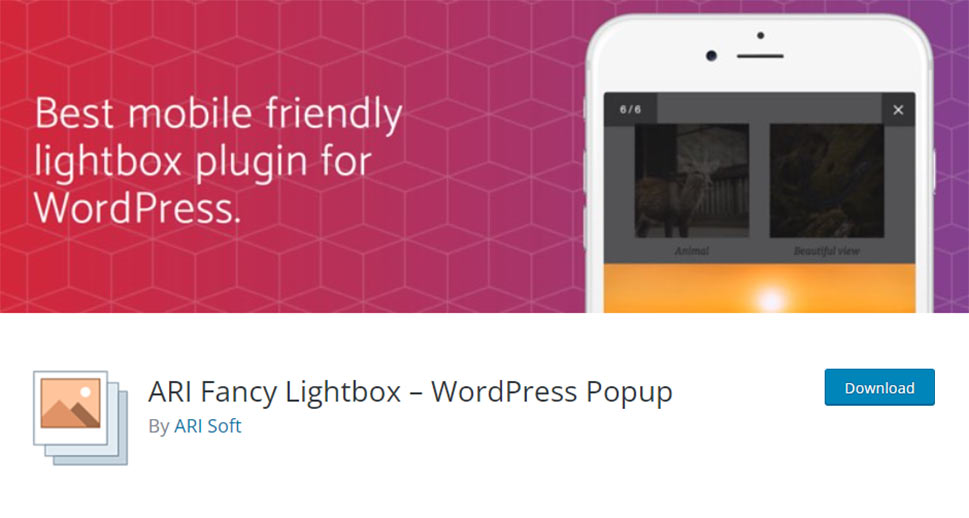 The lightbox effect can work creatively with a variety of content types – you don't have to use it with images and videos alone. If you want to expand what you can show with the lightbox, you could turn to the ARI Fancy Lightbox for help.
The plugin works with native WordPress galleries, as well as Jetpack, right away. You can set it up to integrate with WooCommerce so that the product images in your WordPress store also open in a lightbox. You can also display videos from a variety of sources in the lightbox, as well as PDF files, Google Maps links, and even external pages.
The premium version of the plugin will set you back $9 per website, and it will expand on the initial offering of features. It gives you deep linking, integration with the Facebook comments plugin, extended parameters for video content, and other features.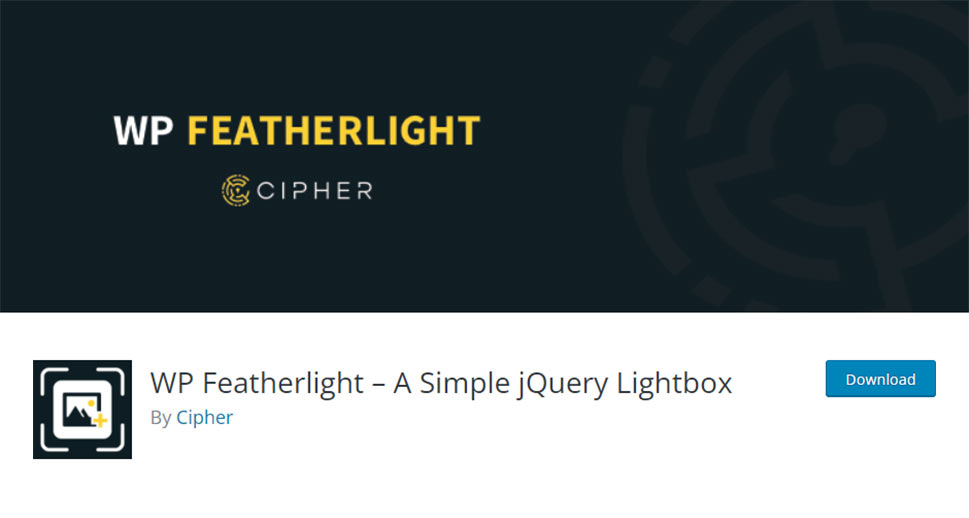 Minimal is often the best way to go with WordPress plugins, especially given how quickly they can get out of hand and overburden the resources your website has at its disposal. So when minimal is what you want, WP Featherlight – A Simple jQuery Lightbox is what you need.
This plugin has no settings. You simply install it, and it will display images and galleries in a lightbox. Nothing fancy about it – although there are some ways you can control it too, for example, disable the plugin on certain pages.
WP Featherlight is a free plugin.
Adding a lightbox effect to your website is a simple yet effective way to liven it up and make it look more modern. You'll have plenty of different plugins at your disposal for adding the effect – from our Qi Addons which comes with sixty different Elementor widgets to the lightweight WP Featherlight. So make your pick and watch your photos get wind in their wings!