5 Must-Have Grammar Checker Tools for Your WordPress Website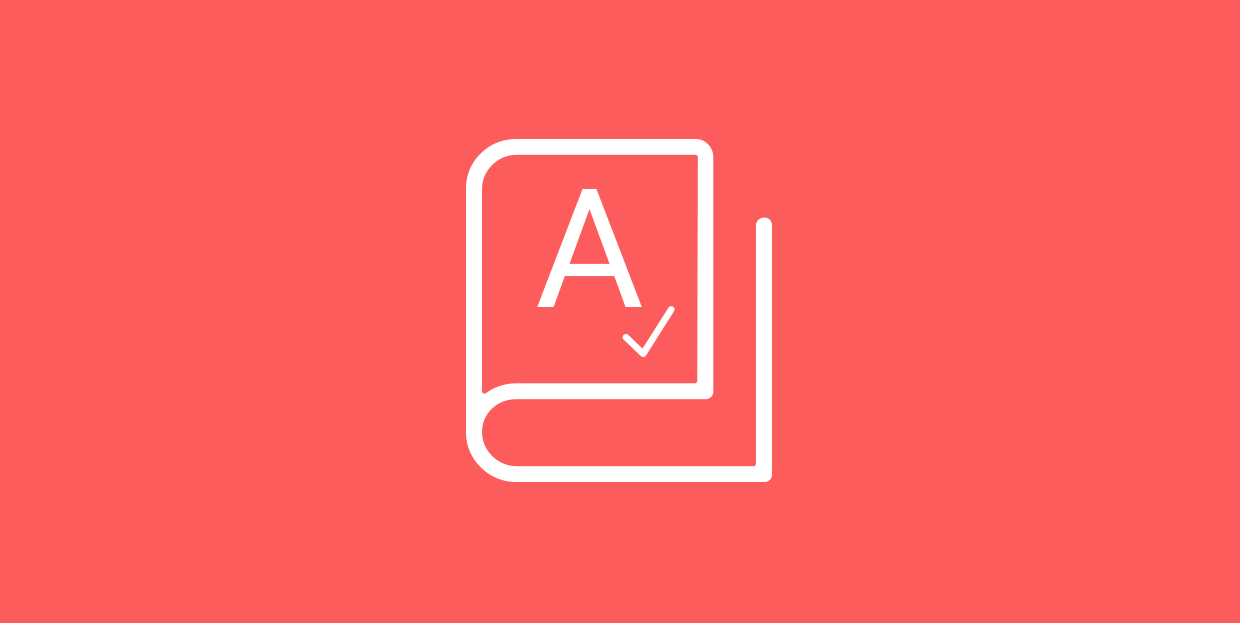 It can sometimes be easy to forget just how essential proper grammar is. If you're doing most of your writing online, on social networks and the likes, usually the biggest impact of a grammar or spelling blunder would be the one it makes on the grammar pedant reader. So that's one reason you might consider using grammar checker tools.
But the truth is that in your day to day life, grammar matters an awful lot. You'll use it when turning in your college papers. One mistake too many and your job application will be in vain. And you can forget about writing for your WordPress blog without keeping a close eye on your spelling, grammar, and style.
There's also the fact that, sadly, your brain is working against you when you're trying to check your own for things like typos and grammar mistakes. One of the strategies you can use to deal with it would be to introduce a grammar checker tool as one of your lines of protection against errors in your writing.
In this article, we'll show you some of the top grammar checker tools:
One of the most popular grammar checker tools in the world, Grammarly is a staple on the lists of tools to improve your writing. It's there for a good reason, too — as far as free writing assistants go, you'll be hard-pressed to find one that's better than Grammarly.
In its free version, you can use Grammarly to promptly check for grammar, spelling, and punctuation mistakes. You can use Grammarly's web-based editor to write your content, or you can install Grammarly as an MS Office add-on or a desktop app for Microsoft OS. If you choose to use it as a Firefox extension, Grammarly will check the spelling of your social media posts, WordPress content, and almost anywhere else you can write on the web.
The paid version starts at around $30 per month, but it gets cheaper the longer you sign up for, and it's often on sale. With it, you get an even more comprehensive library of grammar checks, which now incorporate consistency and fluency checking, readability suggestions, and a host of delivery characteristics you can use to fine-tune the message of your writing. Oh, and it doubles as a plagiarism checker in the paid version.
You're more than welcome to use your favorite grammar checker just to ensure that your website copy or articles are error-free. But if you do that, the grammar checkers' ability to teach you how to write better might be completely lost on you. And that's a shame because the Virtual Writing Tutor can analyze your word choice, assess your writing, and let you take practice tests for academic writing — without costing you a penny to use.
There are no fancy apps or extensions with the Virtual Writing Tutor. You get a web-based writing tool that will check your punctuation, spelling, and grammar for mistakes. It will look over your vocabulary, the structure of your writing, and it will count your words for you.
If you happen to be an English-as-a-second-language student, you'll find the website especially helpful for its paraphrase checker and essay outliner feature. For the rest, it's just a fairly decent checker you can easily use to check your writing.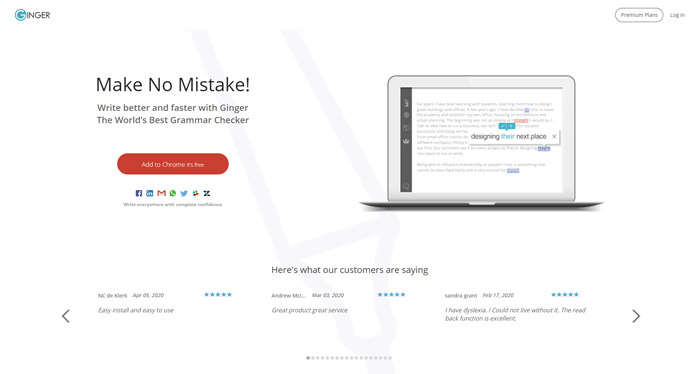 Although it shares many of its strongest points with Grammarly, Ginger is a grammar checking tool that's nailed its own corner of the market where it can't be touched. If English is not your native language, Ginger can pique your interest because it comes equipped with a translation tool.
At least the versions of Ginger you can install as an app on your computer can. The tool also comes in the shape of Chrome and Safari extension, and even as a keyboard for Android systems. That way, you can access at least parts of its long list of features on any device you can use.
If you use the free version of Ginger, you can expect to see some limitations to the grammar checker tool. Premium Members also get access to the sentence rephraser tool, as well as text reader tool, which can be an interesting addition to your battery of proofreading tests. Premium membership starts at around $30 per month, but if you sign up for longer periods it goes down. It might also be a good idea to snipe it at a discount.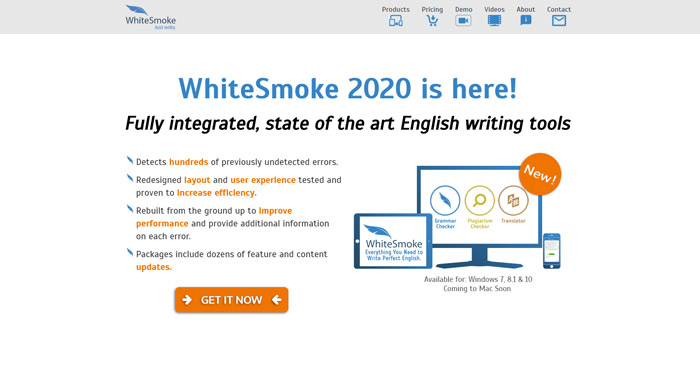 Don't let yourself be fooled by the many recommendations that peg Whitesmoke's tools as perfect for the business setting and report writing — you can use them to check any kind of writing you want. And Whitesmoke made sure that you can use it on any operating system and any browser.
So the app version works on Windows desktop systems and Macs alike. The web-based experience can be accessed equally well whether you're using Chrome, Edge, Firefox, Opera, or Safari. Sure, you'll have a paywall to cross to be able to use it — Whitesmoke is paid-only. But with plans starting at around $60 per year for the online service, you should be happy with what you get for the cost.
As a grammar-checking tool, Whitesmoke will help you find mistakes in your spelling, grammar, and style. It will do it consistently and accurately while giving you access to all the relevant grammar explanations. It comes with a dictionary, too.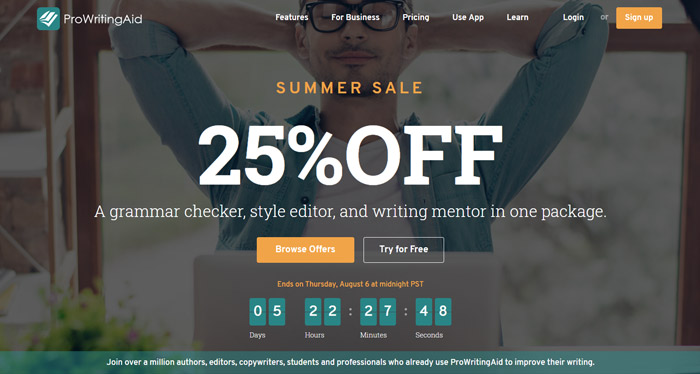 Are you an aspiring author who likes to use WordPress as a way to build some attention to their body of work? If this is the case, you also might be using specialized writing tools such as Scrivener to create and format your manuscripts. And if you happen to be a fan of Scrivener who's looking for a great spell-checking tool, ProWritingAid is the right tool for you.
Marketed as a grammar checker, style editor, and writing mentor in one neat package, ProWritingAid is most notable for its integrations. They include MS Outlook and Word, all the major browsers, Open Office, Scrivener, and Google Docs. A good tool should be available wherever you go, and ProWritingAid has done a great job with that.
As far as checking, proofreading, and editing go, ProWritingAid doesn't lag too far behind its competitors. You get what you invest with ProWritingAid – if you only have the time to look over a couple of mistakes, you'll get a decent spellcheck. If you want to put in the time to become a better writer, the plugin will be able to help with that, too. Pricing starts at $20 per month, and you can also buy lifetime access for $299.
You should never, ever trust yourself to write perfect, error-free copy with no need for editing on the first go. Proofreading and editing is where good copy comes into being, which is quite unfortunate because nature is against you on this one: you're never the best person to proofread and edit your own content. But that doesn't mean you shouldn't do it.
Grammar checker tools can be very helpful when you have to check your own writing. Still, you shouldn't rely solely on them. The best way to ensure that your copy is error-free and spotless is to adopt a set of proofreading procedures. That way, you can ensure that you give every word, sentence, and paragraph the attention they deserve. It can get tedious, sure, but the peace of mind you get from knowing you published a flawless piece of text online is more than worth it.