10+ Best Elementor Addons for 2023
It took Elementor, an upstart website builder, a couple of years to climb the ladder and become one of the ten most popular plugins for WordPress, joining the ranks of Yoast SEO, WooCommerce, and Contact Form 7. Today, you can see the free version of Elementor shipped with premium themes, proving just how widely-adopted the builder is.
The free version of Elementor is great, and the Pro version builds on it to offer a truly amazing user experience. But how do you take something that started great, then was made even better, and improve it even more?
With addons, of course! There are plenty of Elementor addons that just might have that feature you wanted, or that let you make your website a couple of percent more in line with your vision. If you can't find what you need in Elementor or Elementor Pro, turning to the addons market is a sensible way to go.
In this article, we've listed ten of the best Elementor addons you could be using in 2023. They are: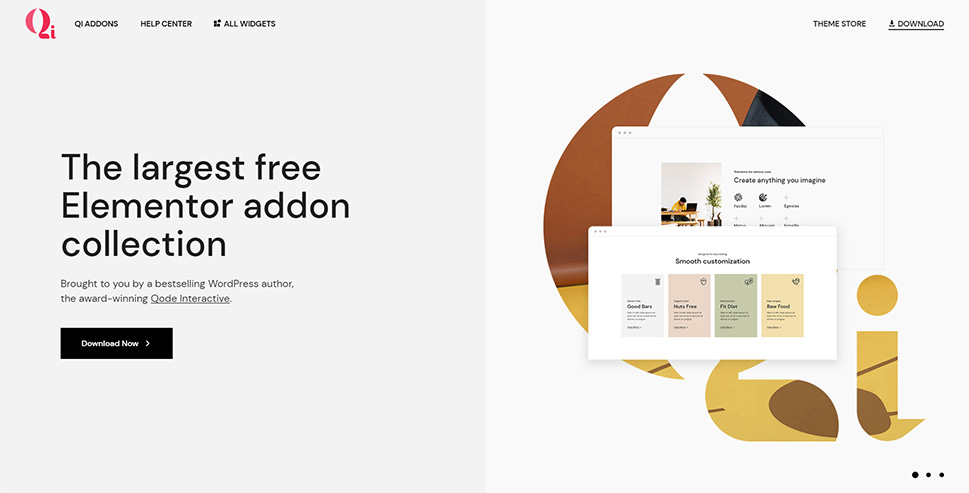 The youngest entry on the list, Qi Addons for Elementor is the brainchild of our award-winning design and development team. With sixty different addons separated into eight distinct groups based on their use cases, this plugin is the biggest free collection of addons you can find online. The plugin was developed to provide a well-rounded set of tools and features. The idea is that whatever site you're building with WordPress, there's an addon here that could help.
A business website can use a pricing list or infobox addons but also rely on progress bar addons to present data, and a countdown addon to build hype around a product launch. A blog, on the other hand, might upgrade its visuals with a parallax image showcase, but also add animated text and table of contents to the articles. And this is just what the plugin lets its user do with six addons – a mere 10% of its whole contents. That's why it's safe to say that there's an addon for everyone among the Qi Addons.
Besides being completely free, the addons are fully customizable, too, and they are built to offer a quick and smooth user experience. Full documentation for the plugin is available, as are video tutorials.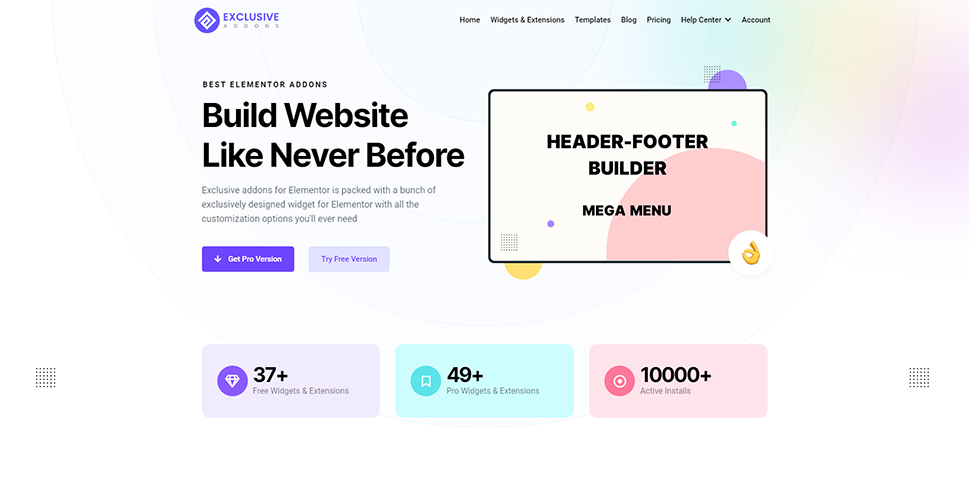 Boasting more than 10.000 active installs, Exclusive Addons includes an impressive number of widgets that can significantly enhance Elementor's functionality. Both free and premium versions are available, with the premium version packing a total of >85 widgets and extensions, >20 templates, as well as more than 700 readymade blocks.
The free Exclusive Addons plan features more than 37 widgets and extensions, helping you add some practical and pretty cool options to your site. From presenting your team members and adding an image magnifier to your photos to integrating Google maps, adding a modal popup, a pricing menu, or the frosted glass effect, the Exclusive Addons enables you to do it all without spending a dime.
On the other hand, for as little as $29 (the current price for the most affordable plan), you can access the addon's complete widget and extension collection as well as 3000 font icons. Some of the premium options include the possibility of adding Lottie animations to your site, displaying images or post carousels, copying entire sections from one WordPress website to the other, or setting up an animated gradient background. Moreover, all premium plans include at least one year of customer support (or lifetime if you purchase the "Professional" plan).
Essential Addons for Elementor is a popular Elementor addons plugin that also offers some free addons to its users. Boasting an impressive number of downloads, Essential Addons lets its users try around forty widgets for free and saves the rest for the Premium users.
The addons you'll find in the free version include some really interesting and useful ones. There are the classic addons to showcase team members and testimonials, for example. Pricing tables, as well as content tickers and tooltips are also among the addons this plugin offers for free.
If you're willing to shell out around $40 for their most affordable plan, the plugin gets a lot more interesting. In that case, you will get access to the full suite of over seventy addons, including testimonial sliders, Twitter feed carousels, and price menus.
When looking for an Elementor addons package that combines widgets, templates, and forms, the HT Mega is one of the plugins you'd want to have on your radar. The sheer number of elements this package brings to you, even in its free version, makes it more than worthy of your attention.
For starters, the plugin greatly enhances your capabilities to build parts of your website with Elementor. With it, you can easily create a layout for the heather or the footer, set up sales notifications, and build menus. The free version of the plugin lets you use more than 84 widgets as well as 15 templates.
With the Premium version of the plugin, which starts at $49 per year, you get a whole lot more things to use with Elementor. Hundreds of different templates divided into 39 template sets, cross-domain copy/paste, and 404 Error page builder are just a couple of new features you get. The list also includes 22 premium Elementor widgets, such as the Event Calendar, Background Switcher, Team Carousel, Interactive Promo, Filterable Gallery, 360 Rotation, and many more.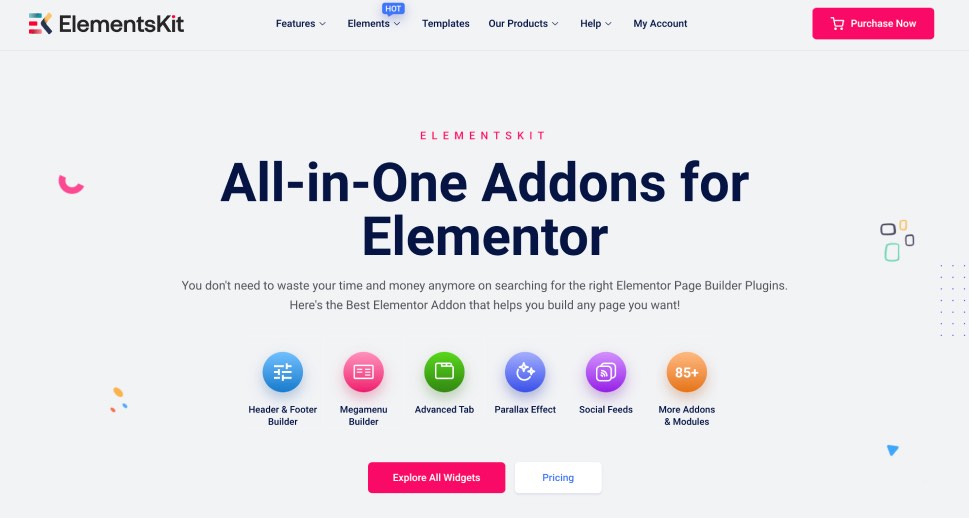 With 900K+ active installations, ElementsKit has already made a mark among Elementor users. It's an all-in-one Elementor addon boasting some breathtaking features. Some of the noteworthy features include header & footer builder, mega menu builder, widget builder, conditional content, and advanced parallax.
With header & footer builder, you can create visually appealing headers & footers using tons of built-in layouts. The mega menu builder will let you create stunning horizontal and vertical mega menus for your Elementor website. Besides, you can spice up your website pages with scores of drag-and-drop widgets.
In fact, ElementsKit has 85+ widgets along with 500+ ready sections and 35+ ready pages. And you know the best part? You can do bottomless customization with the widgets and design your pages imposingly.
Pricing: ElementsKit comes with 3 different plans- Personal, Professional, and Agency. The Personal plan costs $39/Year, the Professional plan is available at $87/Year, and the Agency plan you can buy at $179/Year.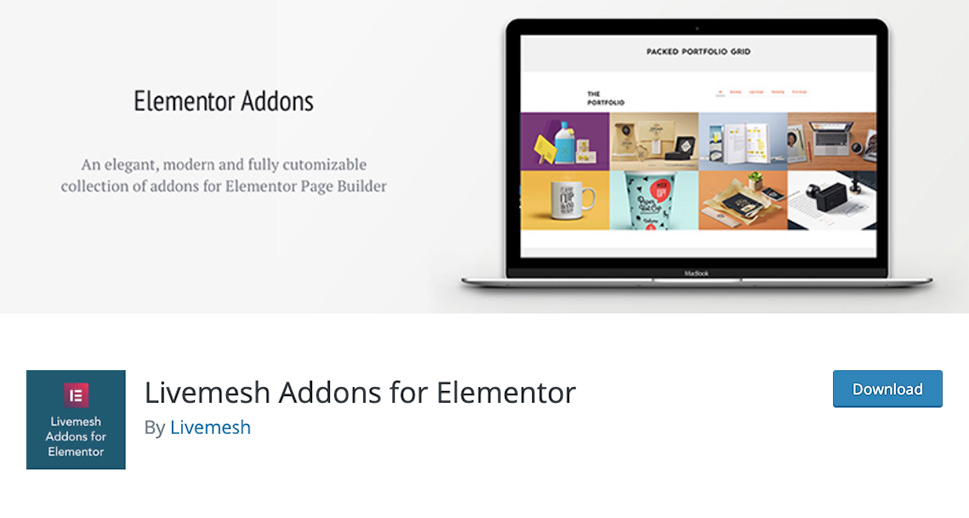 Livemesh Addons for Elementor is another freemium Elementor addons plugin that uses the free version to tease, and the premium version to deliver. The plugin aims at providing you everything you might need to create a professionally looking website.
The free plugins contain exactly what you would expect from a plugin that aims to help you create a website with an air of professionalism. There'll be portfolio grid addons, odometers and counters, testimonials sliders, as well as pricing plans addons. The plugin boasts the inclusion of a dark theme version for most of its addons.
The Premium version, which starts at just below $40 per year, brings some welcome additions to the roster. Image and video gallery addons are there, as are YouTube and Twitter grids, posts block, an FAQ element, and an icon list.
Although the Plus Addons for Elementor Page Builder Lite is a plugin that contains lots of very useful addons, its makers have decided to put all except thirty of them behind a paywall. The result is a plugin that offers some interesting addons that serve as a taster for the bigger collection hid in the Pro section.
If you download and start using this plugin for free, you'll get access to thirty widgets and addons. A fifth of them will be various form plugins, while others contain an assortment of the essential addons that deal with different content types, social media, and some visualization options.
The Pro widgets, which start at around $40 per year, contain over forty-five different widgets and more than twenty features. If you're interested in doing before/after images or enabling dark mode for your addons, you'll need a pro version to do it.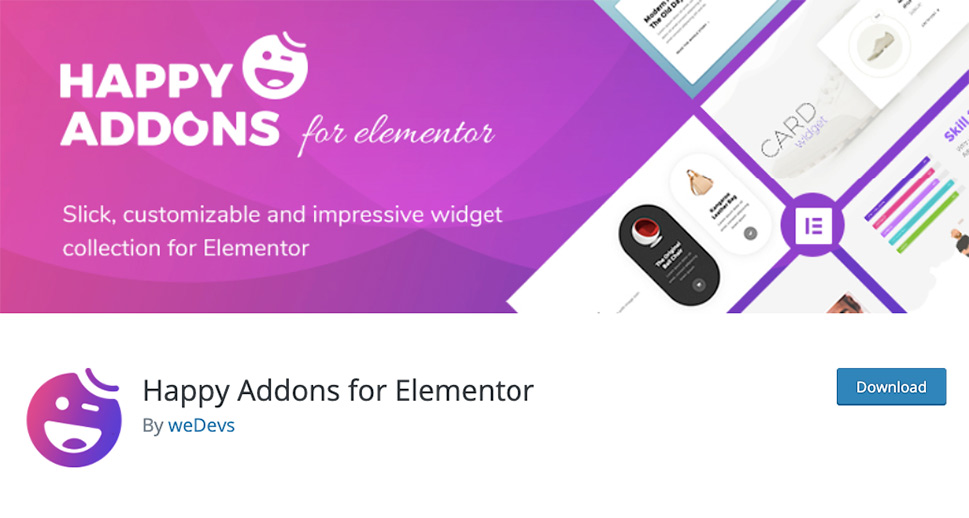 When you come across a plugin that has the word "happy" in its name, things can go either very well, or plain bad. If you've stumbled upon the Happy Addons for Elementor, you're in luck – things aren't going the bad way.
Thanks to its collection of forty-three free widgets, Happy Addons for Elementor is a decent plugin you can use in the creation of all sorts of websites. Whether it's highlighting team members, showcasing a skill bar, or adding sliders and carousels, this plugin will let you do it with ease.
To get the plugin's full effect, however, you'd need the paid plan which starts at just under $40 a year. With it, you'll get access to hover boxes, testimonial carousels, countdowns, and animated text, to name only some of the forty-five premium addons you get with the pro version.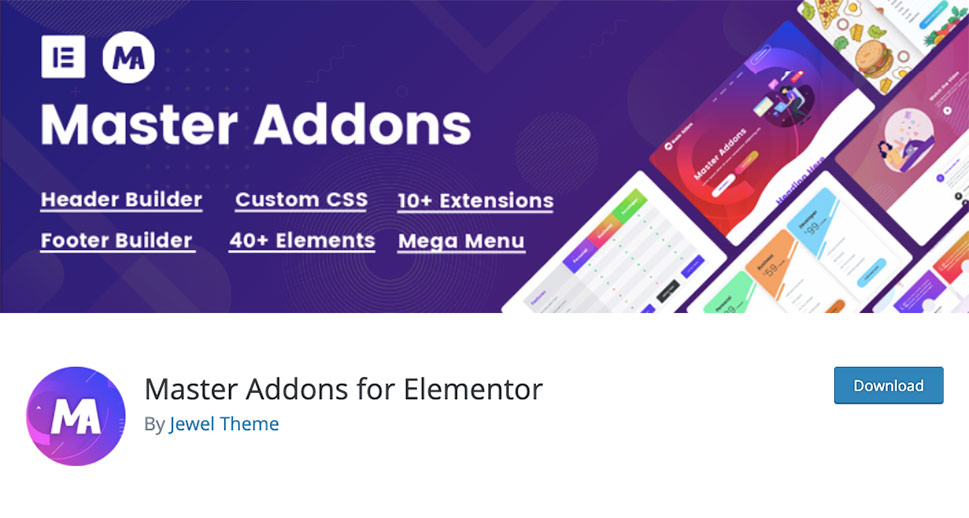 Master Addons for Elementor is yet another plugin that offers a bundle of free and paid addons. Containing elements, forms, and extensions, this plugin can be a sound choice, even though it doesn't offer as many addons as some other plugins on the list do.
To start, the plugin offers exactly thirty-three different elements you can use freely next time you create a page or a post in Elementor. From a navigational menu to progress bars, and from business hours to gradient headlines, this plugin will provide a nice selection of free addons and extensions.
After upgrading to Pro at just under $30 a year, you'll get access to additional addons. News tickers, creative buttons, and domain checkers are only some of the premium elements you can use if you opt for the paid version of the plugin.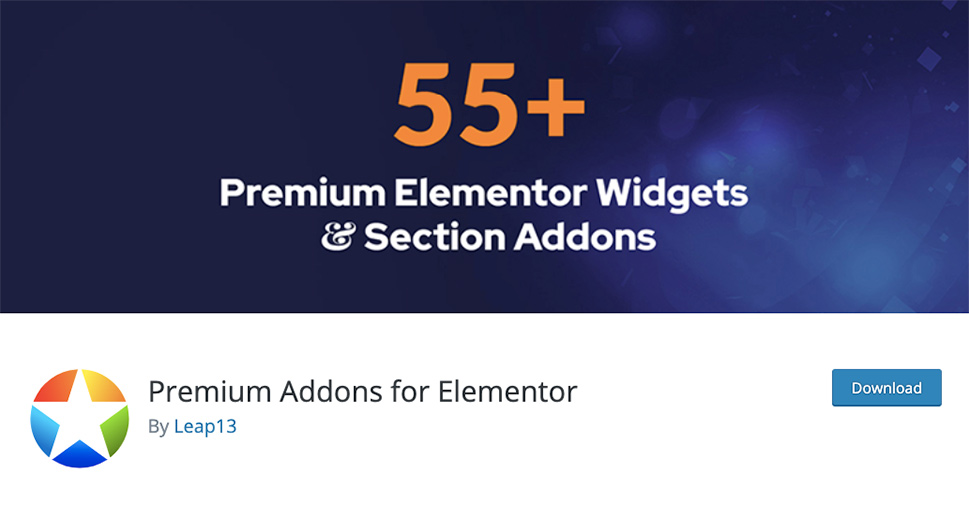 Another fine mix of free and premium addons, the Premium Addons for Elementor is a WordPress plugin that's also an extensive collection of Elementor templates. The plugin boasts some interesting visuals options, thanks to the Lottie Animations integration.
For free, you'll get access to a limited variety of addons. These include widgets such as Google Maps or blog widgets, as well as an image grid, modal box, and testimonials widgets. The list doesn't end there, either, but it only gets more exciting when you're willing to pay for the pro addons.
After the $39 a year payment, your palette of addons will expand significantly. Suddenly, you'll be able to use widgets for Yelp, Facebook, and Google reviews. Alert box, Ken Burns section, and hover box widget are among the ones you'll get with the paid plan.
A premium-only addon pack, Ultimate Addons for Elementor gives you access to over forty widgets and extensions, more than a hundred templates, and over two hundred section blocks. The widgets it offers are the usual wares you'll see in other plugin's premium offerings – plus a couple that aren't so common.
For example, you can use this plugin to add modal popups and video widgets to your website or create hotspots and timelines. You can also count on the premade section blocks to significantly speed up any design you have to undertake.
Elementor is a great website builder that's competing with the best in the market. But as anyone who has ever had to build or customize a website knows, it's always best to have more options for customization than fewer – you never know what kind of a block or a widget you might need. That's where these addon plugins come into the picture – so make sure to check them out and see if they'll add to your experience with Elementor.