5 Best Auto Dialer Software for Your Website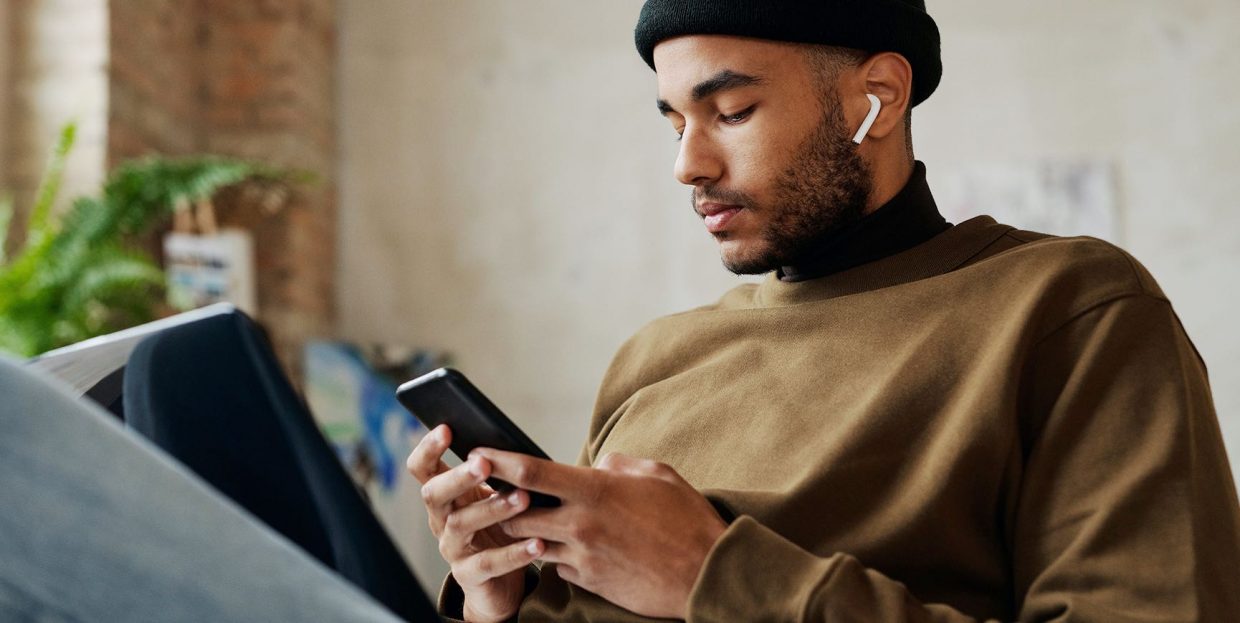 Being able to reach customers via phone is still the cornerstone of many different businesses. While it's all too easy to equate a high volume of phone communication with telemarketing centers, the truth is that everyone from healthcare providers to your local pizza place can use the phone for various purposes. There's a reason why websites have clickable phone numbers in the contact information, or why they include a phone number field in contact forms – phone calls are still a valuable form of communication. With auto dialer software, however, your business can extract even more value from them.
Auto dialers are the type of software you'd use so that you or your employees don't have to manually dial a phone number. That's the basic premise, at least, as modern auto-dialers come packed with features such as CRM integration, time-zone management, and access to dashboards with client information. So if your business is on the brink of needing to speed up your dialing process, here are some of the auto dialer software on the market today:
Talkdesk is a suite of powerful solutions for any and all communication needs a business can have. Need to set up a self-service customer help solution? Talkdesk will help you with that. Need to improve internal communication? There's something in Talkdesk for you, too. And if it's auto-dialing you need, don't worry – Talkdesk can do it in more ways than one.
Talkdesk's Proactive Outbound Engagement services include several auto-dialing capabilities. For starters, Talkdesk lets you use predictive dialing, Salesforce-integrated power dialing, as well as preview dialing. Top it off with great dialing, campaign, and list features, and it's easy to see why Talkdesk is one of the highest-rated contact-center-as-a-service software.
Talkdesk is a paid service, and the Proactive Outbound Engagement package becomes available with the CX Cloud Elite plan, which starts at $125 per user, per month.
If you're looking for an auto-dialer solution that's quick and easy to deploy, but that can also grow as your team and needs grow, PhoneBurner is just the dial software you need. Highly rated by users and industry reviewers, PhoneBurner aims to make your customer outreach easier and more efficient.
PhoneBurner comes packed with features. For one, it has a power dialer that promises to remove delays from your work process. It has a CRM solution to help you store valuable information about prospects. Local ID, remote dialing, and branded caller ID are among the features this software offers, too, as are workflow automation and reporting. And that's without mentioning all the integrations that become a possibility when you choose PhoneBurner.
All of that goodness must come at a price, and PhoneBurner isn't exactly cheap to use. The entry-level plan starts at $124 per user per month, but if you want to try it out first, you should know that PhoneBurner offers a free trial.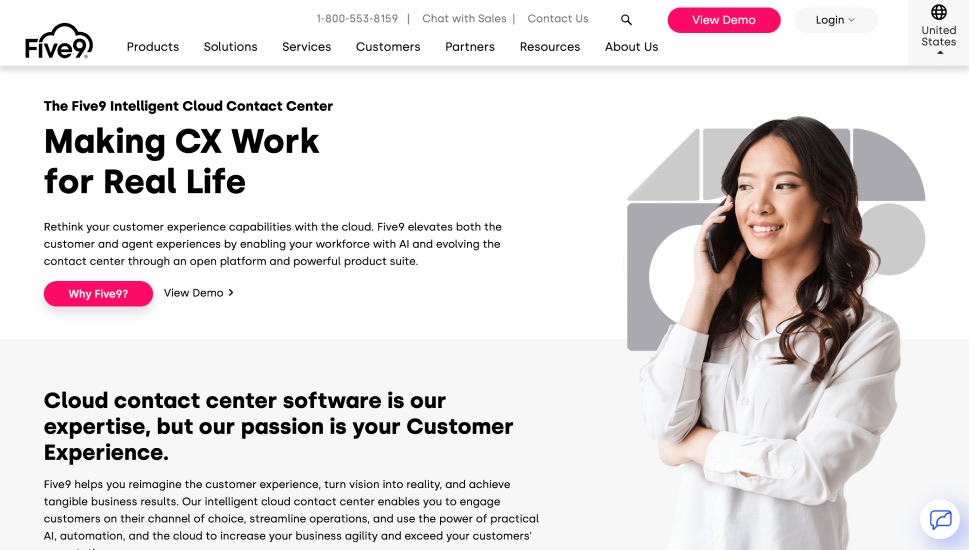 Five9 is another contact center solution for your business that offers a whole host of artificial intelligence-powered services. Five9 boasts the ability to scale to your business' size, having something to offer to small business, enterprises, and every business in between.
When it comes to auto-dialing, Five9 will have the features you'd expect from a solution of its caliber. Predictive, power, progressive, and preview dialing are all in the mix. Five9 also integrates with some of the most popular CRMs, including Salesforce, Zendesk, and Oracle solutions, and it uses compliant caller technologies to make sure you're on the right side of the regulations.
As for the pricing, you'll have to call and check. Five9 doesn't publish a pricing list, and it encourages potential customers to reach out to their sales team and get a quote.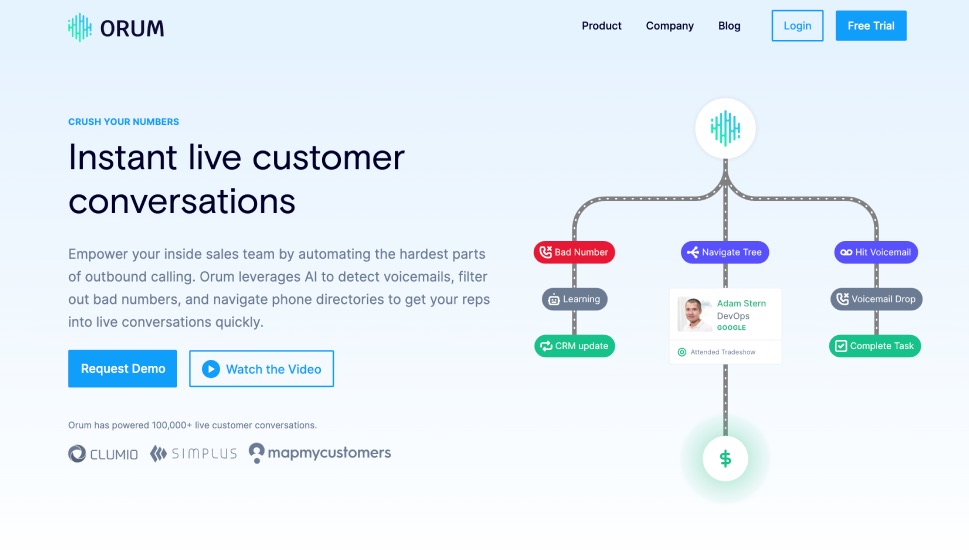 Need a simpler solution with a website that doesn't take hours to navigate but has solid auto-dialing options? How about giving Orum a try? It might not do as many things as the flashier entries on this list do, but what it does, it does well.
For starters, Orum will let you connect it with your CRM. It'll then pull call tasks, contact details, and data on previous contacts. The software will call up to ten lines in parallel using in-browser VOIP dialing. It will use AI-powered voice transcription, automatic voicemail placement, and full syncing with your CRM to make sure that neither you nor the people on your call list miss any important info.
One of the best things about Orum is that you can use it for free to make up to 500 calls. After that, you'll have to start paying for its services – and Orum doesn't display its pricing publicly.
One of the selling points for CloudTalk, a great call center solution for any business, is that it has over 140 national phone numbers you can use for dialing, which is a great feature for businesses that want to operate internationally. If yours doesn't, don't worry – CloudTalk is pretty strong when it comes to other call center features.
For example, CloudTalk will allow you to use a predictive dialer to ensure that your agents waste little to no time between calls. You can, of course, set the software so that it allows agents to perform the after-call work, and you can also use speech to text and customer cards to make your agents' jobs as easy and streamlined as possible. And that's only scratching the surface of what CloudTalk has to offer.
CloudTalk's pricing starts at $25 per month per user. Keep in mind, however, that for the most features, you might eventually opt for the more expensive plans.
For businesses that reach out to customers using phone calls, having auto dialer software is a must. These solutions not only speed things up significantly, but they usually come with other features and functions that make them even more useful.
Keep in mind, however, that auto dialers can quickly become expensive, so make sure that you're only paying for what you're using. The best companies will be able to follow you as your business needs grow, however, so make sure to include scalability on the list of features to search for in auto dialer software.