5 Best AI Video Generators for Text to Video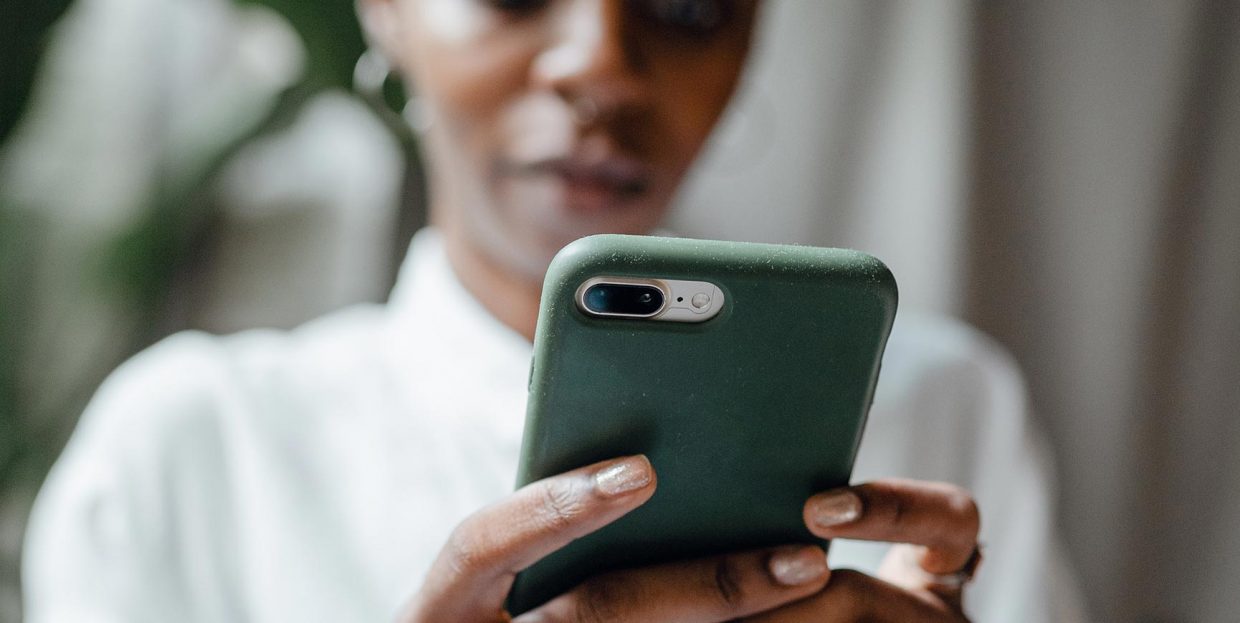 Video content sure has come a long way over the past decade or so. It went from being a form of content created mostly by enthusiastic content creators, to becoming a staple in content marketing guides, a great driver of traffic for the websites that host it, and the thing that's hogging much of the internet bandwidth around the world. There are many reasons why video has become such a ubiquitous form of content – from the availability of cameras and video editing software to the fact that it spawned a whole field of marketing complete with its own tips and best practices. Thanks to AI video generators, however, video is about to become even easier to create.
If you've ever used a text-to-speech feature or tried to add it to your WordPress website, you already understand the principle behind text-to-video generators. On your part, you have to provide some text and choose the options offered by the generator, click a couple of buttons, and voila – you'll have yourself an AI-generated video that features your text.
Sounds like something you might be interested in? Then stick around, because we'll show you some of the best AI video generators for text-to-video on the market today. The tools we'll cover include: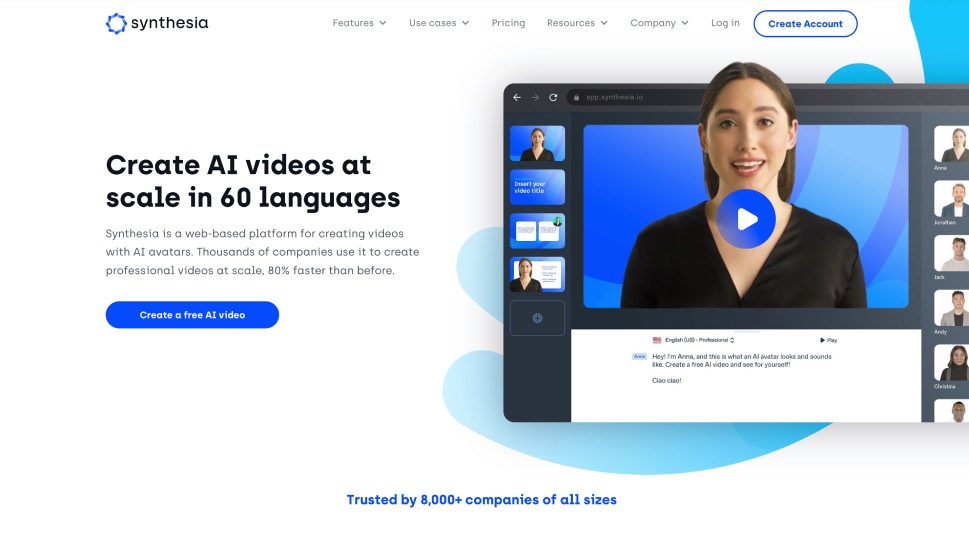 One of the main benefits of good text-to-video solutions is that they're able to replace a whole production crew. Take Synthesia as an example – it's an extremely popular tool that can produce a talking-head video with nothing more than the text you provide. You won't need actors, anyone to operate a camera, or anyone to edit the video. You just need the text, and Synthesia will provide the rest.
The tool's in-browser interface will let you easily choose a template for your video, pick an avatar – the person who will appear in the video, and put in the titles and the text. That's all you need to create a video. Synthesia supports over sixty languages, and it has over forty-five different avatars you can choose from to appear in your video, as well as over twenty-five templates.
Synthesia offers you a free demo. Beyond that, it offers two plans – a personal plan that starts at $30 per month and lets you create ten videos per month, use free stock images, and add background music. If you need to scale up your video production, the Corporate plan is just what you might need – but you'll have to get in touch with Synthesia to get a quote.
If you need AI video creation only occasionally and you wouldn't mind having a fully-fledged video editing suite the rest of the time, InVideo might be the perfect choice for you. This tool offers three distinct paths for video creation, giving you everything you need to get from the idea to the finished product, with nothing more than some words and an internet connection.
InVideo places a wealth of content for video creation at your disposal. There are more than five thousand templates you can use with it, as well as stock images, music, and videos. You'll get to edit audio, animate transitions, and even create brand kits to apply to videos. For text-to-video, you'll have a pick of more than fifty AI-powered themes to build your content upon, and you'll get the chance to edit both scenes and music.
The basic plan for InVideo is free, and it comes with the text-to-speech feature you can use for text-to-video creation. The business plan starts at $30 per month, and it comes with advanced features and access to a premium media library.
Sticking with the tools that offer more audio-video-image editing features than just regular video creation using templates, we come to Designs.ai – a well-rounded tool you can use to create a logo, a video, and content for your social media channels, or even standalone voiceover audio.
Designs.ai will give you an easy entry right off the bat, allowing you to browse among the pre-made template, add your own, twenty-sentence long script, choose an end screen message, or use your media to create a video. The other tools are just as simple to use, making Designs.ai a great content creation solution for someone who wants the best results without having to fuss over too many options.
The tool offers a couple of tiers for subscribers – it's not available for free – with the entry tear starting at $29. It will give you access to all of the tools, though you'll have to opt for the more expensive Pro plan if you want access to the best features.
Is there anything better than having a nifty tool for transforming content from one form to another? That's the kind of alchemy every content marketer might need from time to time, and when it's blog posts or articles they need to transfer into video, Pictory is a tool they can use.
Pictory's main proposition is that it will let you create a video from a script in just a couple of minutes. All you need to do is paste the script into the tool, let the AI decide which images, video, and music from the libraries available to Pictory would suit the video best, and then either add your voiceover or let Pictory create it for you. The whole process is that easy and that quick, and it's not even everything that Pictory offers to its users.
Pictory comes at several different price points. The Standard package, which includes a ten-minute cap on text-to-video, as well as a 720p cap on video quality, starts at $19 per month per user. From there, you can upgrade to the Premium or even Enterprise plan and get access to more features and resources.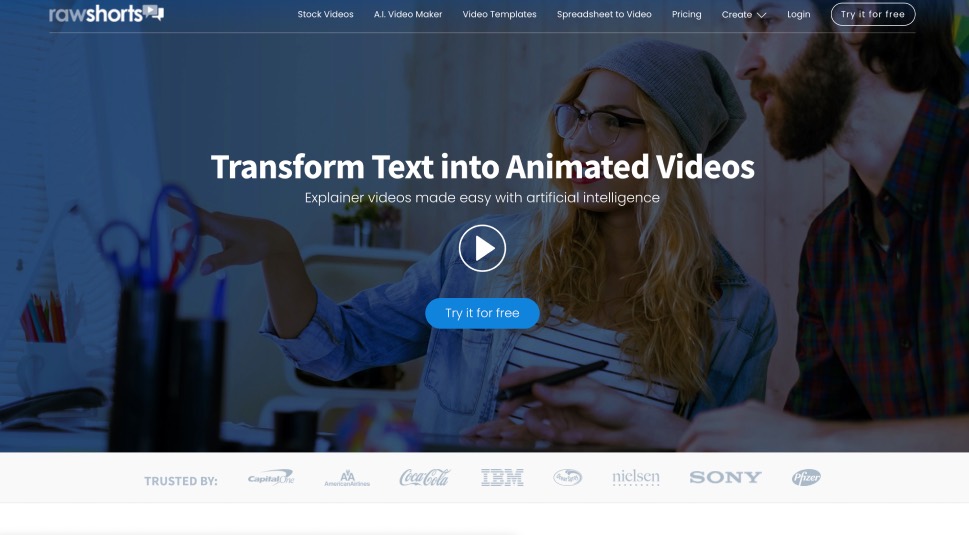 Do you need to create an explainer video? Or maybe a whiteboard video? When you need to promptly turn a video script into a finished video, Raw Shorts is the tool you can count on. It gives you access to stock videos, an AI video maker, video templates, and even a spreadsheet-to-video feature for all you spreadsheet lovers out there. You know who you are, you funky freaks.
Raw Shorts will let you easily convert your text or blog posts into videos. It will allow you to work from a template or start from scratch and create awesome videos with animations with a little more than a few clicks of a button. Whether you need to create promo videos, social posts, or even stay on top with the social posting calendar – Raw Shorts will have something to offer to you.
You can try out Raw Shorts for free. You'll be limited by the number of exports you can create, their resolution, as well as the use of a watermark. Once you upgrade to the Essential package, which starts at $39 per month, you'll get access to better features that include improved integrations, text to speech – it's not a free option, longer video duration, and more exports per month.
In the never-ending race to create better content and more of it, every bit that helps you create things while not requiring you to put in too much extra effort is more than welcome. That's one of the promises many AI video generators give – to automate some of the video creation processes while helping you produce professional-grade videos. Some of the tools surely fall short of the promise. The five we've listed here, however, should do the job well – just be sure to try the free trials before committing to paid plans, though.