How to Let Users Subscribe to Comments in WordPress
Allowing people to comment on your website opens the gates for easy dialogue and constructive criticism. Visitors can leave feedback about your work, give you future content or product ideas, suggest areas in need of improvement, and discuss with fellow users the pros and cons of your services. Every now and then, you may stumble upon some uncivil comments too, which is why it's important to moderate comments in WordPress on the regular.
Networking is a two-way street, though. Instead of passively going through the comments section (or ignoring it altogether), you should participate in discussions. By engaging with your users, you'll cultivate a sense of loyalty among them and build your brand a following.
When someone posts a comment on your website, they will probably want to keep an eye on replies from yours and other users' end. The easiest way to go about that is to let users subscribe to comments in WordPress. The platform does not offer this option out-of-the-box, but the Subscribe to Comments Reloaded plugin will help you do the job.
Enable Users to Subscribe to Comments Using a Plugin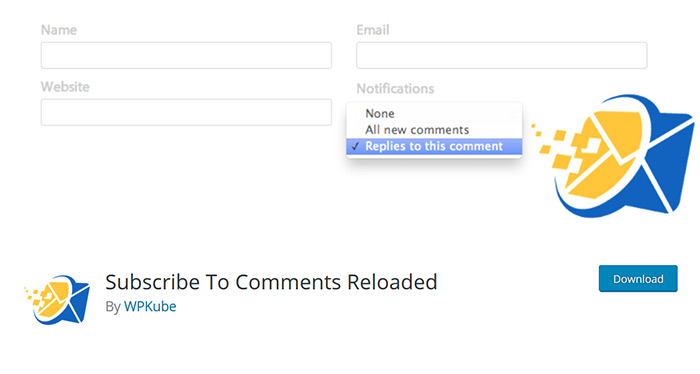 Once you add Subscribe to Comments Reloaded on your WordPress website, users will get an email notification as soon as someone responds to their comment or posts any comment in the thread. Now, let's see how to set it up and explore the options the plugin offers.
When you install and activate Subscribe to Comments Reloaded, all the control sections will be displayed in the menu under StCR.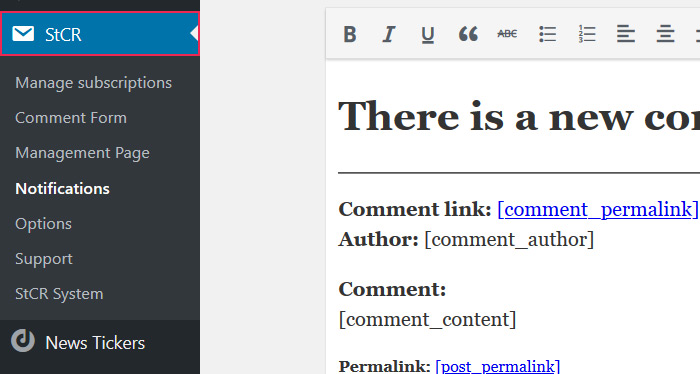 The first section you may want to check out is Options. If you're not happy with the default settings, this is where you can tweak them to your liking.
We'd recommend leaving the top two options set to "Yes" – Show StCR Checkbox / Dropdown and Safely Uninstall.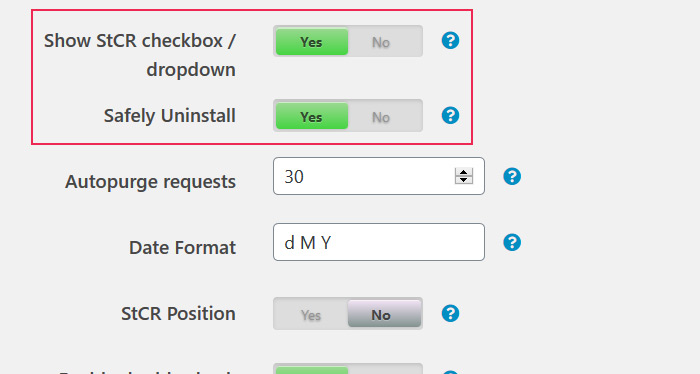 The former ensures the StCR checkbox or dropdown is always displayed within your comment form. If you enable the latter, you won't lose your subscribers even if at some point you decide to delete the plugin. And if you end up installing the plugin again, all of your settings and the list of subscribers will remain intact.
Depending on how many comments you get a day, you can change the Autopurge Requests setting. The default value is set to 30 days, which is fine if people don't comment too much on your site. But if you have more than 20 comments a day, you may want to purge them more often.
You can also send emails to users to confirm they've successfully subscribed to comments, notify them when a trackback or a pingback is added to the discussion, as well as track every subscription. Just beware, if you set the Track All Subscriptions option to "Yes" and you have a lot of subscribers, you'll probably get swamped with too many notifications.
This powerful plugin also allows you to control who gets to subscribe to comments in the first place.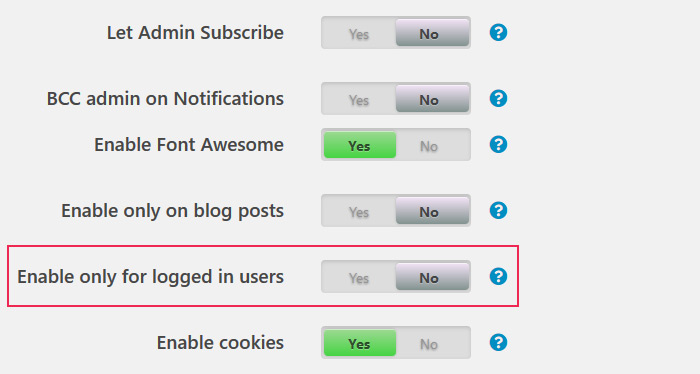 The subscription doesn't have to be reserved for logged in users only, meaning other visitors of your website can keep track of comments, too. That will give them the reason to always follow what's happening on your site and possibly convert them into paying customers.
If you wish, you can also request from users to answer a question in order to subscribe. You get to specify both the question and the answer.
Another great feature of this plugin is that it lets you customize the comment form and edit all the fields a user will see.
A particularly handy feature and one of the best the plugin has to offer is Advanced Subscription. If set to "Yes", it will allow users to decide if they want to get notifications only when someone leaves a reply to their comment or when anyone posts a comment in the thread.
You can customize the notification message as well as messages users will see before and after they subscribe, when their subscription is pending, etc.
To manage those who have subscribed to comments, head over to Manage Subscriptions. You can add new subscriptions by inserting the user's email address and even mass update subscriptions. Moreover, in case you have a bunch of subscribers, there are options that let you view only those with a specific email address, status, and even post ID.
All of your subscribers can manage their own subscriptions. The settings regarding this action are placed under Management Page. You can create a virtual management page for users, enter a custom title for it, and specify the link to the virtual page that will be created by the plugin. And most importantly, you can insert a code that will prevent bots from indexing this page that's not even a part of your site. Again, there are multiple messages you can configure here, such as the messages sent to those who want to keep track of discussions without commenting as well as the messages sent to authors and users.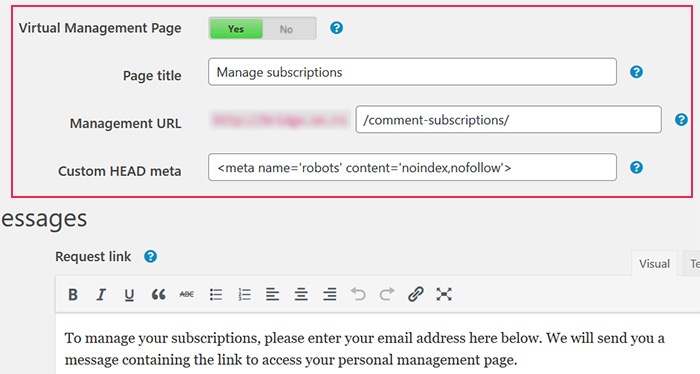 Subscribe to Comments Reloaded is, hands down, an excellent plugin. It costs zero bucks and packs just the features you need to enable users to subscribe to comments in WordPress and effortlessly manage all subscriptions. However, if you would like to try out some other plugins, Lightweight Subscribe to Comments is definitely worth checking out. It's free as well and comes with a lot of customization options that allow you to successfully manage all of the comment subscriptions on your site. It's quite similar to Subscribe to Comment Reloaded, but at the moment it does not allow users to subscribe to comments without commenting.