8 Best WordPress Email Marketing Plugins
Your email marketing can only be as good as the tools you're using for it. Even if you have the most brilliant copywriters in the world crafting your marketing emails one carefully-chosen word at a time, all of their efforts will be worth next to nothing without a list of willing recipients of the email, a way to send them that email, and a way to automate it and analyze the results of your efforts.
These are the things specialized tools and services are for. If you're using WordPress, it's the WordPress email marketing plugins that will make your foray into email marketing easier. A lot easier. A good tool will help you grab the attention — and contact information — of prospects. Another tool will help you send out your emails, and track how many people have opened them, for example. There's a variety of email marketing tasks you can either hasten with the use of plugins or completely delegate it to them.
We've picked seven of the best ones that should, between them, cover all of your email marketing needs. The plugins that made it to our list include:
HubSpot is arguably one of the most popular developers of digital marketing software and services of today. The company provides a variety of digital marketing tools you can use for social media marketing, search engine optimization, and, of course — email marketing.
HubSpot's WordPress plugin, known on the platform as HubSpot – CRM, Email Marketing, Live Chat, Forms & Analytics is the easiest way to connect your WordPress website to your HubSpot account and start using both to build your email marketing. And best of all is that some of the plugin's features will work even if you use the free version of HubSpot.
Some of the things you can expect the plugin to help you with include automatic contact syncing between your website and HubSpot's CRM, the creation of forms and popups for email list building, as well as built-in analytics. Most importantly, however, the plugin will allow you to easily create responsive emails for your newsletter and set up email automation.
When you want to grow your email list, Sumo's list building tool is one of the best WordPress plugins you can use for the job. It starts off with a free plan, it's easy to install and setup, and you can see it in action, capturing leads, in minutes.
The Sumo plugin primarily serves to help you build your email list, a crucial task in email marketing. The plugin allows you to place timed popups with opt-in forms on your website. It can also help you set up an email drip or a single automated response email.
A nice touch is that Sumo also lets you see the return on investment for every email subscriber and every sale you make. It may not be a full analytics suite, but it's still information that might come in handy when you're making some important decisions.
Sometimes, you just need a single tool you can use to grapple with all aspects of email marketing. The Newsletter WordPress plugin might be just the tool you need in those situations — it can handle most of the email marketing tasks you can throw at it.
For example, you can use the Newsletter plugin to grow your email list. You'll have a widget, a customizable page, or a custom form at your disposal to sign up people for your emails. The number of subscribers you can have with the plugin is unlimited, as is the number of newsletters you could be tracking.
When it's time to send out an email, the plugin will let you create it with a drag-and-drop composer and set up the delivery frequency of your emails. You'll even be able to use advanced targeting options with the plugin, so you can segment your audience in any way you like.
Even in a niche that's as crowded as WordPress email marketing plugins is, new solutions can break through the legacy solutions and reach the top. FluentCRM is a great example – as a year-old plugin, it can boast over 10,000 installations and great ratings. The plugin achieves this by providing critical email marketing services without needless hassle.
With FluentCRM, you'll have a tool that can help with lead capturing, contact segmentation, A/B testing, and automation funnels – just to name a few features. It's still a CRM solution, though, so you can expect to have a full contact overview of leads and customers, including data about purchase history, form submission, communication history, and support tickets.
Finally, FluentCRM makes keeping track of your campaigns and communication easy thanks to the in-depth reporting and analytics that come with the tool. Most of these features are available right out of the box with the free version, with further integrations possible with the premium version.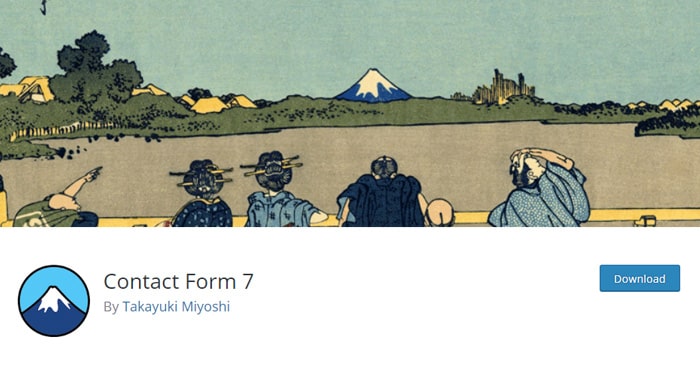 There's a good reason why there are so many WordPress themes with Contact Form 7 ready to use right out of the box. It's a popular plugin that's equally useful to a WordPress novice and someone who's built more websites than they care to remember.
The job Contact Form 7 does sounds simple: it's there to help you set up and manage multiple contact forms on your website. You can customize the form fields and how they look, and you'll also be able to put your touch on the autoresponder email.
If you think that Contact Form 7 is lacking in some of the features of the more fleshed out email marketing solutions, don't worry — you still might be able to use Contact Form 7. Some popular email marketing tools such as MailChimp offer integration, allowing you to get the best of both worlds.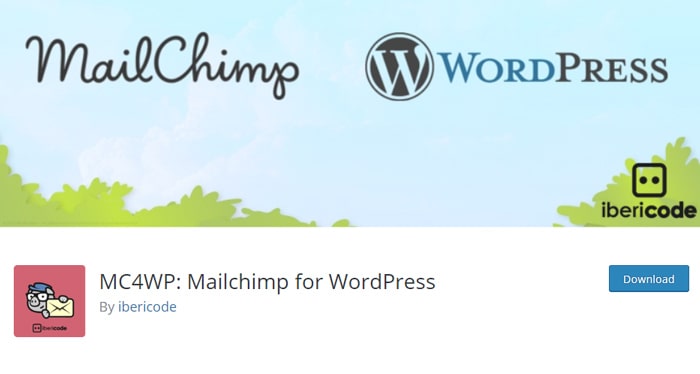 You can't have a list of WordPress email marketing plugins and not include MailChimp on it. It's one of the best-known email marketing plugins, responsible for untold millions of emails that were sent around the world since the tool became available in the early 2000s.
With MailChimp for WordPress you can take care of the three things that matter in email marketing. Thanks to mobile-optimized sign-up forms, it lets you build your email list. It helps you create newsletters and then handles sending them out. And if you have fewer than 2,000 subscribers, you can use it completely for free.
MailChimp is also remarkable in the fact that it works well with many other plugins. There's more than a dozen of plugins MailChimp can integrate with, including the plugins that cover some of the same aspects of email marketing that MailChimp covers.
MailPoet is another email marketing service that might be especially attractive to businesses with a smaller number of subscribers, as its free version only applies if you have fewer than 1,000 subscribers.
If you opt for using the MailPoet WordPress email marketing plugin, you'll get a tool for building subscription forms, creation and management of subscriber lists, and creation of newsletters. You'll have MailPoet's gallery of pre-made responsive email templates at your disposal, as well as audience engagement stats.
If you use WooCommerce, MailPoet will enable you to customize the emails WooCommerce automatically sends out. You can use that feature to welcome new customers, but also try to upsell to them, or reach out if they've abandoned their cart.
Another full-suite email marketing solution on the list, Sendinblue's WordPress plugin has everything you'd expect an all-in-one email marketing service to have — a way to help you build an email list, something to help you create the emails, and a marketing automation tool to do some of the tedious work instead of you.
Sendinblue has it all, and it has it in spades. You can use it for free if you don't reach a certain cap of emails sent per month, but you'll need to create an account at Sendinblue.
The one area where this plugin stands out from the competition is the Google Analytics integration and its native real-time reporting dashboard. Thanks to these two features, you'll always know what's going on with your emails and how well they are working.
One of WordPress' strongest points has always been in the community that grew around it. That community, and the wonderful plugins it brought to life, is what makes WordPress a blank canvas waiting for you to do anything you want with it. And if just so happens that what you want is to send emails to people, these are the seven plugins that will help you do it.