Best Websites For Downloading Free Stock Video Footage
Stock videos are professionally shot clips that you can buy or download free of charge from numerous online sources. They usually cover a wide range of categories, from landscapes, sunsets, or stars, to sports clips, city shots, and much more. If you can imagine it, there's probably some stock footage of it.
When it comes to web design, stock videos are often invaluable. They can easily help bolster your message and tell your story more effectively. A well chosen clip can spice up a project, add some variety to it, while simultaneously creating an emotional connection with the viewer.
Furthermore, stock footage is also often more affordable than shooting something on your own. You may not have the funds, the skills, or the equipment to capture the video you need for your project. That's where stock videos come to the rescue.
These 7 sites are excellent sources of captivating, high-quality, and completely free stock video footage that will not only save you a lot of time and money, but also breathe new life into your projects:
Let's discover what each of these websites has to offer.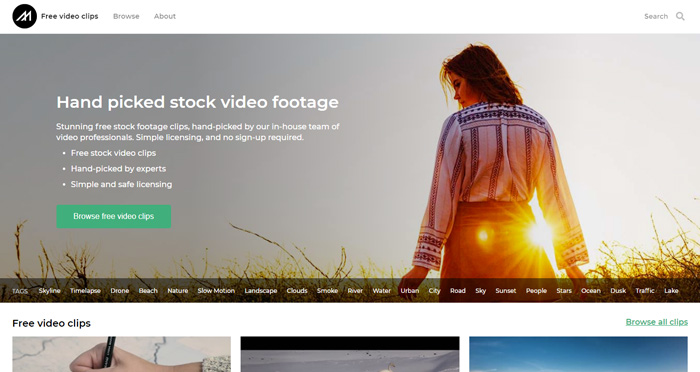 Mazwai is a remarkable source of hand-picked, free HD videos that can help all creatives take their projects to a whole new level. The featured high-quality material looks stunning.
As you hover over a video, a preview will start to play, so you can immediately understand what the video is about. To learn more details about each featured item, click on it. On the right side of the screen you'll see the clip's resolution, duration, license type, etc. When you find a video you like, you can download it without having to subscribe first. And there's no download limit either.
The videos on the Mazwai website can have two types of license – Creative Commons 3.0 and the Mazwai License. The former requires you to attribute the author (but you can still transform the video, adapt it, change it to your liking), while the latter does not.
When in need of cute animated backgrounds for your website, Vidlery is the way to go. The videos are beautifully shot, with lots of details, and are very pleasing to watch. The colors are easy on the eye and not too saturated.
Before you download a video, you can watch it in its entirety and even preview it as a background. That should help you decide if the selected video is just what your project needs. Once you find the video that matches your criteria, you can download it as a ZIP file to your device.
The content featured on the Vidlery website is published under the CC0 1.0 Universal license, which means you don't have to include attribution nor do you have to ask for permission to modify the videos or use them on your site.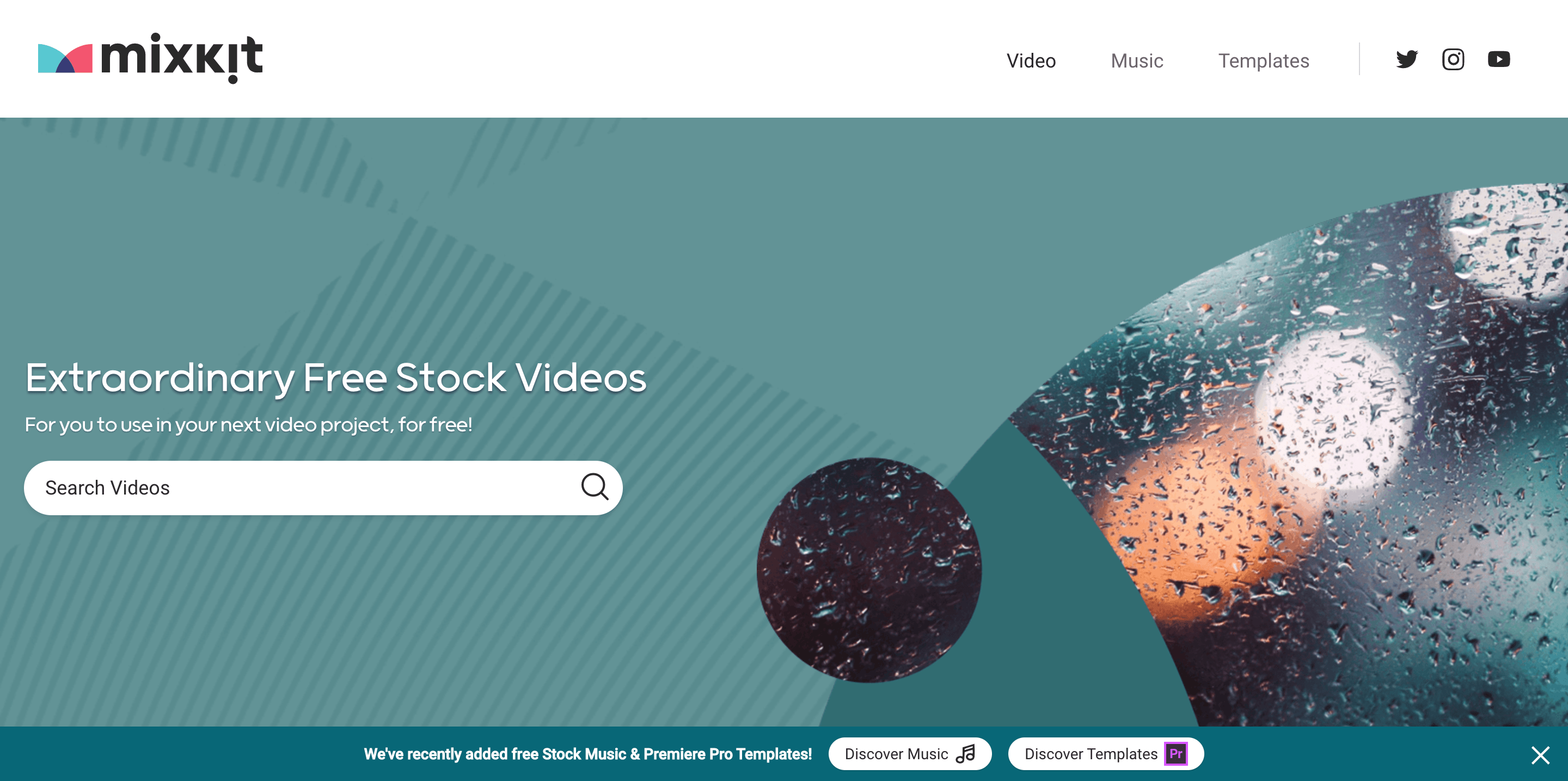 Mixkit comes with a vast collection of gorgeous, high-quality videos you can use for all types of projects. The featured items are organized into multiple categories such as Nature, Coffee, Business, Beach, Sky, etc. You can find them all highlighted at the top of the page.
When you click on a video, you'll be able to see its description as well as the name of the author. Videos are available as mp4 files, and aside from downloading them, you can also share them on social media or via e-mail. The number of downloads in unlimited.
All items are fully customizable, so you can tweak them however you please. No linkback is required either, though it'd be nice to credit the author where possible.
The Life of Vids website is filled with impressive free stock videos you can download without any copyright restrictions. However, the number of videos you can feature on your site is limited to 10.
You can scroll through the list of available items, look for a specific video by keyword, or browse through various collections, including Clouds, Food, Office, Water, and many more. All videos are also available on Life of Vids' Vimeo channel.
Videos come in multiple different resolutions, both in SD (standard definition) and HD (high definition).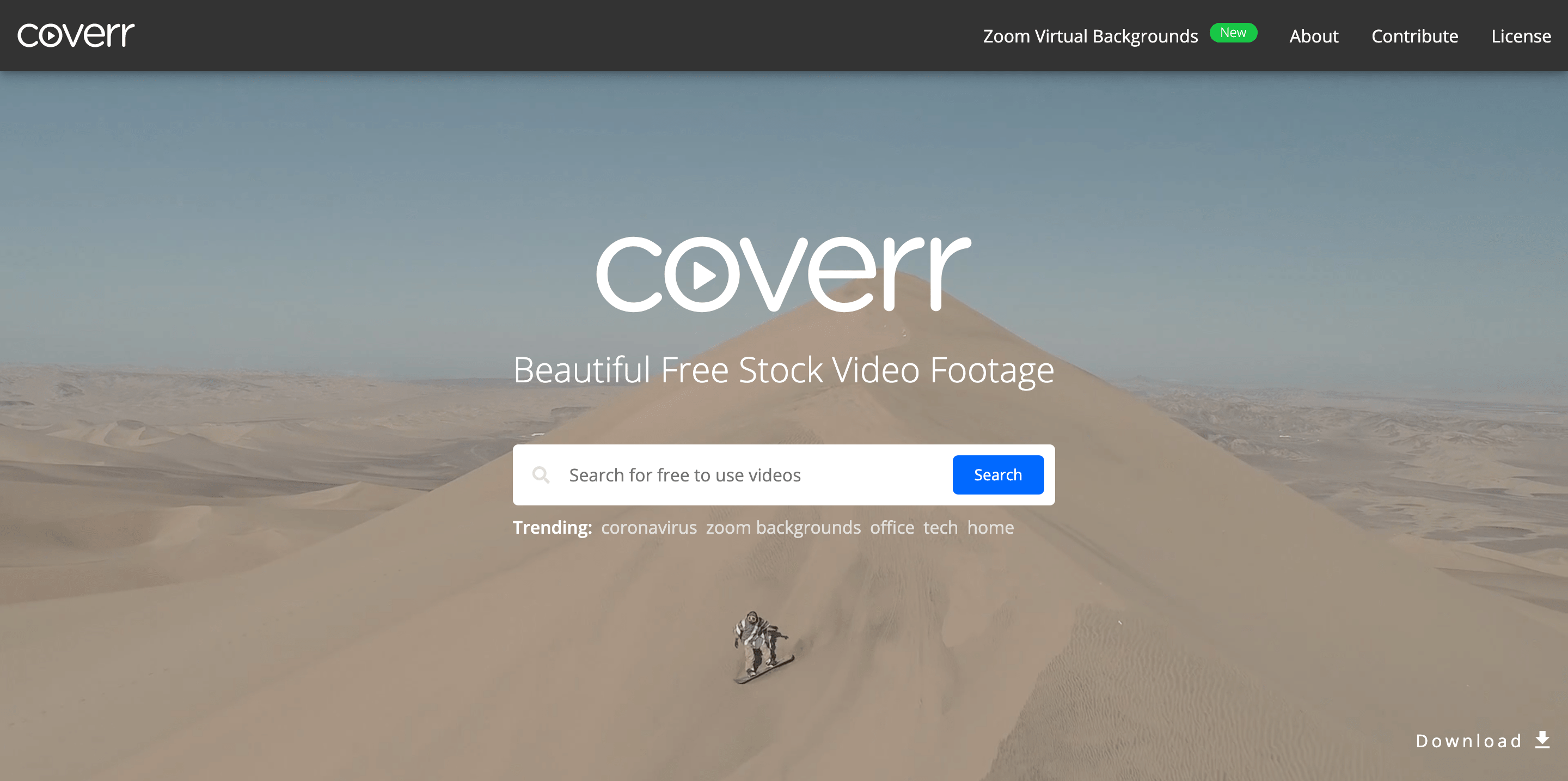 Discover a mesmerizing assortment of free stock videos on Coverr's website. There are several categories to explore – from artsy, aerial, and tech, to urban, animated videos, etc.
Coverr comes with a cool option that lets you preview an item as a video background, which can help you understand if the selected video is just what you've been looking for. The videos come packed in ZIP files, and once you download them, you're free to alter them any way you want.
All of the featured items can be used for commercial and noncommercial purposes. However, if any trademarks, logos, or people are featured in a video, you can't use the material just like that. You must first obtain the permission from the brand owner or from the person that's in the video.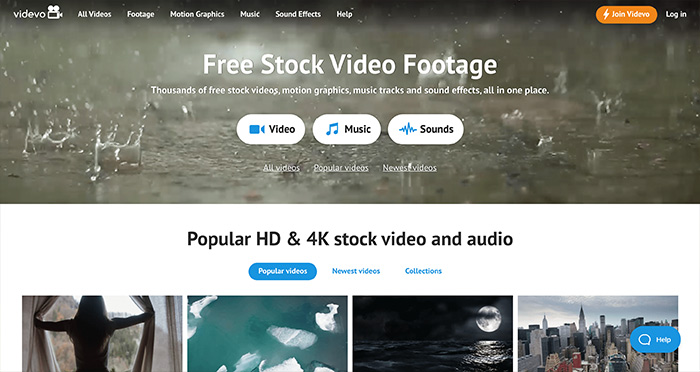 Videvo has a huge assortment of stunning HD and 4K videos, some of which you can get for free, whereas others come with a price tag.
You can view the videos by popularity or by their date of publication (from most recent to oldest). The items are also divided into 21 different collections. For instance, if you're looking for videos of Rome from Above or Ice Hockey Practice, this is a great place to find them.
If you create an account on Videvo, you can make your own collections featuring your favorite videos. To download items, no subscription is needed. But if you decide to use one of the free videos, you're obliged to credit the author.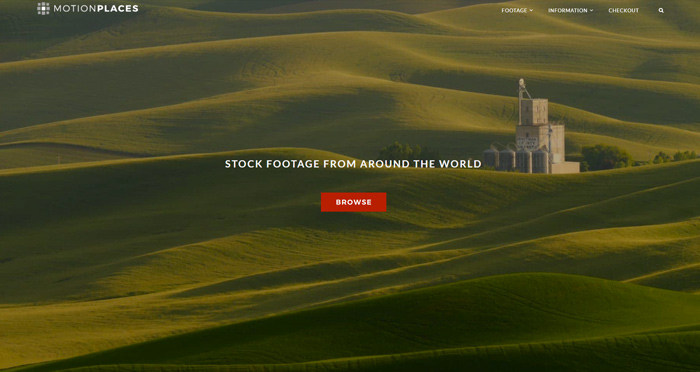 The best place to explore free HD videos created all over the globe is Motion Places. 4K videos are also available, but have a cost of $99.
Hover over the Footage option at the upper right corner of the page, and you'll see a dropdown section of all featured continents and places. You can also look for videos based on a theme (e.g. desert, aerial, sunset, etc.) or a color.
Click on each video you like to learn more about it and discover its resolution. To download it, you have to create an account. If you decide to use any of these items in your projects, you need to include a link back to the Motion Places website and give them credit.
Nowadays, everyone is using stock videos. Even big productions. The thing is, no matter how big someone's budget is, stock footage is an excellent and easy way of adorning projects with interesting and attention-grabbing content.
And if used wisely, stock footage can beautifully complement your brand and help convey your story in a visually appealing way. This is why it's a good thing most of these websites come with customizable videos. You can tweak them according to your requirements and make them more unique by customizing the imagery, colors palette, and other elements to match the visual identity of your brand.