10+ Best Places to Download Free Icons for Your Website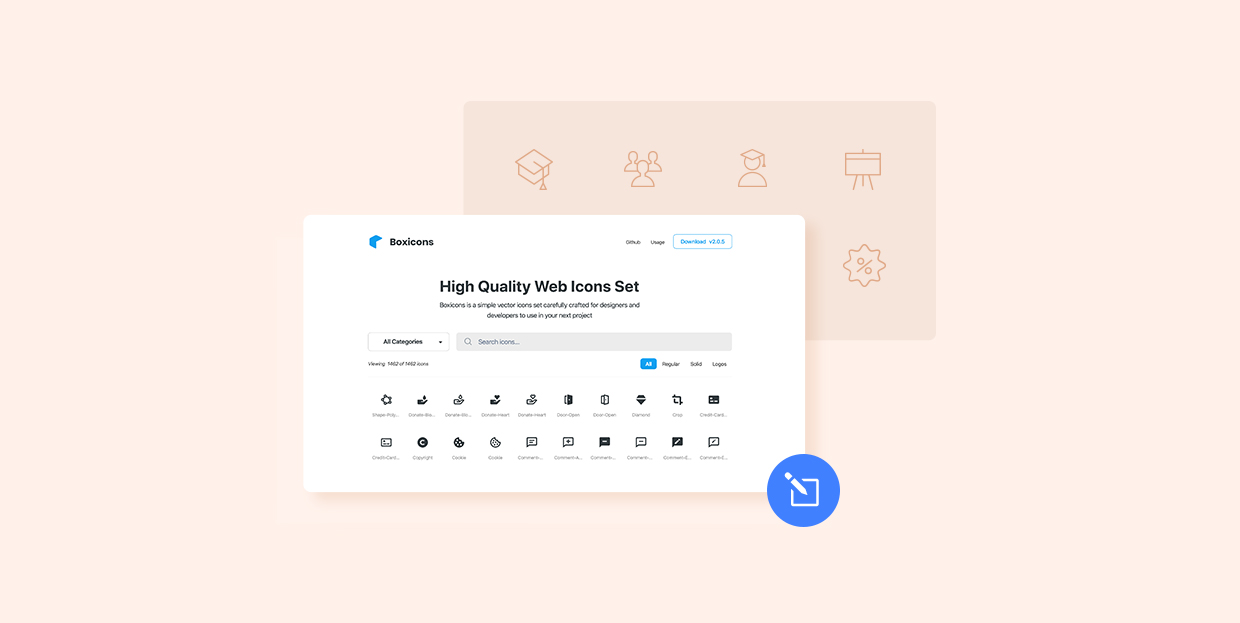 Icons are among the most commonly used visual elements in the digital world. Even though they're small in size, their impact on the viewer is often enormous. Some icons have even become universally understood and so recognizable that we can instantly associate them with the brand, idea or action they represent.
When utilized correctly, icons will capture the attention of your users, guide them where to go and what to do next, as well as augment the overall appeal and UX of your website. They can also add variety to your pages and help reinforce the messages you want to convey.
As a designer or developer, you may find it difficult to find icons that work well with your project. We wanted to save you some trouble, so we've singled out 13 amazing places where you can download free icons for your website: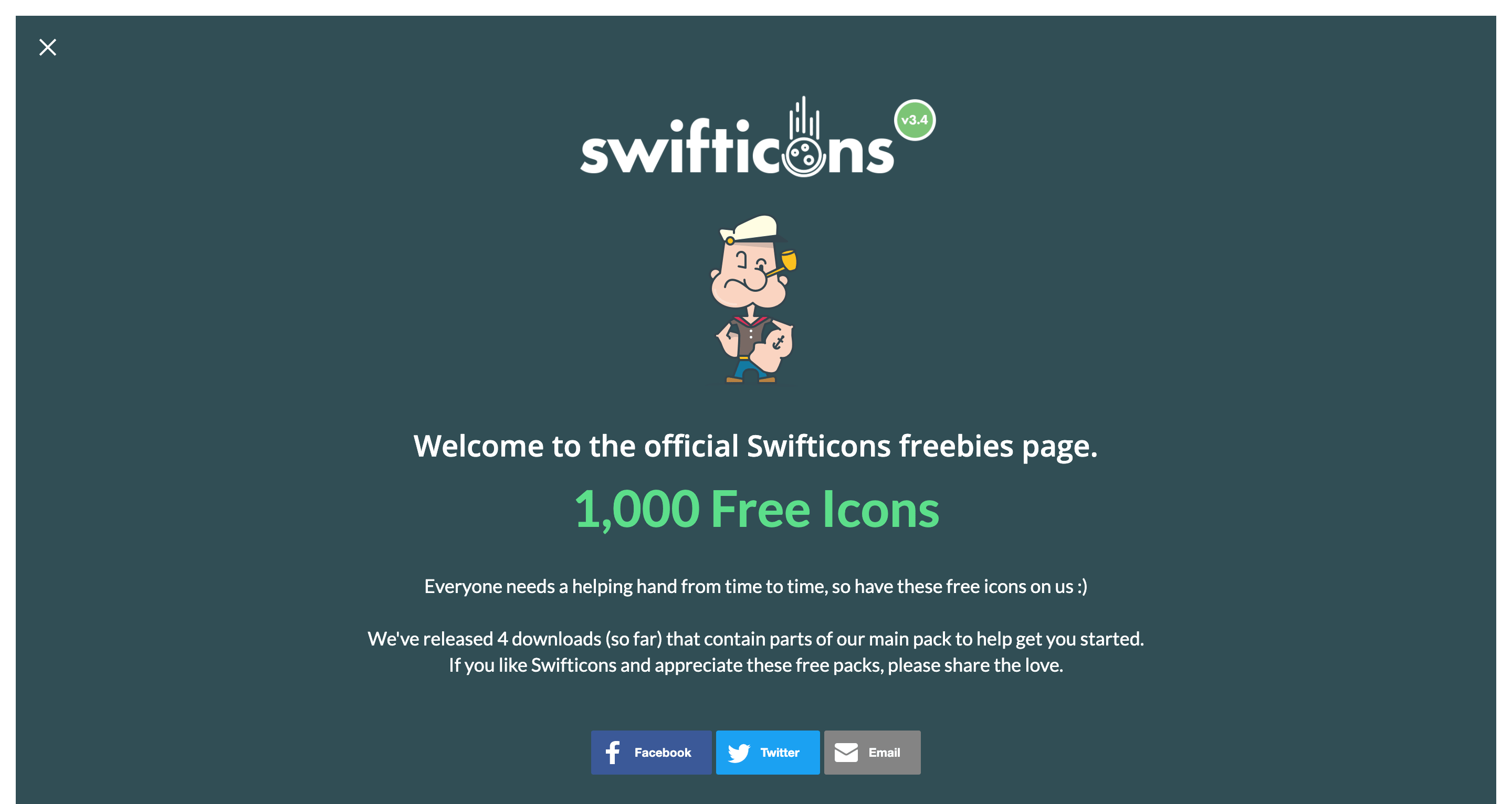 Swifticons features an impressive collection that currently counts 2680 icons, of which 1000 icons can be downloaded for free. Items are divided into 24 categories and come in different styles, such as outlined, colored, and filled.
There are 4 packs of freebies that you can obtain simply by providing your email address. Two packs contain icons from all categories, one comes with icons from the Activities category in a filled style, and the most recently released pack features icons from the Gadgets & Tech category in an outlined style.
The icons are available in several formats, such as SI, SKETCH, PNG, SVG, and EPS.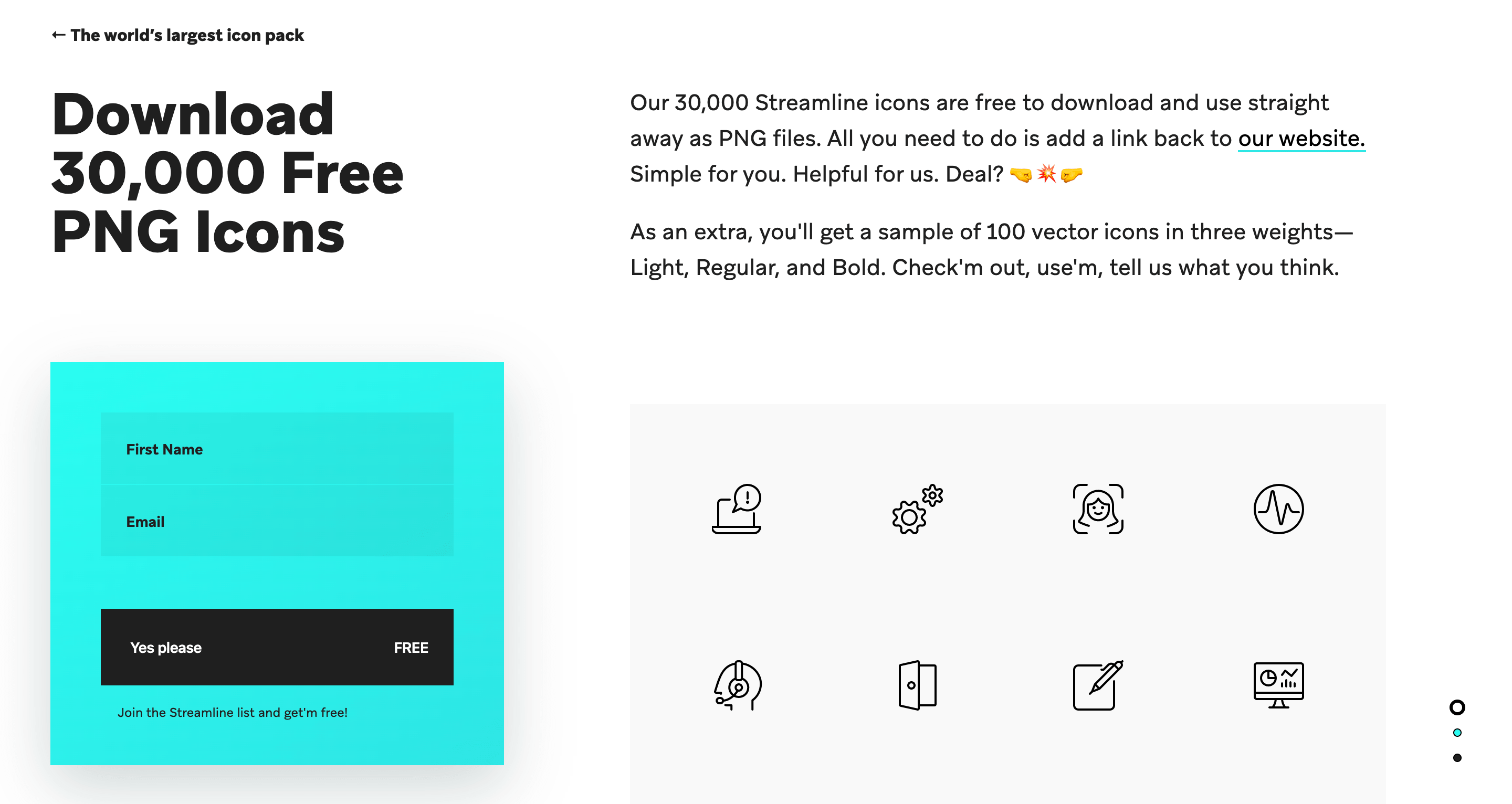 Streamline icons is a great website with more than 30k icons. The collection is constantly updated with new icons and the authors' attention to detail is impressive. For instance, a lot of user and profession icons feature a female, male, and a gender-neutral version.
You can sign up for a free account and download the icons for free, as PNG files. You'll just have to add a link back to the Streamline icons website.
The icons are organized in 53 themes and 720 categories. For example, if you choose the Video Games theme, you'll see that it contains several categories, such as Famous Video Games, Video Games Devices, Video Games Logo, etc. Each icon is available in 3 weights – light, bold, and regular.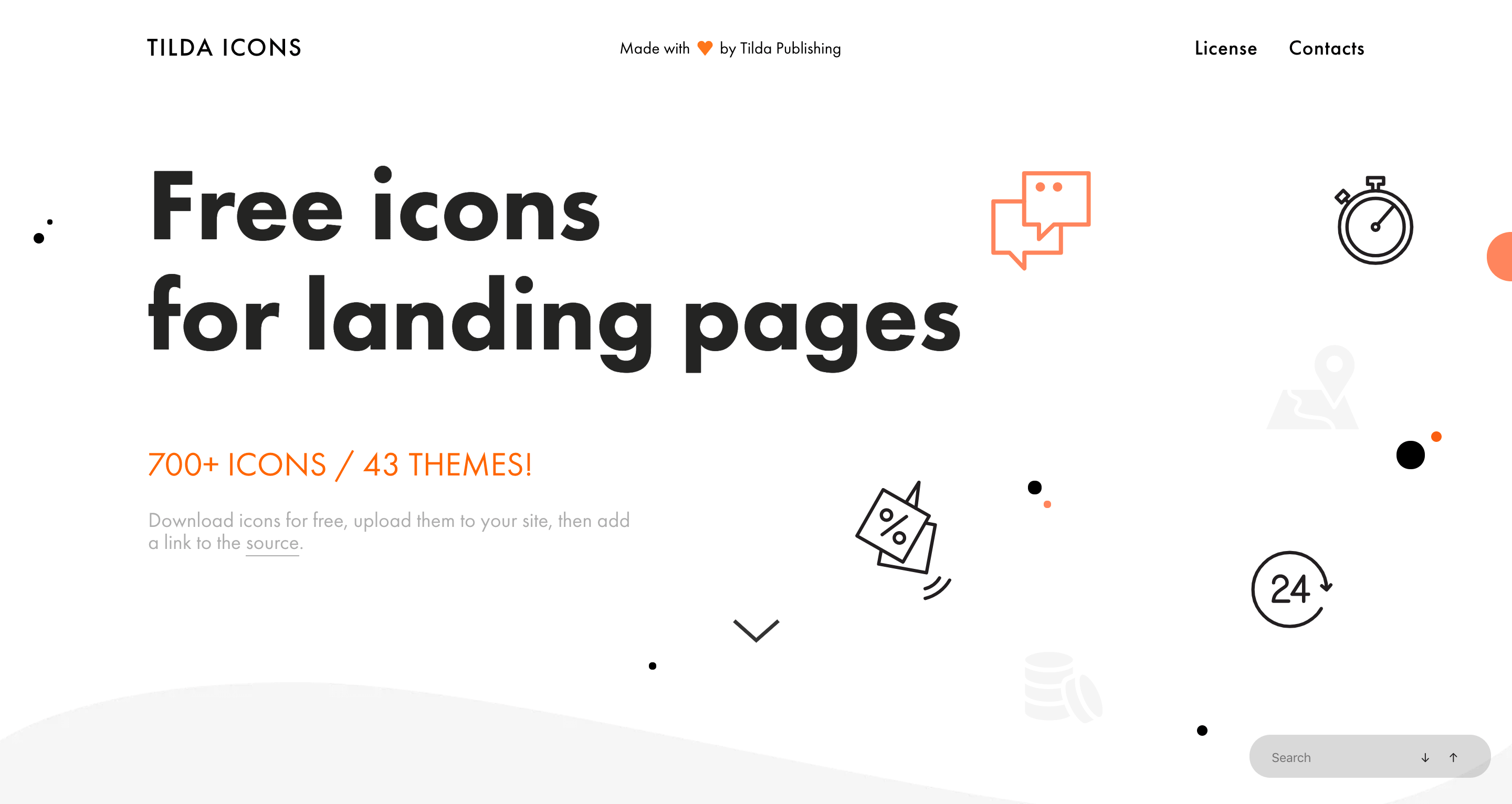 With more than 700 vector icons packed in 43 themes, Tilda Icons is an excellent resource for all creatives out there. No matter the type of project you're working on, you'll surely find the perfect set of icons on this website.
If you don't feel like browsing through so many icon themes, use the Search option to find what you need. You don't have to register on the website to download any of the icons, but you are required to specify that the icons are provided by Tilda Publishing and to insert a link to their website.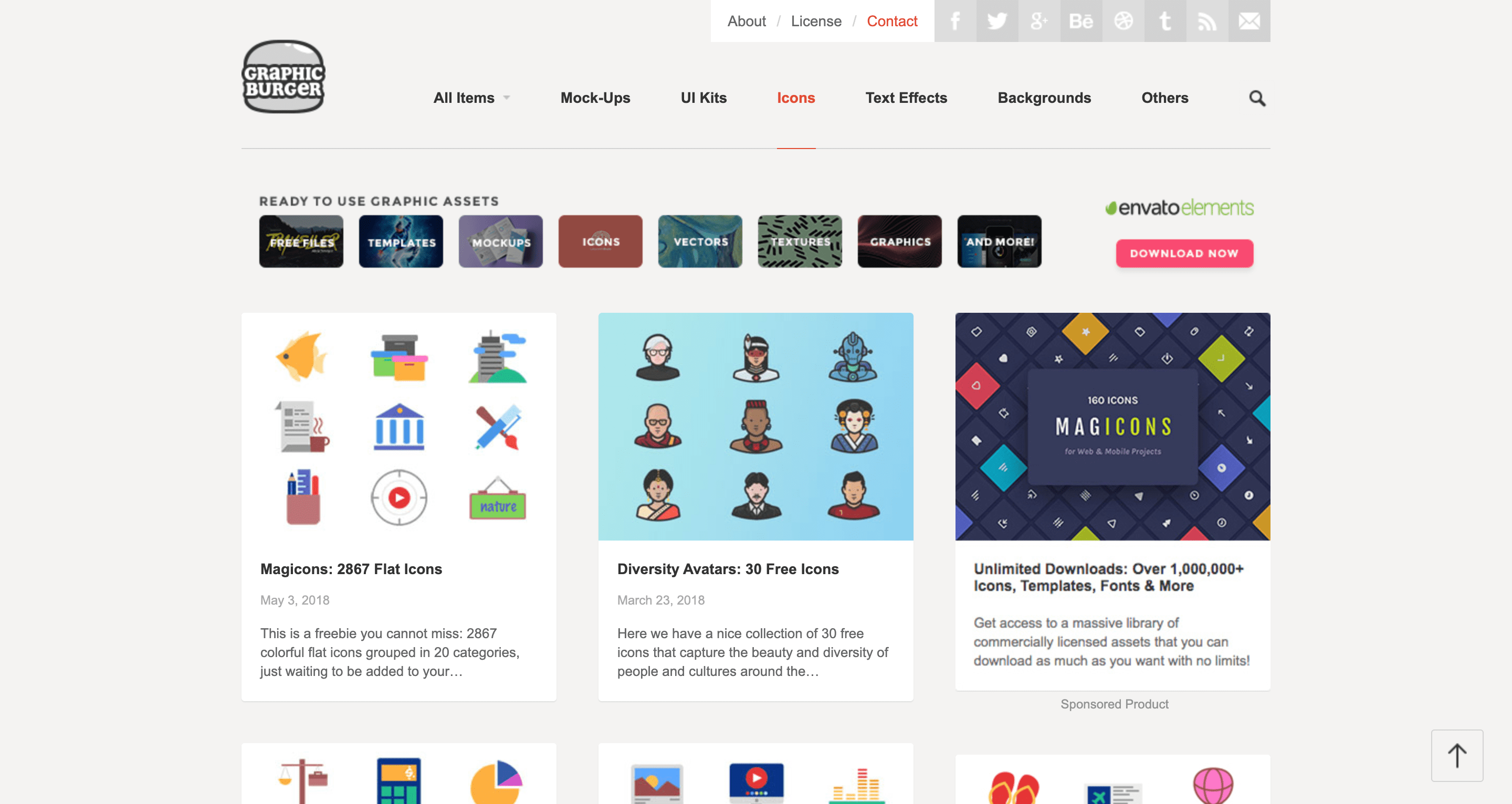 Graphic Burger is the go-to website for lots of designers. All kinds of items are available for free, including mockups, UI kits, backgrounds, icons, and more.
The collection of icons is truly impressive. They're all beautiful and unique, and come available in multiple styles – colored, flat, lined, etc. When you find a set you like, click on it to read the description and check the details. The available formats, file size, and icon dimensions are all specified under the selected set.
To download icons, no website registration is required. You don't even have to credit the authors, but if you do, they'd surely appreciate it.
Another great website on our list is Fontisto. It's beautifully organized, easy to use, and packed with great icons – a real treat for all creatives.
Browse the collection by keyword or look through numerous available categories to find the right icon set. They come in three styles: bordered, stacked, and animated. Each style also features several subcategories, so if you need, say, rectangularly shaped stacked icons, you can find them with the utmost ease.
Fontisto's scalable vectors can be customized to fit your taste using CSS, so you can modify their color, size, etc.
The icon collection on Boxicons currently counts 1462 items. All icons are available in two styles – regular and solid. There's also a variety of logos that represent some well-known brands and social media giants.
To download an icon, simply click on it and a bunch of customization options will appear. It's possible to alter the item even before you download it. You can change the color and toggle style, rotate the icon, animate it, and flip it. All icons are available in PNG and SVG formats, but you can also copy the icon's code and paste it to your HTML.
Remix Icons counts more than 2000 open-source icons that are available in outlined and filled styles.
Items are organized in multiple categories, but you can also search for the desired symbol via keyword. Once you find the icon you've been looking for, click on it to modify its color, select the format (SVG or PNG), and set the icon size. There's also the option to create a collection of your favorite icons that you can then export to your device.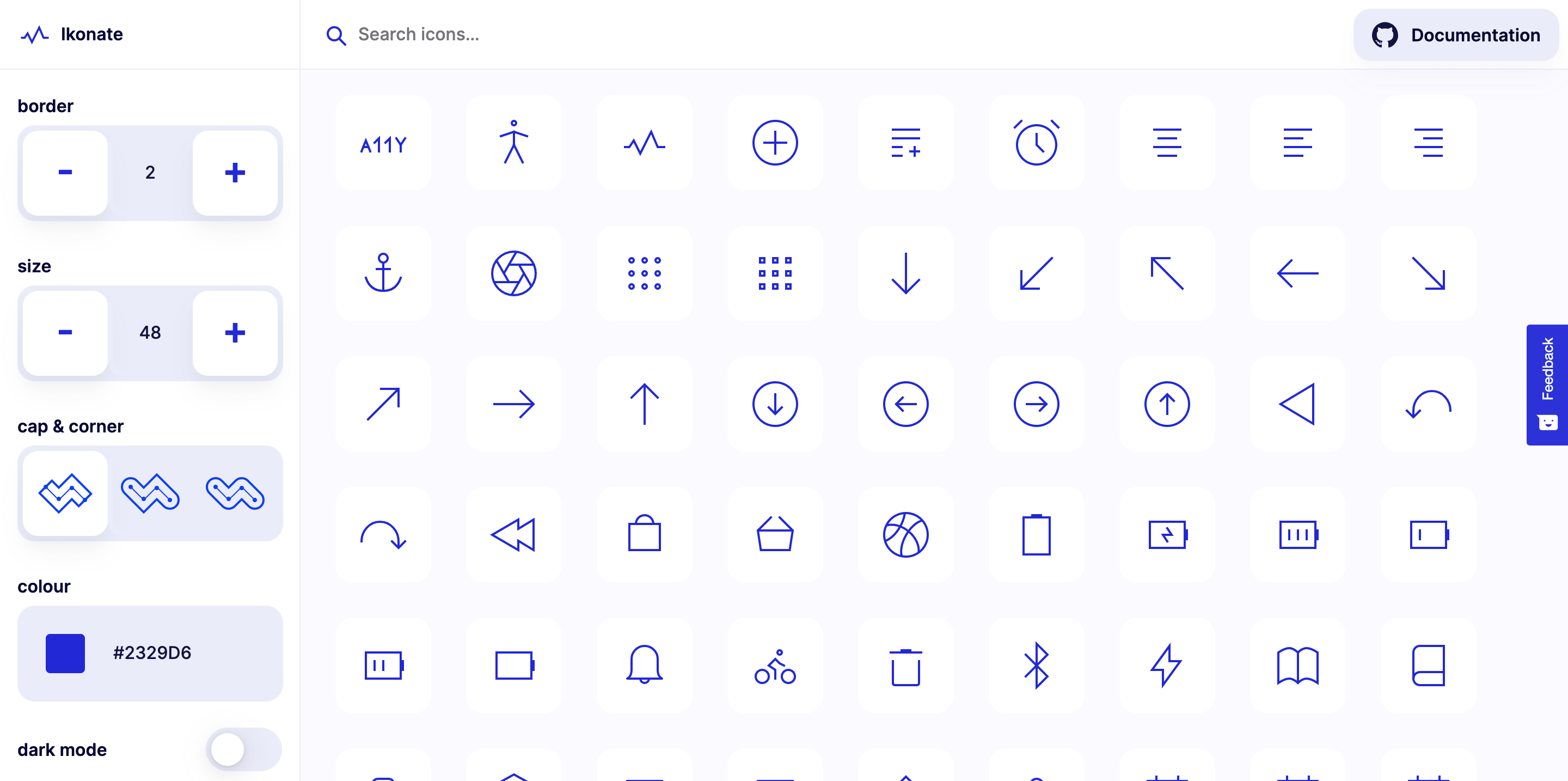 Download more than 320 SVG icons from Ikonate and modify them on the spot to make them fit the tone of your brand. Change the stroke width, the size of the icon, corner style, and the icon color. When you're happy with how the icons look, download as many as you want straight to your computer or phone.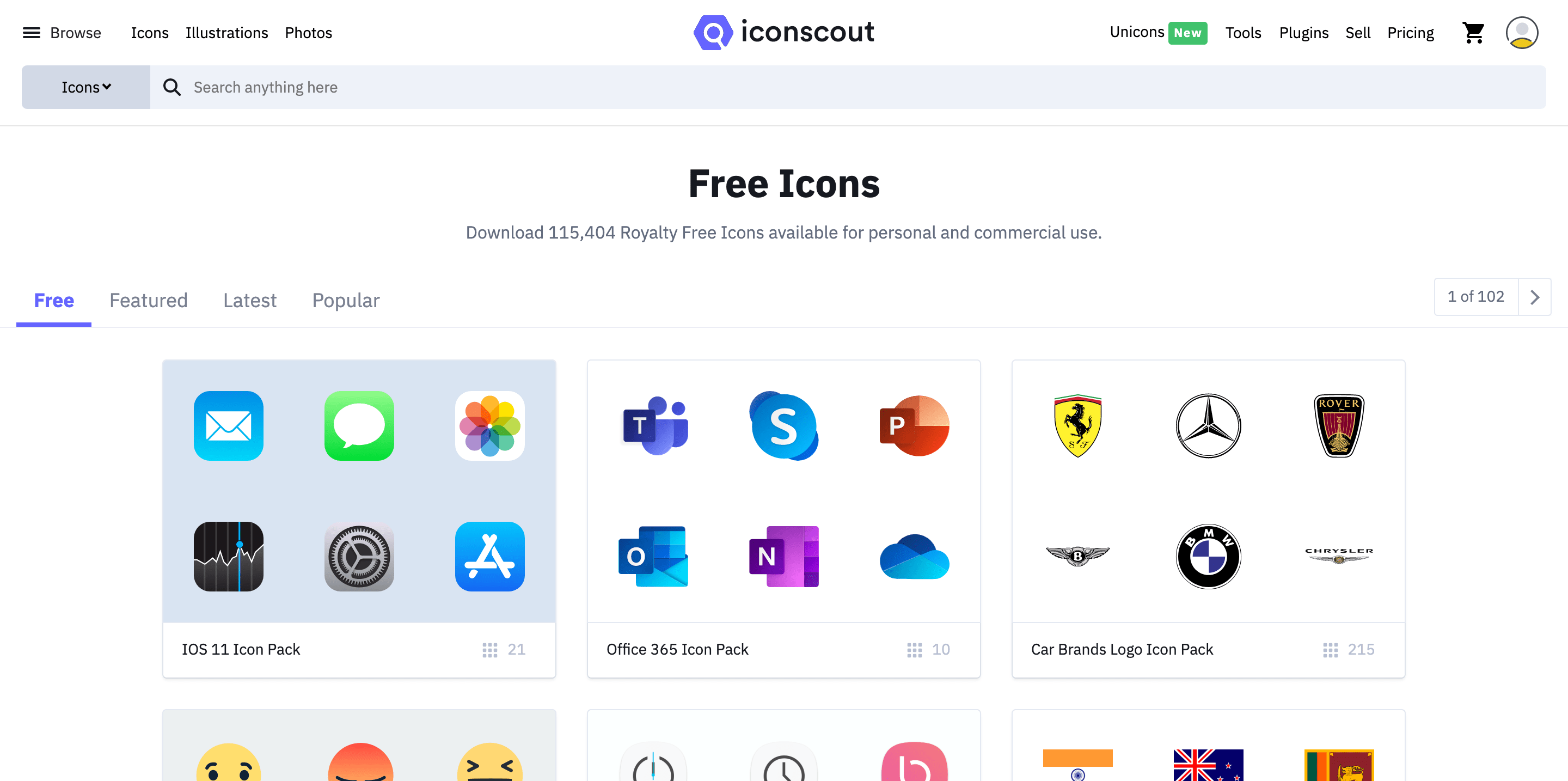 Iconscout features a copious amount of icons – more than 114k to be precise. They come in a wide variety of styles: outlined, solid, colored outlined, hand-drawn, and many more. Icons are organized into packs, but if you don't need the whole set, pick the icon you like and select the format according to your requirements. The available formats include PNG, SVG, PDF, EPS, ICO, and ICNS. Icons can be downloaded free of charge, but if you end up using them in your projects, you'll have to credit the author.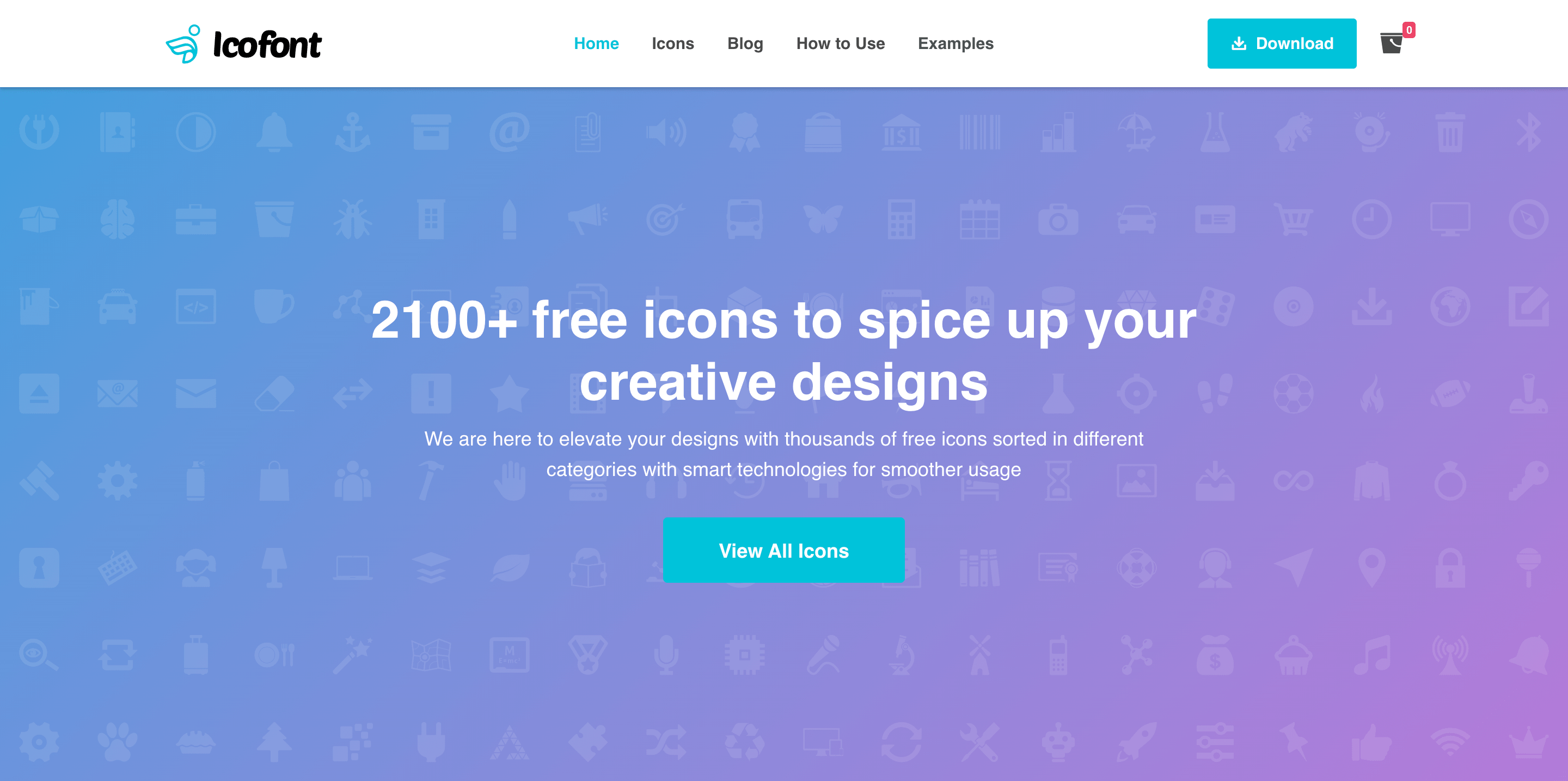 IcoFont includes a collection of more than 2100 free icons sorted in 30 categories. The icons cover a wide range of industries, so no matter what kind of project you're working on, be it something related to sports, math, law, or weather, IcoFont is the right place to find what you need.
Categories are displayed on the left-hand side of the screen, but you can also search icons by keyword. It's possible to download entire icon sets or just the selected icons. Furthermore, you can create collections, which allows you to combine icons from different sets and then download them altogether to your device.
Download more than 480 open source icons from Eva Icons free of charge. No sign up is required, just choose the items you like and save them to your library, or download the entire Eva Icons or NPM packages.
All the icons are fully responsive, so they'll look equally beautiful on both your computer and mobile phone. Four animation types are supported: zoom, pulse, shake, and flip. You can choose between two styles – fill and outline, and several formats, including PNG, SVG, FONT, SKETCH.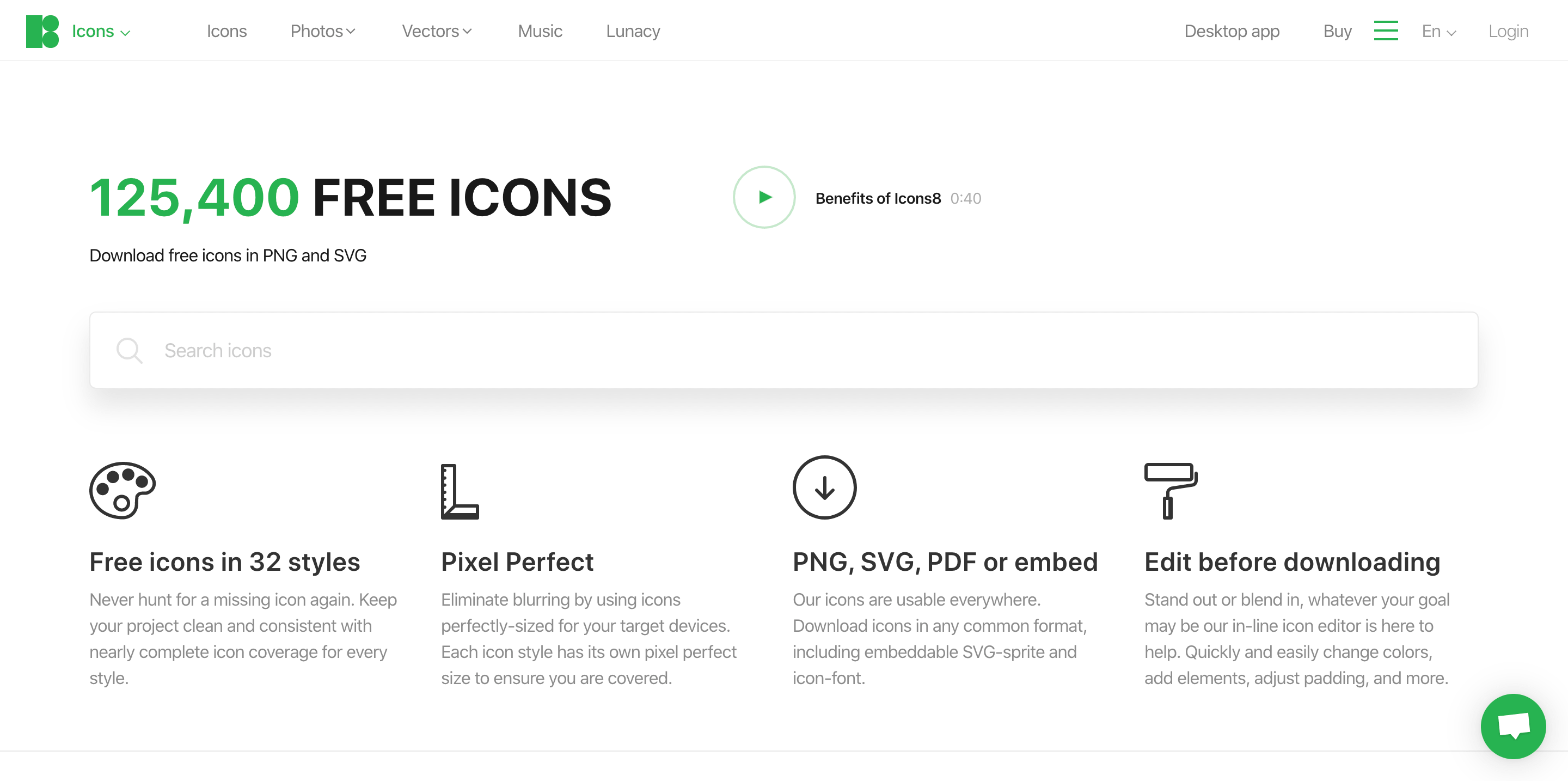 Icons8 is a superb website with a myriad of icons – 124,700 to be precise. They come in a whopping 32 styles, so you'll surely manage to find the items that fit your taste. Even if you're entirely happy with how an item looks, you can modify it using the Icons8 editor. Change the icon color, add overlay, text, and various effects, modify stroke, padding, and more. Finding the right icon is easy thanks to the filtering options located on the left side of your screen, but you can browse the collection via keyword, too. The website supports some of the most common formats, so you can get the desired items in PNG, FONT, SVG, and PDF format. To use the icons from Icons8 free, you have to link back to their website.
Another incredible resource full of numerous versatile icons is the Line Awesome website. The icons here are organized in more than 50 categories, including clothing, chess, maritime, science fiction, spinners, and many more. You can download the entire collection as a ZIP file or select a particular icon you'd like to use. When you see an icon you like, click on it, choose the size, and then simply copy and paste the icon to your design.
Icons are one of the crucial elements of website design. If they're not expressive enough, they can negatively impact the navigability of your site. In such cases, users are at a loss as to what to do and they can hardly understand what's going to happen after they tap on an icon. That's why it's important that the idea behind an icon is clear and that icons are easy to interpret. You don't want to scare people off with ambiguity, but rather help them intuitively understand how to navigate your website. Finding the right icons for your website can be tricky, but these 13 websites will surely make your job a whole lot easier and help you take your projects to the next level.