13 Best Plugins for Creating a Secure WordPress Client Portal
There are many ways your website visitors might contact you for more information on your products and services: on social media, if you are building and maintaining a social presence, or via email, phone or contact form (depending on your contacts page). And then there are client portals.
Client portals are websites where users log in in order to access content unavailable to the general public. A client portal is a membership site, in other words, but they can be more: it is a great way of keeping in touch with your users if you intend to provide them with restricted files, knowledge bases or support for your products. In this article, we will be talking about building a client portal in WordPress. Specifically, we will be talking about plugins which will help you create a WordPress client portal and make it secure and functional for your users.
Here are the plugins we will be discussing:
As the name suggests, this premium plugin was specifically designed to create a no-frills client portal with ease. Client Portal's main aim is to replace various workflow and project management solutions. It allows you to equip your WordPress website with functionalities such as secure client areas, proposals and quotes portals, prototype sharing, client surveys and many more.
With it, you can create client-specific project hubs, but also manage your availability to clients so that you don't get overbooked and that clients don't overstep their bounds. They can still be given access to project status overviews, milestones, and due dates.
Ultimate Membership Pro is a comprehensive, bestselling, premium solution for any membership website. As we have mentioned above, your clients are essentially members: registered users to whom you can assign credentials and access to features.
It provides you with a broad gamut of functionalities, from access rules for any kind of content, be it post types, physical files or menus, an unlimited number of payment packages, a comprehensive member management dashboard, and more. The plugin uses configurable shortcodes to restrict any piece of content following user-defined rules.
Ultimate Membership Pro integrates with Zapier, which allows for a lot of flexibility in workflow automation and third party app integration. It also offers eleven payment gateways, including PayPal, Stripe, 2Checkout, Braintree, and others.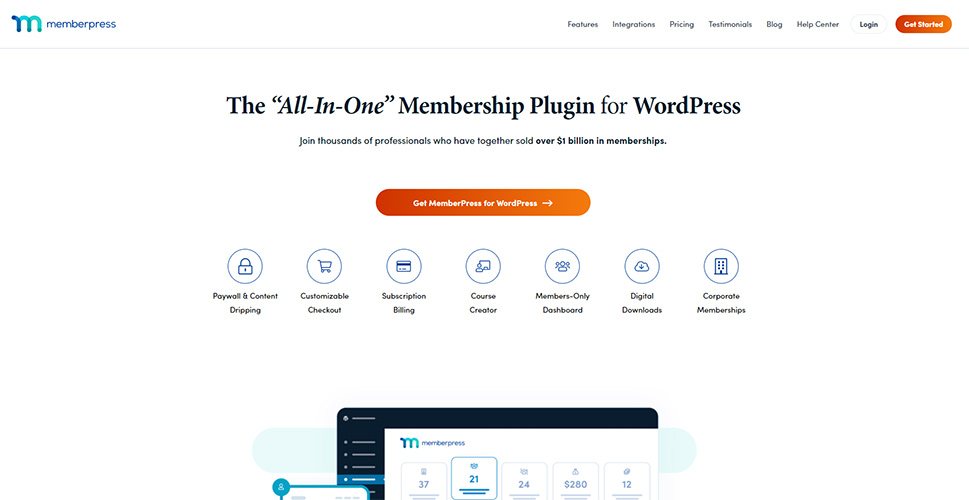 Similar to Ultimate Membership Pro, this premium plugin, MemberPress, boasts various functionalities to do with access, user profiles, subscriptions and more. It comes with its own dashboard, giving you a detailed overview of your registered users, the information they share, the information you share with them, and more.
The plugin integrates with various payment gateways, including Stripe and PayPal, and comes with in-built functionalities for unlimited pricing tiers, timed release of content, online course management, forum, and coupons and promotions. The developers followed best practices guidelines for stability and security, and the Zapier integration allows for extensive automation and seamless communication between multiple apps and services.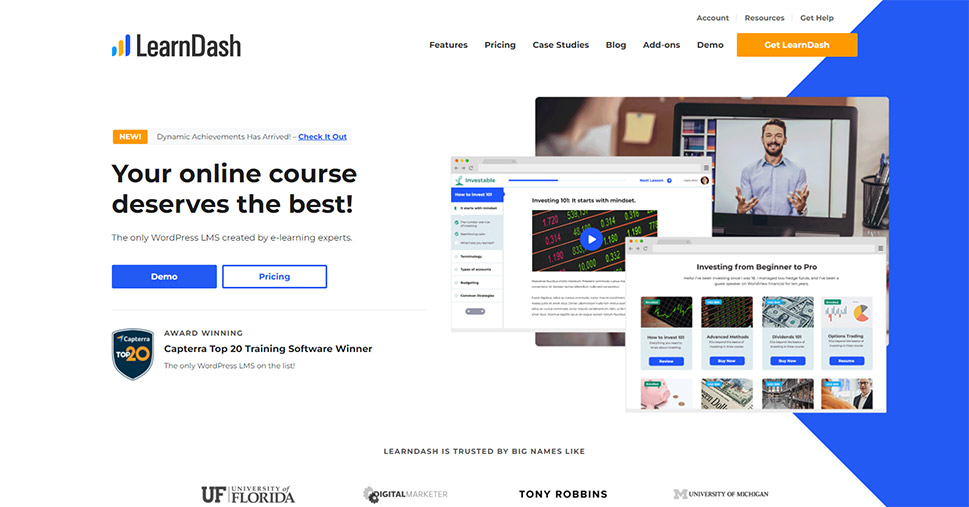 LearnDash is a specialized premium plugin designed for administrators of learning management systems. In this case, your learners are your clients: they use their login credentials to access course materials. The plugin contains all you need to create a learning management system from the ground up, including such features as a drag-and-drop course builder, eight different kinds of test questions, progression trackers, flexible prerequisites, and more.
Each registered user gets their own personalizable profile, and you can group or filter them the better to organize them. In terms of payment options, LearnDash supports memberships, one-time purchases, subscriptions, bundles, and other advanced options. It integrates with Slack for easy planning, MailChimp for email, Zapier for automation, and PayPal and Stripe for payment.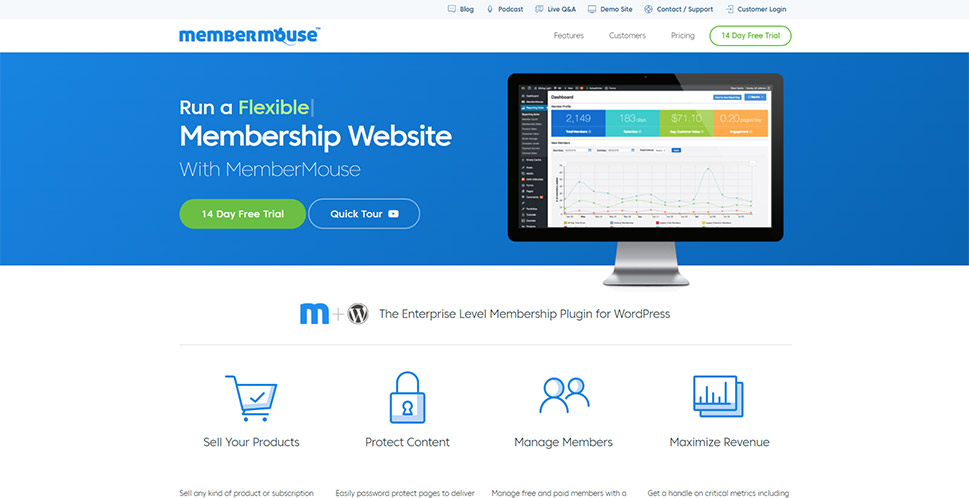 Another premium solution, MemberMouse is made to work primarily with ecommerce stores. As a client portal, it grants your shoppers access to advanced store functionalities. Apart from the usual suspects such as password protected pages and files, content drip, free membership and various membership packages, flexible pricing, coupons, and suchlike, MemberMouse also features an advanced suite of reporting tools which can help you inform your marketing and pricing strategies.
This plugin uses SmartTags (special shortcodes) for user experience personalization, allowing you a great deal of flexibility when displaying offers, upsells and downsells, user details, and so on. It also integrates with most popular payment gateways, including PayPal, Stripe, ClickBank, and others.
True to its name, Awesome Support is a premium plugin designed for adding customer support and help desk functionalities to WordPress websites, making it an excellent choice if you need a client portal primarily to deal with customer support issues. It comes with fully customizable ticket forms, comprehensive ticket histories and unlimited support agents (no per-agent fees).
Tickets can be routed manually, or automatically to agents with fewest open tickets, and the plugin provides time tracking functionalities which you can use to organize your support agents efficiently. And just in case a feature is missing from this impressive array, the developers have also provided a number of premium addons to expand the plugin's functionalities with custom labels, custom priority levels, customer ratings, WooCommerce integration, and many more.
Freelance Manager is a feature-rich premium plugin designed to provide you with a comprehensive client management and project management solution for freelancers. The plugin supports client login and personalizable client profiles, as well as project trackers, invoicing, and workflow approval. On the project management side, you get project overview, task management, cost and timeline overview, staff management, support tickets, and many other functionalities. The plugin offers PayPal and Stripe by way of payment gateway integration.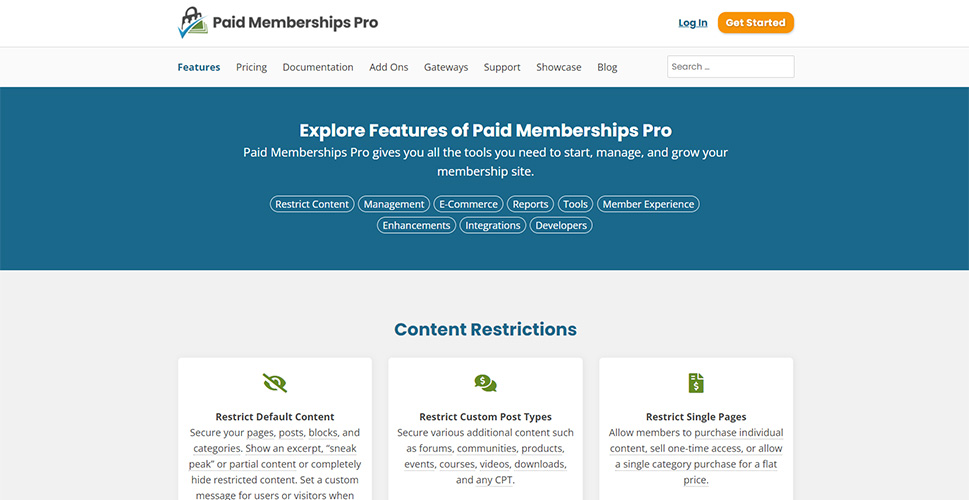 Paid Memberships Pro is a simple plugin which contains everything you need to set up a client portal. It lets you set up unlimited membership levels and is flexible with pricing and trials. In terms of content restrictions, it offers a sneak peek functionality, partial, and complete restrictions. You can use it to sell individual content, access, subscriptions and similar.
With it, you can collect payments from multiple payment gateway providers, including the most common ones, such as Stripe, PayPal, and Braintree, and even offline, using cheques or bank transfers. It also contains functionalities for discounts, gifts and coupons, and even has a free version with fewer functionalities.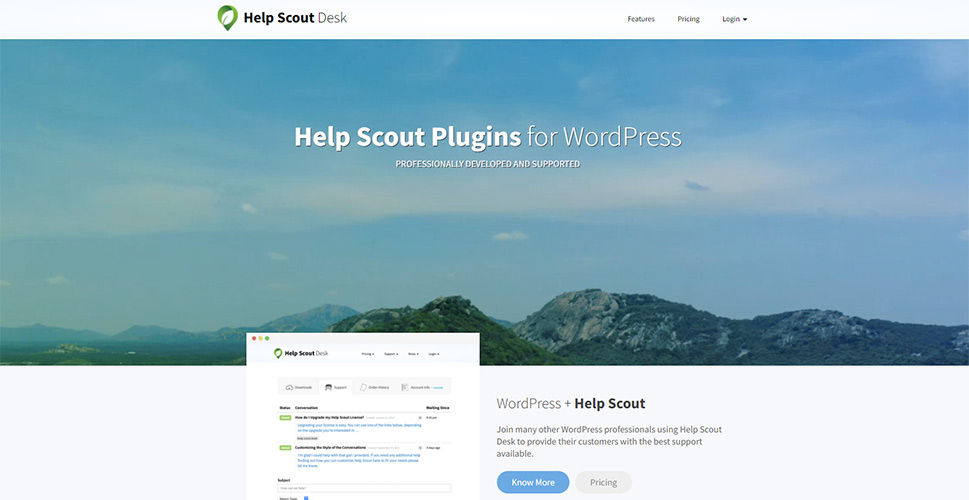 Another premium help desk solution, WP Help Scout offers your support staff a wide array of options for support tickets and conversations, completely bypassing email as an avenue. Your customers will be able to create and close their own threads and upload as many attachments as needed. The plugin maintains customer records, so there is no risk of misunderstandings. The plugin integrates with WooCommerce, WP eCommerce, and Easy Digital Downloads, which means it works with the most popular ecommerce platforms.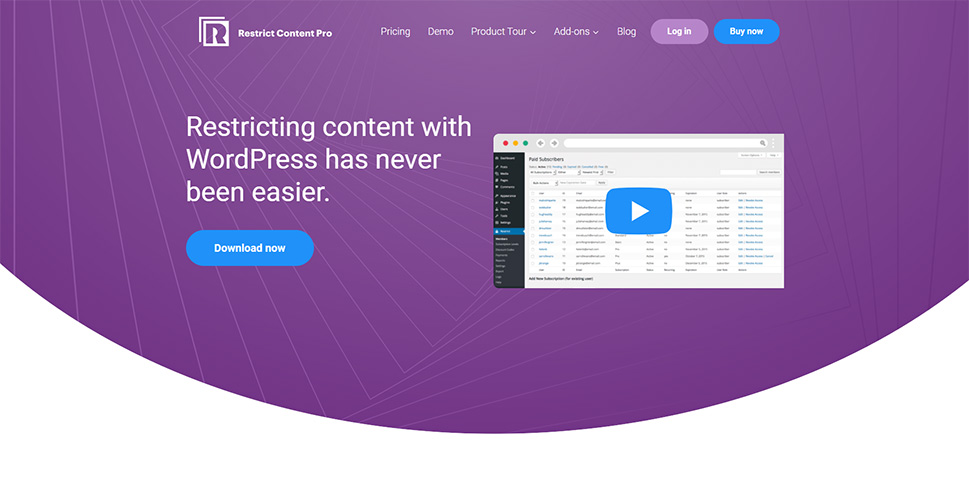 With Restrict Content Pro, you get a premium membership website solution with all the requisite functionalities: you can use it to create an unlimited number of subscriptions, be they free, trial, or premium, and an unlimited percentage or flat rate discounts. You get an easy overview of all your subscribers and clear and neat metrics on how your website is developing.
The plugin integrates with any theme and other plugins, not to mention third party services such as MailChimp, ConvertKit and HelpScout. As for payment gateways, Restrict Content Pro integrates with Stripe, PayPal, Braintree and Authorize.Net.
WP-Members is a free plugin designed to make any WordPress website into a content-restricted site: an excellent choice for a client portal dedicated to sharing restricted content with clients. It is very easy to set up and use, offering such features as restricted or hidden posts, pages, and custom post types, user profiles, admin notifications, admin approval, teaser excerpts, and more. Each of these features can be placed on your website using shortcodes.
The plugin's capabilities can be extended using other plugins, both free (blocking spam registrations and sending test email) and premium (increased security, PayPal integration, download protection and more), all by the same developer, integrating seamlessly with one another.
A free and simple plugin, WP Customer Area lets you set up a secure area for your registered users. Your users will have access to personal pages and files, be able to share them with other registered users, as well as exchange messages within the platform, making this plugin a great project management, client management, and community building platform.
With Customer Service Software & Support Ticket System you get exactly what it says on the tin: a comprehensive help desk plugin which will allow your support staff to communicate with your customers with ease. You can assign roles to your staff, and enhance your support forms with custom fields, streamlining the support process.
This free plugin has two premium versions which extend its capabilities further: allowing multiple support staff to be assigned the same ticket, workflow automation, user-role restrictions, and similar.
As you can see there is no shortage of quality solutions for your client portal needs. While most of them will set you back considerably, plugins such as WP-Members and WP Customer Area offer all the basics for free, while Customer Service Software & Support Ticket System is a perfectly workable, if pared-down customer support solution – great if you are just starting up.
This list also has specialized, niche solutions such as LearnDash for LMS's and Freelance Manager for freelancers, which may contain features not often encountered in other, general purpose plugins. However, regardless of what your budget is and what you want your client portal to do, the solution you need is on this list.