9 Best Places to Hire WordPress Developers
WordPress is a highly popular platform for a reason, as it can allow thousands of people to start their blog or small online business on their own. But, as your website and business grow, you will need to make changes to your website design and plugin and theme functionalities. You could also have important projects planned which require experienced WordPress developers or simply want to expand your existing WordPress team with knowledgeable individuals the better to distribute the growing workload. If any of these situations sound familiar, then you have surely come to the same conclusion: you need to hire experienced WordPress professionals, whether they are developers, designers, writers, support staff, or others.
But finding the best candidate to hire can be quite a challenge as there are a lot of platforms for hiring freelancers with varying levels of experience, skills, or expertise. Therefore, having a list of qualifications and skills that you are looking for in a developer and a list of reputable platforms that you can use for the selection process can save you a lot of frustration, funds, and time that would have been lost otherwise. That is why we have produced this article in which we have highlighted the best and most trustworthy places to hire WordPress developers.
We have compiled a list of nine trusted freelancing platforms, alongside some advice on what to expect and how to use them to find and hire the best talent. Let us proceed to our picks.
Codeable is an exclusive outsourcing platform for all WordPress-related jobs that prides itself on a strict vetting process. This ensures that only the top 2% of WordPress experts are available for hire through this platform. When submitting job offers on Codeable, you will get free price estimates from those developers and can rate their work after completion. The platform also offers a money back guarantee if the work wasn't satisfactory. However, this will rarely be the case as their satisfaction rates are near 99%. As for the price rates, they range from $70 to $120 per hour, regardless of the length of the project. While this price can be steep for small-scale projects, hiring a WordPress expert from Codeable will prove its worth for large-scale projects, given the expected quality of their work.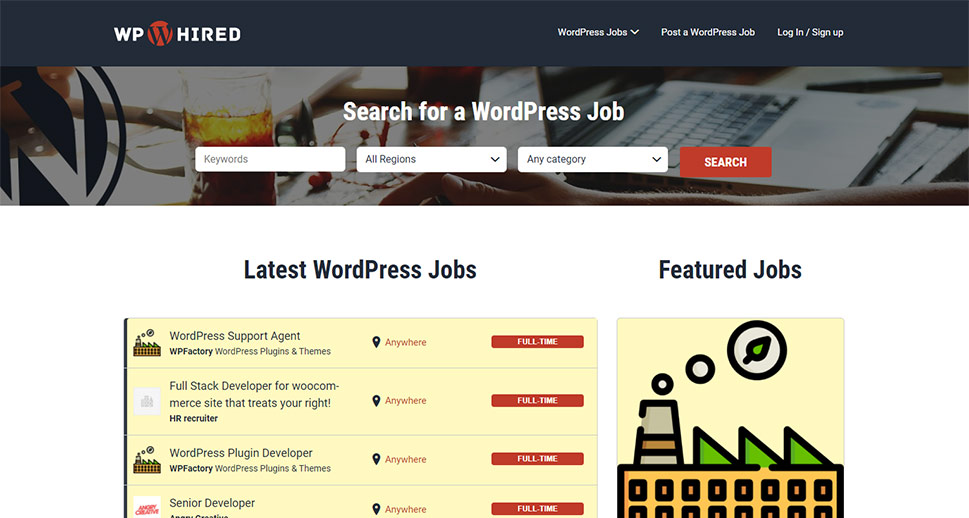 WPhired was created in 2010 by Jerome Degl'innocenti as a WordPress-specific job platform, with the intent of connecting employers with WordPress professionals all around the world. Using this job board, you can post listings without any commission and get the help of over 1000 WordPress experts in various categories – performance optimization, theme and plugin development, migration, and many more. However, these free listings last only 30 days, with the option of running three featured listings for a fee of $39.99.
While this simplified approach to outsourcing jobs is very effective, it has some drawbacks as well. Namely, the platform doesn't vet the applying WordPress talent. Developers are encouraged to create an account and leave a resume to help with the screening process, but the platform also allows users to apply without an account, leaving the background check work to you.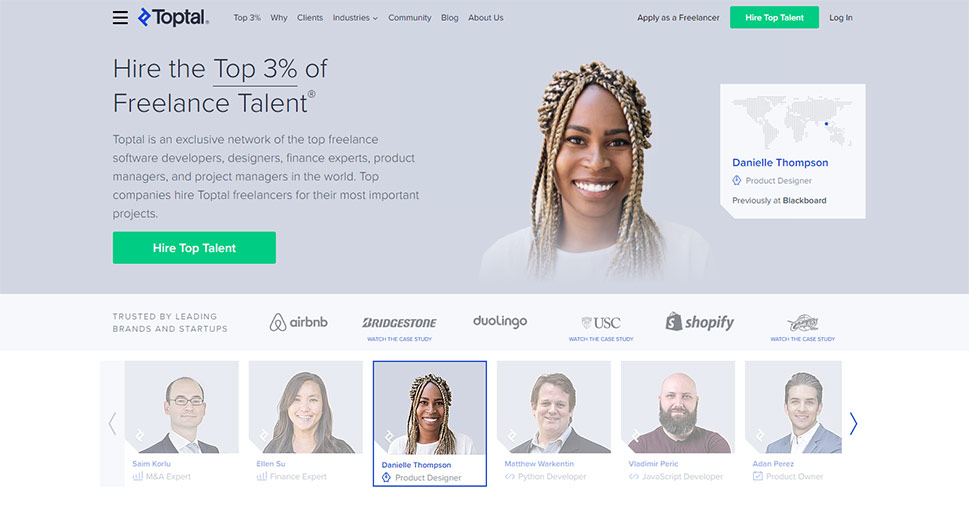 Toptal is another platform with a very strict screening process which ensures only the top 3% of talent are available for hire. Unlike Codeable, the freelancers from Toptal aren't focused on WordPress specifically and can be experts in many diverse fields like software development, design, project management, product management, design, and finance. For this reason, finding the perfect WordPress developer can seem a bit tricky. Luckily, their recruitment process is a lot different than most platforms on our list, as Toptal will provide you with a personalized list of suitable experts based on your project specifications.
These experts come with very detailed profiles including a portfolio, skills, experience, and recommendations, making your choice that much easier. However, the recruitment process will also require a $500 deposit beforehand, which will then be added to your account the first time you hire a Toptal freelancer. Additionally, the Toptal platform offers a two-week trial period for companies interested in hiring their talent. As for the hourly rates, they start at $60 for most developers which is a reasonable price given their qualifications. It is for thisreason that Toptal experts have worked with a multitude of big brand companies like Airbnb, HP, Shopify, Duolingo, Motorola, Udemy, and Zendesk, to name a few.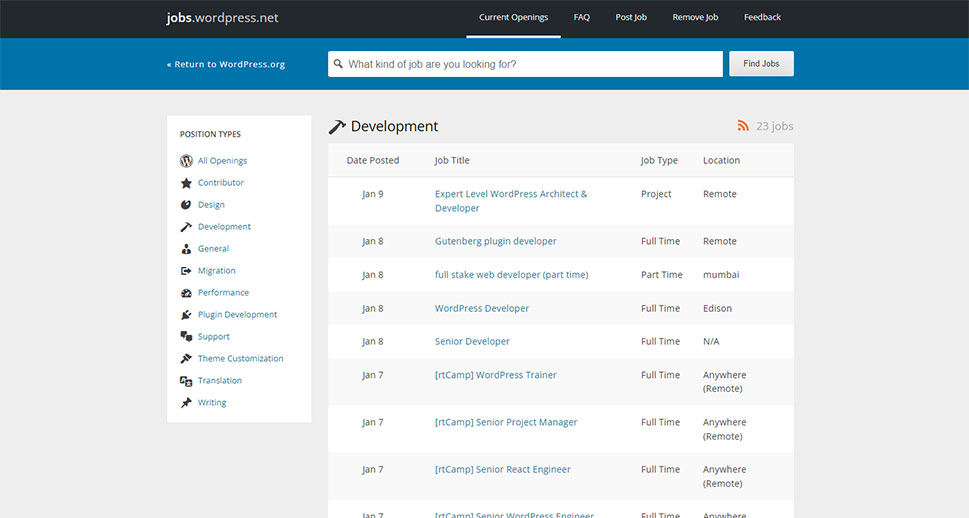 WordPress Jobs is a WordPress-specific listing page run by WordPress.org employees. Jobs can be posted for free and without an account. WordPress Jobs is designed as a standard forum, meaning that users can post job listings and sort them across multiple categories, including design, performance, plugin or theme development, creative writing, support services, and others. To communicate with talent for hire, you can use the forum or any other means of communication specified in the job listing. However, apart from reviewing and approving your job offer, WordPress Jobs isn't involved in screening job applicants. This is left entirely to you, and in limited time, as job listings remain active for only 21 days.
All in all, WordPress Jobs is an excellent place in which you can start looking for WordPress developers and designers if you know what you are looking for and can properly assess the capabilities of candidates. For that reason, pricing can vary greatly based on the experience and location of your applicants.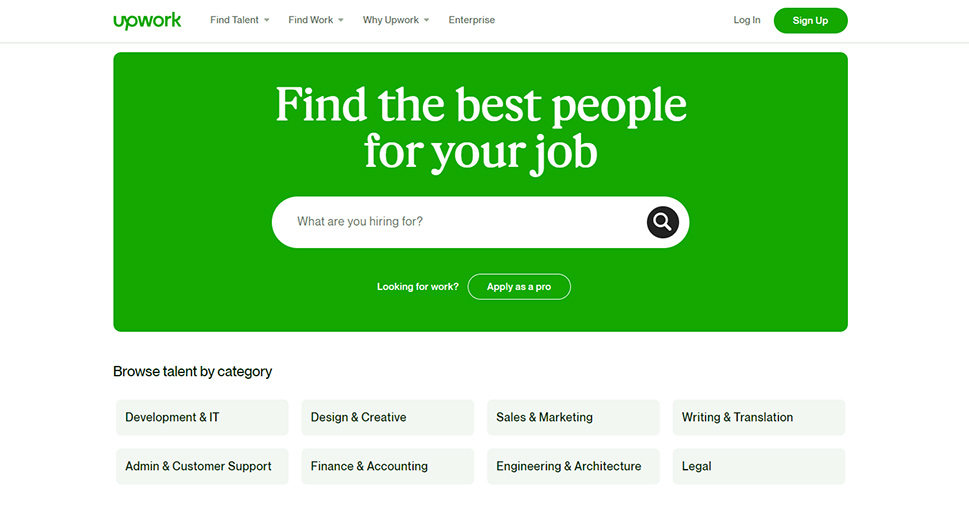 Upwork is one the largest marketplaces for outsourcing jobs across a plethora of different fields – graphic design, software development, creative writing, web development, and so on. Of course, this includes a considerable amount of WordPress-related jobs. When it comes to posting jobs, you will need to set up an account. Then, you can post your project offer free of charge, with the related job description and a price estimate that you are willing to pay. Any interested freelancers will, then, bid for the job.
As the platform doesn't have any vetting process, you will come across job applicants who vary highly in skills and experience. While narrowing down the list of candidates can be done using the indicators that the platform provides – completed jobs, price rates, skills, and success rates, you will still need to conduct a rigorous review process to find the most suitable developer for your project. For that reason, Upwork is best used for smaller projects or if you already have a team behind you that will vet and hire developers, as well as make use of the collaboration tools that Upwork offers.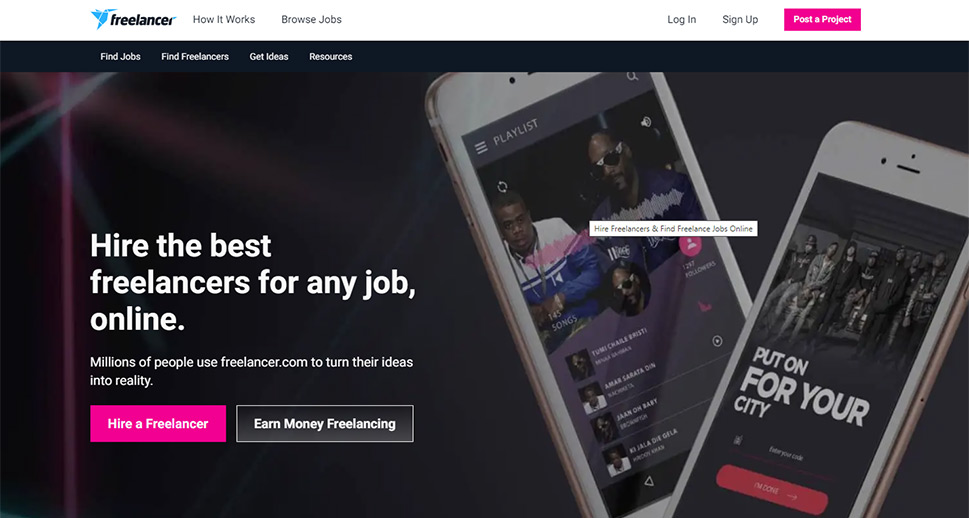 Freelancer is another widely-known freelance jobs marketplace. Similar to Upwork, it has a wide range of offers from various fields, including WordPress, which are all sorted into categories you can browse. Creating a job listing requires an account on this platform. Also, you will need to add the job specifications, desired freelancer specializations, and a budget range for the project. Upon posting the job, it will appear in selected categories and various freelancers from the platform will be able to bid for it.
Unfortunately, the platform doesn't have any screening process, which means you will need to spare enough time to vet all your candidates. You are encouraged to check the freelancers' profiles and star ratings, interview or test them in some manner when doing so. For that reason, Freelancer can be one of the more affordable platforms for hiring WordPress talent, especially for short-term projects. Furthermore, the Freelancer will deduct a 3% project fee while processing the payment but will secure it using escrow, making sure that it is released when you are fully satisfied with the work.
Stack Overflow is well-known worldwide as the go-to place for resolving any kind of technical queries. Therefore, it comes as no surprise that they also have a job board matching a myriad of developers with their potential employers called Stack Overflow Careers. Tthe platform isn't restricted to WordPress developers and offers a wide range of technical staff – mobile or game developers, sysadmins, data scientists, and more.
Stack Overflow Careers is designed as a forum in which you can create individual listings to which developers can apply, create a company page or simply reach out to potential candidates using the forum or email. And, with the global outreach of the main website, and the fact that the listings are shown throughout the website, you will have no shortage of good offers. Of course, finding the appropriate WordPress expert will require an extensive sifting process. Finally, we must mention that, if you are on a budget, this is probably not the platform for you: employers are charged $2499 annually for access to Stack Overflow's job board.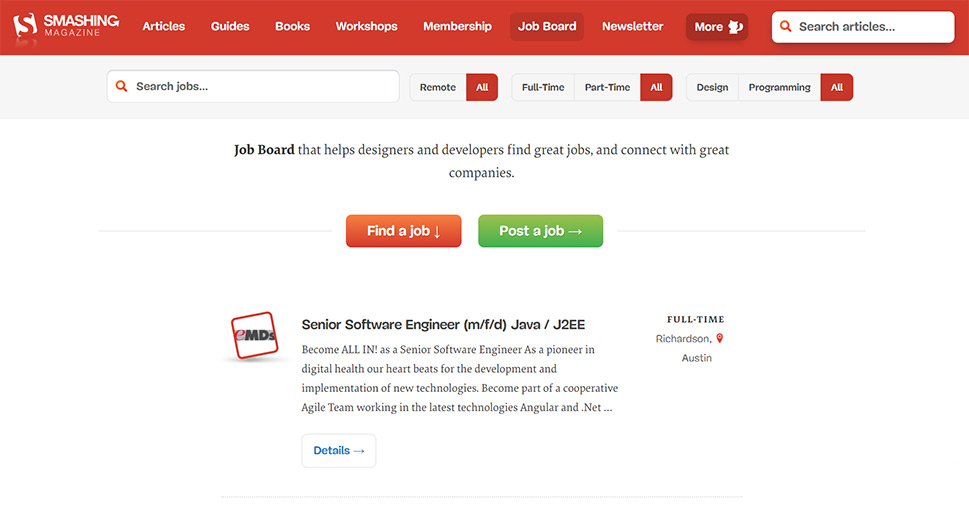 Best known for their web development blog and eBooks, Smashing Magazine also offers a marketplace for outsourcing jobs and freelance gigs called Smashing Jobs. It, too, has gained a reputation, much like the main site, boasting having worked with big companies like Amazon, MIT, EA, Activision, Tesla Motors, and others.
The platform is open to all kinds of WordPress-related talent, so finding the right one for your job requires a bit of sifting through. Also, posting listings isn't free – freelance gigs are priced at $75, while full-time jobs are at $225. Listings are available for 60 days, and, thanks to the traction their main site is getting daily, you will have a large pool of top WordPress developers and designers to choose from.
Envato is a company widely known in the WordPress world for its digital resource marketplaces for WordPress themes and plugins, sold under ThemeForest and CodeCanyon brands. However, they also have a platform for outsourcing development jobs called Envato Studio. It can grant you access to a lot of WordPress professionals who can help you with various aspects of web design and development. But, unlike some other platforms where freelancers can bid on your projects, in Envato Studio, you will be handpicking talent based on a multitude of criteria – their portfolios, qualifications, recommendation rate, the number of repeat clients, and price, to name a few.
Therefore, it can take some time to properly gauge the quality of the freelancers that are offered, especially when it comes to more important jobs. Once you have found a promising freelancer and briefed them on the work which needs to be done, the Envato Studio platform will request payment on their behalf. But, the payment will be withheld from the freelancer until the job is done to your satisfaction. As for the fees, they can vary greatly depending on the extent of the work and the given timeframe and typically start at $50.
Whether you need some coding customization on the website, are planning future projects, or want to expand your team of WordPress experts to support the growing business, hiring a WordPress developer can be a worthy investment. But finding the perfect WordPress developer can be a tall order.
Luckily, with the suggestions that we made, you will know which are the best places to look at and what to expect when it comes to the hiring process and prices. Furthermore, as developers are often needed both for small-scale and large-scale jobs, you never know when you might need to hire another in the future. For that reason, we suggest bookmarking this article if you want the advantage of forethought the next time you want to hire a WordPress developer.