What is Microcopy and Why Is It So Important
To ensure your website is optimized in terms of UX, you need to take care of multiple things, from the overall design and the positioning of important visual elements to creating functional animations and a fully intuitive website. But there's another thing, seemingly not that relevant, that can actually make all the difference for your website visitors. It's called microcopy.
But what is microcopy, exactly? And why is it so important to your website? Stick around if you'd like to learn the nuts and bolts of this small, but increasingly more important breed of copy.
Microcopy is an essential textual ingredient of every website. The term itself is used to describe small chunks of text that can be found throughout a website or online app. Button texts, CTAs, error messages, confirmation messages, hints and tooltips – these are all examples of microcopy.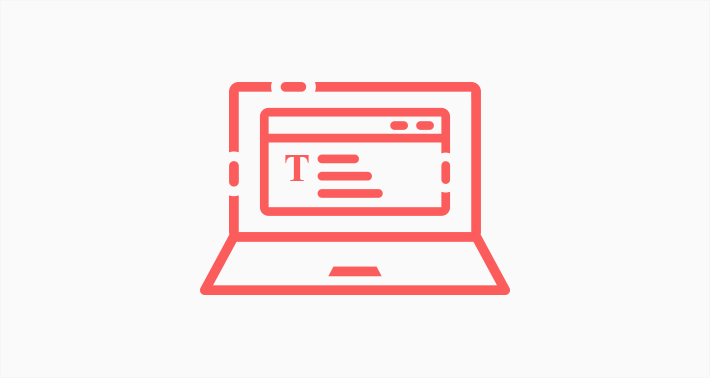 Not that long ago, many people believed that this sort of content doesn't hold too much importance for a website because of its size. In reality though, that couldn't be further from the truth. Whether it's just a few words or (gasp!) an entire phrase, microcopy can heavily influence the success of your website.
Microcopy helps users navigate through various processes and it guides them precisely to a service they need. You don't want people unsure of what to do next, do you? Think of microcopy as a way of giving your visitors a helping hand before they even realize they need one.
Why Is Microcopy Important
These small bits of text shouldn't be treated as an afterthought. Sure, they may not be as prominent as other elements of your website. But you want to ensure a high-quality browsing experience for your visitors, from start to finish, right?
It might do you good to consider microcopy as the actual backbone of your website. Each time someone wants to make a purchase, sign up for an account, or subscribe to a newsletter, it'd be such a shame if they stopped mid-way just because they're unsure of how to proceed, wouldn't it?
You want your microcopy to be clear, precise, and to provide reassurance to the visitors. If done right, it'll actually encourage them to complete the actions they may have been a bit uncertain of. The thing is, people are scared of all sorts of online scams, from others stealing their identities to receiving spam messages.
If there are forms to fill in, sometimes users may not understand which data they're asked for, or they might not fully comprehend the verbiage used in a message. Your visitors, understandably, wonder why you need their private info, what will happen if they continue to use something after the trial period is over, what is the estimated time the product they've ordered will arrive, etc.
Microcopy takes all of these fears away. It's important to highlight to your users that there won't be any unwanted surprises or inconveniences if they proceed with an action. Remember, if there are any doubts, they'll often lead to hesitation, and, most likely, visitors leaving your website.
When you're transparent and you let people know both what's expected of them and what they should expect, you encourage them to get to their goal quickly and effortlessly. This makes them feel satisfied, which further leads to them doing exactly what you want from them – buying a product, subscribing to a service or a plan, etc.
Don't Forget to A/B Test It
Before you definitely make up your mind regarding microcopy, make sure to A/B test it, to see what drives your target audience into action. Even though it's possible you won't be able to understand why a certain version of the text works well and others don't, it's of utmost importance to do the testing. What matters is to discover which version of your micro copy has a better effect on the visitors.
Microcopy is one of the essential elements that contribute to a spotless user experience. These two simply go together like a lock and key. Words (and microcopy in particular) can be a website killer, which is why it's important to stop overlooking the text you use. The messages you put out can literally make or break your business. So do things the right way. Put in the necessary work and get to know your audience. This will not only help you ensure the look and feel of your website is to their liking, but also guide you toward writing better microcopy. Make sure you direct users toward your goals and encourage them what to do next. Increase their engagement, help them along the way, and in the end, your business will profit off it.