7 Best Social Image Generators for WordPress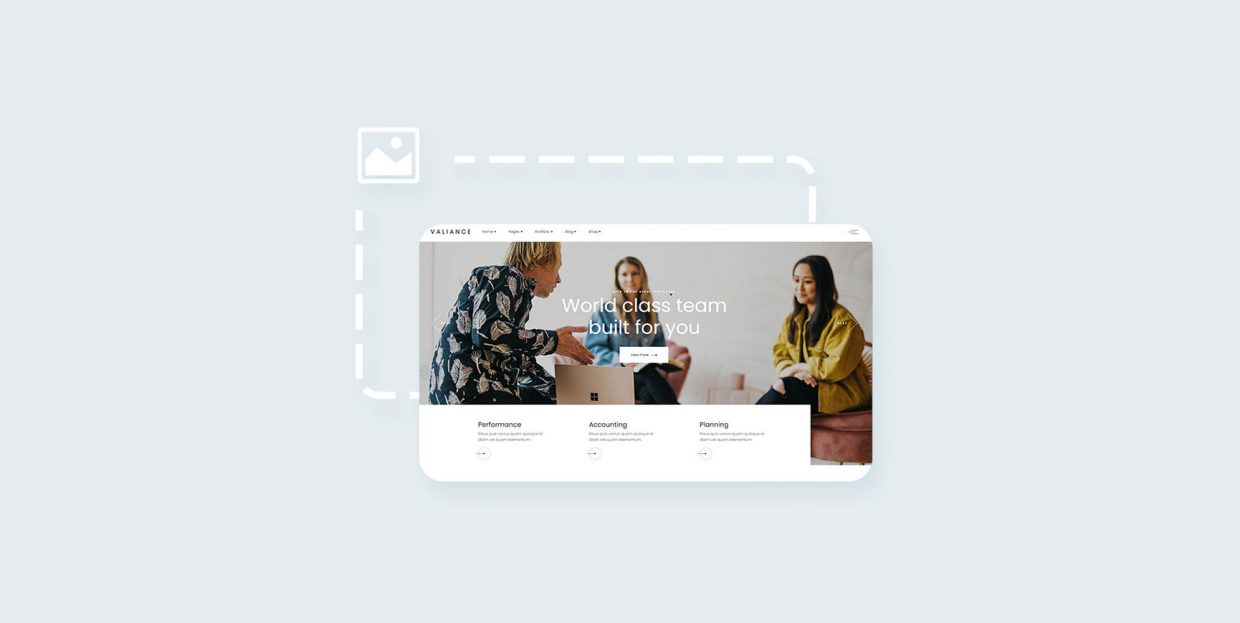 There is something to be said about walls of text: very few people like them. Don't get us wrong, text is unique in the sense that it is both evocative and dense with information, but when you really want to drive a simple message home, you will likely use an image. And WordPress has capabilities to accommodate this out of the box.
This is the function of a featured image, for instance: in most modern themes, sharing a link to a post on social media will share it as a rich post which includes the featured image. Finding and selecting images to accompany your posts is an important job, and it takes time. Editing images is also a job – a job which takes time, but also a job which can be made easier with software. The software we are talking about are image generators. Specifically, social image generators.
Some of the solutions we will cover were designed to work specifically with WordPress, some are more general in scope, but there is a lot to choose from. We are here to narrow it down for you.
Here are our top picks of social image generators for WordPress users:
Branded Social Images is a free plugin which only takes a couple of clicks to generate an image with your logo and accompanying text to supplement your posts. The plugin offers you the option to position and scale your text and logo, upload a font or select fonts from a menu, and modify colours. You can also have a fallback image – a common image for use in those cases when a post is uploaded without an accompanying image. You can also opt out of the plugin's image automation for each post, in case you want to do something special.
If you are looking for a free and simple way to add graphics to your social posts automatically, Mugshotbot may be just the thing for you. In its free version, Mugshotbot generates unlimited images containing graphics and text using the data which is already in your URL. All you need to do is submit a link and get a preview image, albeit with few customization options and with Mugshotbot branding. The paid version, however, offers automation (no need to submit links), removal of Mugshotbot branding, advanced customization options, and more.
Abyssale is a premium solution for what they call banner creation, but is in essence automatic generation of images (including, but not limited to social images) ideal for WordPress blog posts and many other commercial uses. Unlike a lot of the solutions we mention, Abyssale actually integrates with WordPress – you don't need to upload the images you get yourself. All you need to do is set up a master template and let Abyssale's AI generate versions of it.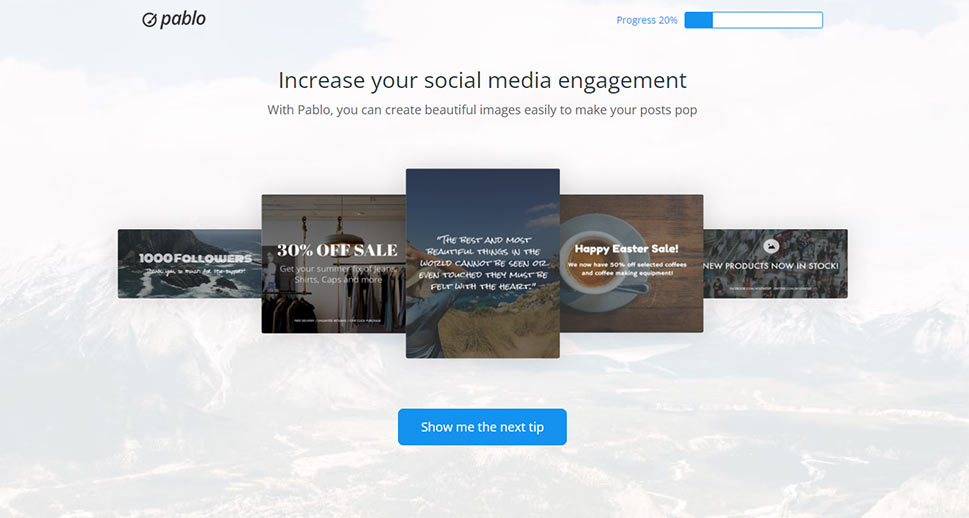 Pablo by Buffer is another easy, freemium solution for automating adding textual information to images. It offers a large selection of images, and includes a random function, multiple sizes, and multiple fonts and filters , as well as a method for adding your brand logo or other graphics – and that's just the free version. The paid versions offer more in terms of social channels allowed, scheduled posts per social channel, and number of users.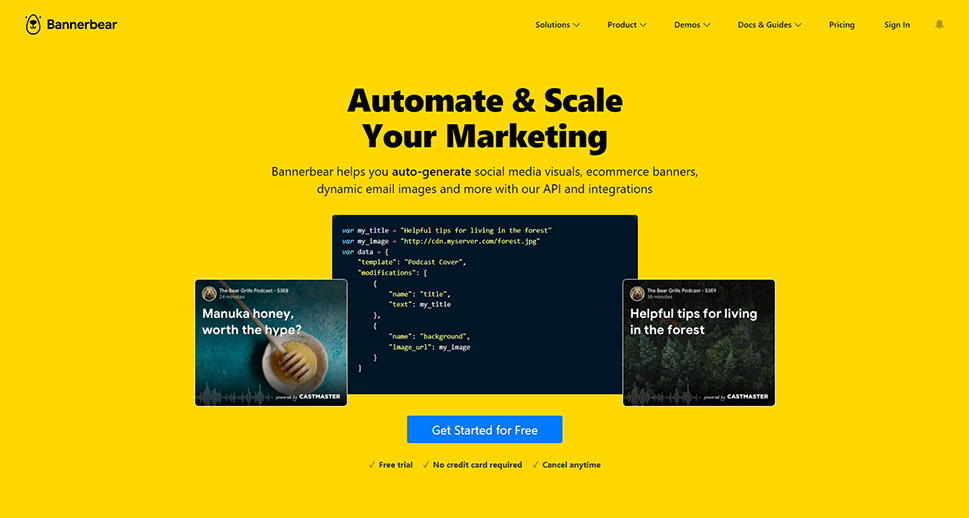 Bannerbear is a premium solution which leverages AI and automation to generate social media-friendly images and video based on user input. It has a wider range of functions, but its main purpose is to streamline workflows by performing simple, user-generated step-by-step processes automatically. In the case of social images, all you need to do is set up a template and let Bannerbear do all the work. There is a large number of ready-made, editable templates, and a plethora of options. You can see the image generator in action on the developer's website.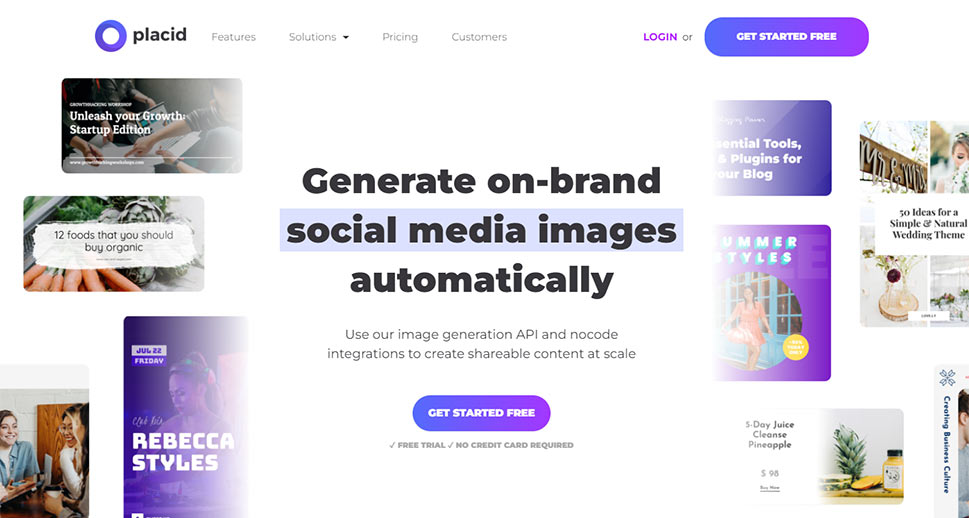 Another premium solution for automating visual content generation, Placid automates generation of various social media images and other marketing visuals. It comes with a selection of templates and a visual, drag-and-drop editor which you can use to modify existing templates. Placid integrates with WordPress, too, automatically creating social images for your posts. Of course, the extent to which you can use Placid's capabilities is dependent on the pricing plan you choose.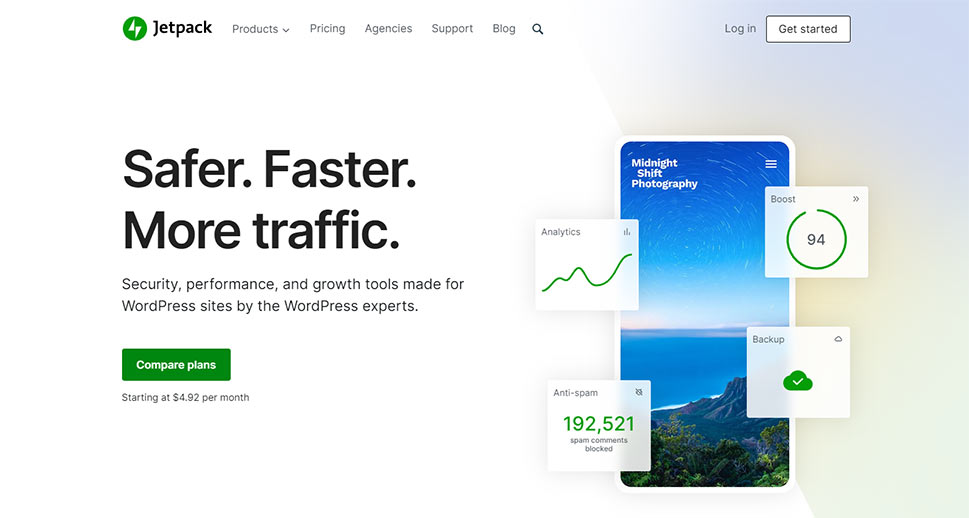 A premium solution abounding with functionalities, Jetpack provides you with a comprehensive social image generator as part of the package. Developed from a now unavailable plugin, Jetpack boasts compatibility with all major social networks, including the usual suspects such as Facebook and Twitter, the lesser known networks, such as VKontakte, and even messaging services one doesn't normally think of as social networks, such as WhatsApp and iMessage. There are multiple templates to choose from, and all of them are very versatile, giving your posts a unique look. We cannot imagine that anyone would subscribe to Jetpack for this feature alone, though, but it bears mentioning in case you are already using Jetpack or considering it.
As you can see, there is no shortage of options for social image generators. Some are specifically designed for WordPress users (admins, designers, marketers or webmasters), while others are much more general. Which one is right for you, though? If you are looking specifically for a WordPress-compatible solution, and if budget is concerned, the answer is easy: go with Branded Social Images. It is also a good way to test whether the automation of social image generation actually saves you any time, before investing in a premium solution if that is preferable. Of the freemium and paid solutions, it is well worth noting that Placid, Abyssale and Jetpack specifically integrate with WordPress while other solutions we suggested do not, but can still be used by WordPress users. As with anything, you need to take a long, hard look at your budget first and the list of features second, and figure out what works best for you. Whatever you choose, though, we feel that there is almost no chance of it not being on our list.