Introducing the Qi Theme – A Free WordPress Theme by Qode
We're excited to announce the release of the Qi Theme – the first free WordPress theme by Qode Interactive.
This release marks the second phase of our new line of free products. Our goal with these products is to offer the entire WordPress community a set of tools to help everyone build better, more beautiful websites. And the Qi Theme is paramount to achieving that goal.
With 100 fully free demos, tons of customization options, blog and shop layouts, a custom portfolio module, and so much more, the Qi Theme is truly geared to set a new standard among free themes. But we wanted to go a step further and ensure you have absolutely everything you need to create a fully functional and professionally designed website. So, we've also included a media license for all the premium stock photos in the theme's demos, allowing you to use these images on any site created with the Qi Theme with no additional cost.
The Qi Theme is available for download now, free of charge.
Free Download
100 Professionally Designed Demos
The Qi Theme comes equipped with a huge collection of 100 beautiful demos, all designed and developed by our award-winning team. We carefully considered the types of demos to include, aiming to cover the widest assortment of industries and niches possible. You'll find beautiful startup sites, designer and artist portfolios, health and beauty presentations, restaurant websites, product showcases, eCommerce platforms, and so much more among the Qi Theme's demos. Once you find a demo that fits your needs, you can import it quickly and easily thanks to our one-click import module.
Free Stock Images Included
We wanted to ensure the Qi Theme comes with everything you need to create a professional website. Which is why we've also acquired a special Shutterstock media license for all the premium stock images in the theme. This means that you can use all the images from the Qi Theme's demos on your own website, completely free. In fact, you can simply import your favorite demo, change the dummy texts to fit your needs, and have a fully functional, professionally designed website up and running in a matter of hours.
Please note that these stock images may only be featured on a website created with the Qi Theme, and cannot be used for any other purposes.
Powerful Customization Options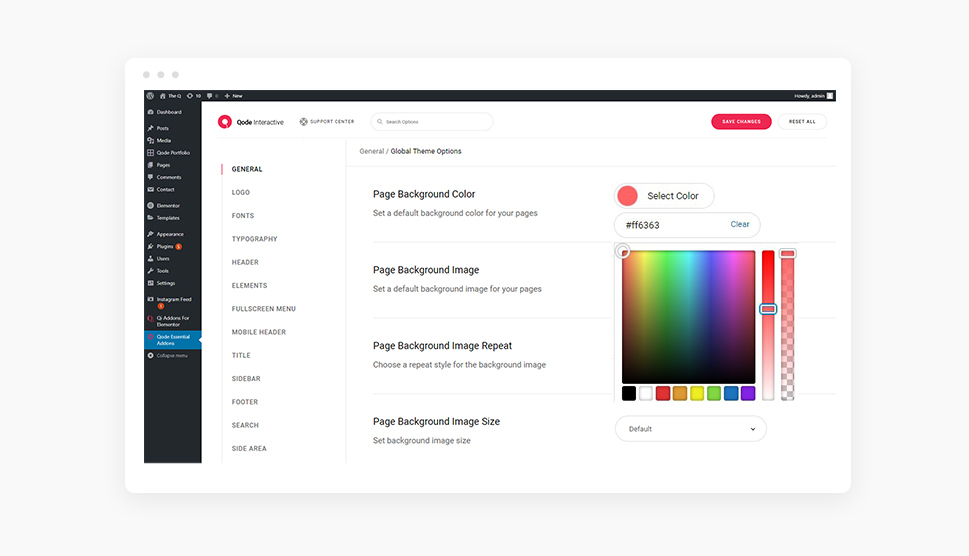 The Qi Theme lets you easily customize every aspect of your website. Multiple header types, a variety of predefined layouts, and tons of style and typography options are just some of the basics the Qi Theme comes with. Not to mention its advanced portfolio module, eCommerce integration, SEO optimization and even the possibility to automatically generate structured data. Everything in the Qi Theme is made according to the best coding standards and developed with top performance in mind.
Powered by Qi Addons For Elementor
All the demos in the Qi Theme are built using the widgets from our free Qi Addons for Elementor plugin. With 60 advanced widgets, Qi Addons for Elementor provides a comprehensive set of premium-grade tools specifically designed to help the entire WordPress community build better, more beautiful websites. This made it the perfect choice for the Qi Theme. The synergy between these two tools ensures a simple and enjoyable website building experience.
Free Video Tutorials and Professional Support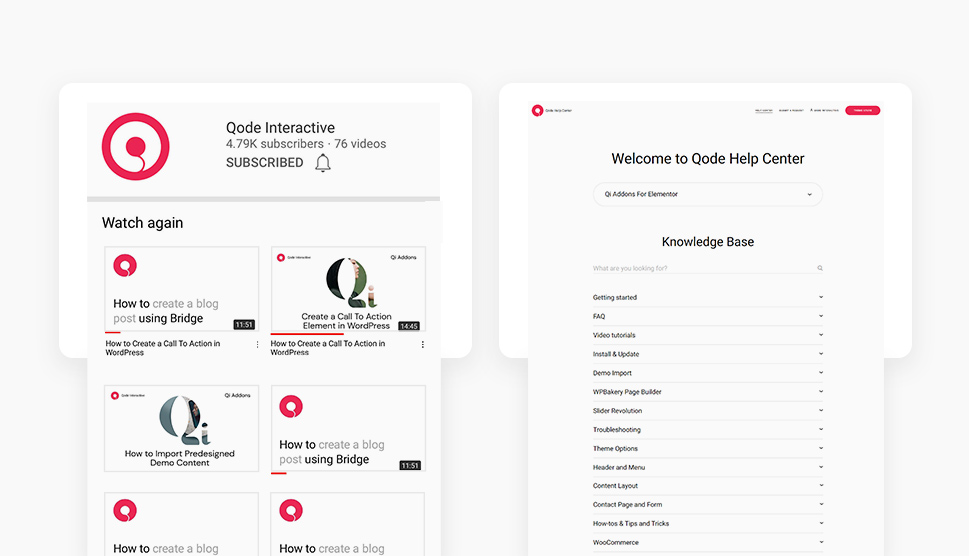 While the Qi Theme comes with comprehensive documentation, we've also prepared a set of step-by-step video tutorials that demonstrate just how easy it is to create beautiful websites with the widgets from the Qi Addons for Elementor plugin. Since everything in the Qi Theme is made with the Qi Addons widgets, these tutorials are an indispensable resource for working with the Qi Theme as well. And if you ever need any advanced assistance or have any questions about the Qi Theme, just submit a ticket in our help center and our professional support agents will be happy to help you out.
We're already working on the third phase of our free products release, and we'll have some exciting announcements soon. So make sure you sign up for our newsletter to stay in the loop and be the first to get all our latest news and updates.