A Beginner's Guide to Pinterest Marketing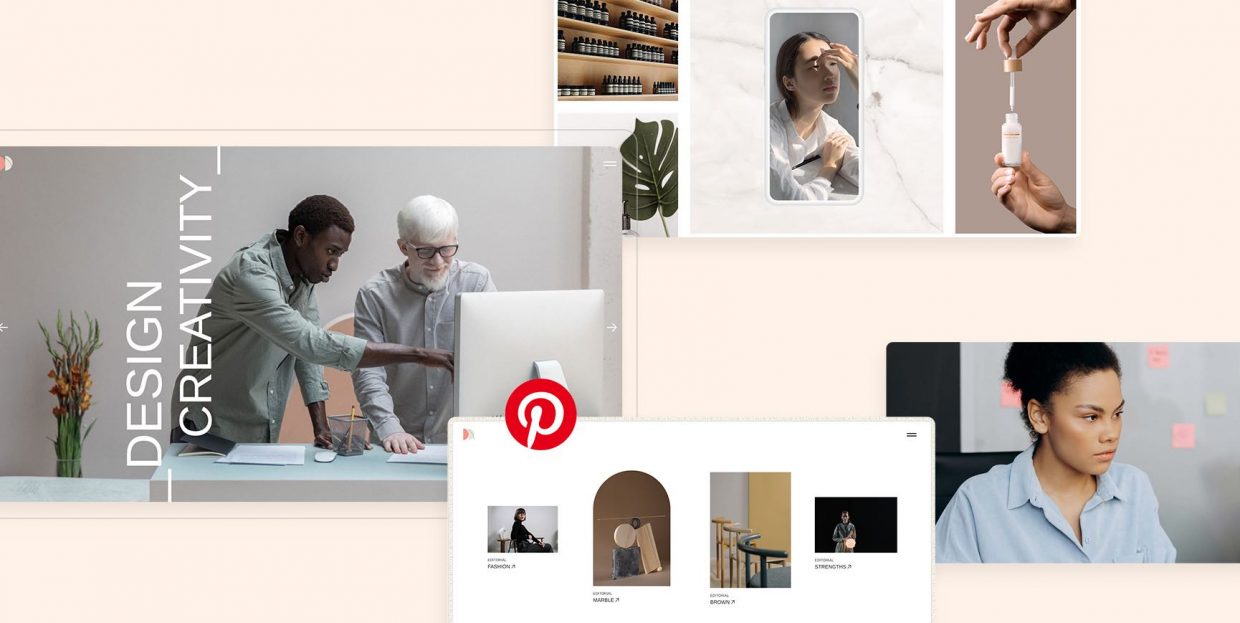 Contemporary culture is very visually oriented, so it is no wonder that a social platform like Pinterest attracts such a large number of people. Still, when we consider marketing on social media, it's Instagram and Facebook that first come to our mind. Nevertheless, Pinterest marketing offers many advantages, regardless of the type of business you run.
First of all, Pinterest attracts more than 431 million active users. Second, 83% of those active users regularly make purchases based on the content they saw from brands on Pinterest. Last, but not least, Pinterest leaves you a lot of room for creativity, which is always important in marketing. It comes naturally to conclude that Pinterest marketing can be a great tool for creating the desire for specific products and services, but you'll also learn that it boosts conversion, helps you reach a wider audience, and strengthens brand awareness very efficiently.
In this article, we're going to explore the possibilities that Pinterest marketing offers and show you how you can use it to your benefit. Stay tuned to read more about:
The name of Pinterest pretty much describes its primary purpose – pinning interest. Pinterest was started with the idea to become a social network created primarily for organizing and sharing personal albums of thumbnails and video clips from the Internet.
Users can tag (pin) photos they like and create their own collections of interesting images that have caught their eye. These collections can be organized into boards that others can follow.
This is a brief explanation of how Pinterest works. It is designed to allow people to share their collections and collected images and videos with each other, follow each other, and find content that attracts their attention.
Pinterest is useful for everyone, both for companies that sell products/services and for individual entrepreneurs who are looking for a way to expand their business on the market. Just like Facebook and Twitter, Pinterest allows companies to access the collected data about their users. By granting access to user data, the social network allows companies to explore how people react to their products. If a product has a high number of re-pinnings, this generally tells the manufacturer that the product is in demand and that a large number of members of the Pinterest community like it.
Companies can also see user comments and find out how people like or why they don't like the product. Bearing this in mind, there aren't many excuses left for not using Pinterest for marketing purposes. Now, let's help you draft a comprehensive Pinterest marketing strategy.
Sign Up for a Business Profile
Before going for any kind of Pinterest marketing strategy, it is essential that you sign up for a business account. You can set it up easily and entirely for free. There are many reasons why opting for a business account is better – you get access to Pinterest Analytics, Pinterest widgets, Pinterest tags, as well as a load of practical marketing features. Your profile will clearly state that you are a business, and you can brand it to get more recognition.
With a business account, you can also create Rich Pins, which automatically sync information from your website to your pins on Pinterest. This feature is of great importance for anyone who is creating product pins, blog post pins, or recipe pins in particular.
Join Pinterest Verified Merchants Program
Joining the Pinterest Verified Merchant Program includes many benefits for businesses of all scopes but it is especially useful for small businesses and new brands that need to earn recognition. It allows access to special features like merchant details that allows you to show and share your brand's values.
All you need to become a verified merchant is an active catalog and a functioning tag. Of course, you will also need to follow Pinterest's Merchant guidelines. Users who are searching for the type of products/services that you offer will be able to find your pins organically, which is exactly what you wish for as a merchant. You will also receive a blue checkmark so that Pinners can instantly know that you are in the VMP, which is great for building credibility.
Define Your Pinterest Content Strategy
Basically, you need to define the direction in which you want to go – do you want to attract new consumers, amuse the loyal ones, provide added value, educate, or all this at once? The more diverse your goals, the more effort you'll need to invest.
The Pinterest content strategy allows you to employ a diverse range of tactics. With Pinterest boards, you can create categories of images, which means you can target different customer types within one channel. You can, at the same time, educate, amuse, and provide value for your target audience, depending on where exactly they are on their customer journey. Pinterest also gives you the chance to organize communities around your boards, and to gather people who appreciate your aesthetics, values, business, products, and similar.
The success of your Pinterest Content strategy, of course, largely depends on how well you know your target audience, so make sure you've done your homework in that department. What's particularly great about Pinterest is that it allows users to click through live links, which is not the case on Instagram. That means you can lead your followers directly to your landing pages and any other page of your website.
Grow Your Pinterest Following
Of course, for any strategy to work you need to build the following. If you are considering Pinterest marketing, it usually means you already established some kind of presence on other social networks and platforms like Facebook, Pinterest, or YouTube, so you are not starting from scratch. The first step is logically to advertise your Pinterest account on the social media you are already using.
Pinterest also allows you to search for and add friends via their name, Facebook/IG account, and similar identifiers but this is certainly not a way to build a massive following. Other tactics that are common for other social networks like using keywords in posts, establishing connections with influencers and experts, using paid ads and similar also work on Pinterest.
Keep an eye on how your competitors are using Pinterest, maybe there's something you can adjust and implement. Explore and follow brands and accounts you believe would be interested in following you back. Just like on other social media platforms, it is all about networking and establishing connections.
Categorize Your Pinterest Boards
Unlike a Facebook page that includes a mixture of different information posted in chronological order, Pinterest allows you to categorize your content in order of importance of the topic. You can create multiple boards, one for each category of your offer to keep users engaged in the content that's specific to their interests. A large number of consumers make purchasing decisions based on the pins they pulled up.
Pinterest is largely based on visual content. That's what the Pinners come for and that's what they share. But, it does not mean you can't share a quote from a blog post, or any other type of content – it just means you have to present it in a visually intriguing manner. Even if you only sell services, you can still use plenty of visual material to present those services. However similar content in Pinterest marketing may seem to Instagram content, there are some delicate but prominent differences that you should be aware of. On Pinterest, visuals are not there just to tell the story, they are the story.
Many people use Pinterest for content curation – they find and share the best and most relevant content in line with their interests. These boards serve as inspiration later and in terms of business, you can use them to establish yourself as an authority in a certain field. Create a board with the purpose to share content from diverse resources and follow it with your own, original comments and insights. This way, the consumers will recognize you as an expert and someone who has a pulse on the newest trends.
This may seem like pointing out the obvious, but the visual material you share on Pinterest needs to be of the highest quality. You need to have your brand style clearly defined and well developed so that it provides a solid framework for your content and helps you keep the consistency of your brand message. Sharing videos that showcase how your products or services are used, putting the product in real context as well as sharing testimonials is a good way to make your Pinterest more alive.
Optimize Pinterest Content for Views and Saves
We can safely say that Pinterest works like a kind of an image search engine. Everyone can discover your content at any time which means that the content you share on Pinterest has a much longer shelf-life than the content shared on other social networks like Facebook, Instagram, and Twitter. This means that you should optimize your content in such a way that your target audience wants to save it, not just like and comment. That way you will gain much more value for your brand and reach a wider audience more smoothly.
A single Pin can drive traffic and stay fresh for months, which is great for your brand awareness. One of the proven strategies to achieve this is to make your Pinterest profile SEO optimized. The Pinterest search engine optimization is very similar to SEO on other social networks. It boils down to researching keywords, incorporating relevant keywords into your profile name and description, and creating niche-specific boards.
However quality Pinterest content you create, you will probably need a push to make a real difference. That extra effort may be in the form of Pinterest ads, special engagement tactics, SEO tactics and similar approaches that boost your overall Pinterest marketing strategy.
Learn About Pinterest Demographics
The stats slightly differ from year to year but generally, the trends show that the large majority of Pinterest active users are women. The purchasing power of women is also on a constant increase and they use Pinterest to make informed decisions. It would be insane not to use this fact to your advantage.
Use Pinterest to educate and inform your target audience about everything related to your business/product/service. Just pack all the important info in a visually pleasing manner, and spice it up with interesting graphics and stats instead of just sharing beautiful product pictures. Tutorials, QA, reviews, and similar content can also look very attractive on Pinterest.
And to learn more about your demographic, don't hesitate to explore Pinterest Analytics. Understanding your target audience always pays off. Pinterest analytics is a great tool to both learn about your audience and measure the success of your Pinterest marketing approach. You can get access to info about the devices your visitors use, your most popular pins, your profile's average daily impressions and viewers, average monthly viewers, average monthly engagements, and more useful stats. Making sense of all the data you get this way takes some effort but gets easier with experience.
Engage With Your Potential Customers
Creating authentic content that's relevant to your target audience, staying active on Pinterest by regularly sharing pins as well as promoting your Pinterest presence on other social media platforms are all important aspects of building a relationship with your potential consumers. Informative and enticing pins will drive traffic to your website or blog and increase your following.
Although Pinterest is very image-centric, it does not mean you can't interact with your followers via comments. Explore the content that your followers and fans share, re-Pin it, like, and comment. Personalize your followers' experience by responding to their messages. The more you make your followers feel heard and valued the faster you'll grow.
Instagram comes with a great feature called the community or group boards. These boards allow multiple users to pin their content which is a great way to build community. You can start your own community board as soon as you set up a Pinterest account, or if you prefer not to start from scratch, join prominent Pinners' boards.
If you choose to start your own community board, you can include rules or a link for joining within the board's description – this will give some control over who can contribute to the board.
Joining other's community boards and actively contributing with your pins is a great way to promote your business and establish connections at the same time.
If there is a platform that allows you to use all the magic of visual storytelling – that's Pinterest. Pinners are already attuned to picking up the visual stories so they will naturally feel drawn to the content that offers a similar vibe.
What's equally important is that all the stories you share on Pinterest will have a much longer lifespan than on any other social network. They can get rediscovered over time without losing any of their relevance. So, let all your creativity run wild and make sure you offer a visual story to remember.
Optimize Your Blog for Pinterest
The content on Pinterest includes all kinds of images, from high-quality professional photos to infographics and white backgrounds with a quote type of posts. Optimizing your blog for Pinterest means adding pinnable images to your blog post, with an enticing description or alt text with useful information and adding a Pin it button to your post.
Don't worry, adding a "Pin it" button is very simple. You can take advantage of several plugins which will do all the job and install the button for you, and you always have the option to use Pinterest's own widget builder. In case you need more details about how to add a "Pin it" button in WordPress, you can resort to our comprehensive tutorial.
If you are ready to invest some budget into Pinterest marketing, Pinterest ads offer plenty of possibilities. You can create Idea Pins (sometimes called story pins) – that consist of short video segments, or a series of up to 20 graphics to draw Pinners in with immersive educational content. In terms of format, they are very similar to Instagram stories.
You can also use "Try on product Pins" that combine your content with augmented reality resulting in a virtual "fitting room" experience. If you want to focus on mobile users, Pinterest collection ads will be perfect for you. You can give Pinterest carousel ads a shot, and shopping ads and promote well-performing pins to create your unique Pinterest marketing strategy.
Explore Pinterest Management Tools
There are many tools that are of great help in both setting and implementing a Pinterest marketing strategy. While you surely can prepare and publish pins from day to day, it is much easier to automate the whole process by planning your content. Tools like Sprout Social, Tailwind, Buffer, Hootsuite, and similar include the ability to schedule pins and share your content across different social media and some even provide refined analytics tools to help you target your audience better.
Pinterest provides a great playground for creative marketers. It is an excellent tool for building brand awareness and recognition but also for boosting sales as pinners are typically very practical shoppers. Although it is largely image-centric, this social media network allows you to create a more intimate, specific relationship with your target group as it provides many ways to attract and gather like-minded people with similar interests. By combining the right tactic and tools you will surely be able to take advantage of the many benefits that setting up a Pinterest marketing strategy brings.